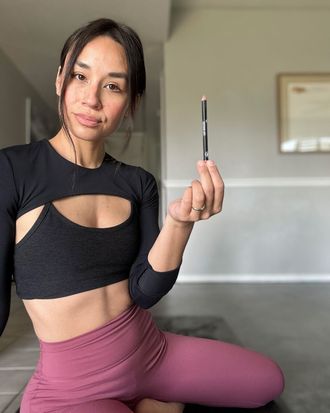 "I believe the wellness industry has been whitewashed and is guilty of co-opting and misusing, packaging, and selling practices and knowledge from global cultures in a way that benefits white audiences and pleases the white gaze," says author and wellness educator Chelsey Luger. She has done her part to change that in alignment with "a side of wellness culture that truly honors diversity and respects the origins of holistic wellness knowledge."
Luger champions the Indigenous community in everything she does. "I began to recognize that there was a huge lack of Indigenous representation in the health-and-wellness industry," she says. Because of this, in 2013, she co-founded an organization called Well for Culture, a platform that encourages holistically well lifestyles, alongside her husband, Thosh Collins. Since then, Luger has written a book, The Seven Circles: Indigenous Teachings for Living Well; been featured on The Goop Podcast and in Oprah's quarterly magazine; and more. "My favorite part about my job is serving my community. We teach workshops for Native American and First Nations people all over the U.S. and Canada," she says. "I love that we have the tools to offer a perspective on health that our people truly connect with."
Before getting into the wellness industry, Luger studied history and Native American studies at Dartmouth. Upon graduating, she had dreams of becoming a lawyer. But after working at the Manhattan district attorney's office in the Special Victims Unit for two years, "I realized that I did not, in fact, want to be a lawyer," she says. She decided to follow her passion for journalism instead and got a master's degree in the subject from Columbia University, then worked as a producer for NowThis News and a writer-editor at Indian Country Today Media Network, among other positions. "Indigenous people are widely underrepresented in the media industry, and I hoped to play a role in changing that," Luger explains. "Meanwhile, somewhere along the way, I developed a passion for health and fitness." In grad school, she even worked a side hustle as an Equinox personal trainer.
When she's not busy writing books, training, and sharing inspirational wellness content online, Luger makes time for her own self-care routines. "Wellness is balance, wellness is community care, and wellness is the basis for any other endeavors in my life," she says. "I am so grateful for any amount of health and energy that I have, and I believe that in order to honor that gratitude, I need to put energy back into maintaining a 'well' lifestyle."
.

Here, Luger's a.m. routine:
8:30 – My morning beauty routine begins after I get home from dropping my kids off at day care. That's when I have a window of time to myself before I jump into my work for the day. It really kicks off with the cold plunge at the end of each shower. After washing my face with Malin + Goetz Grapefruit Cleanser, I turn the shower water as cold as it gets and rinse my hair and body for about two minutes. After that, I feel truly cleansed and awake, and my skin and hair both feel and look noticeably better.
8:50 – My hair routine is super-simple. I work Olaplex No. 7 Bonding Oil into my ends (my hair gets dry if I don't), then I blow-dry with my Dyson Supersonic Hair Dryer, which my mom so graciously bought me as a gift. I love it because it's much lighter and faster than any hair dryer I've ever used before, and I do not have a lot of extra time on my hands!
9:20 – For skin care, I like to try different products all the time, but right now my morning routine starts with a spritz of Skwalwen Botanicals Teywilh Toner.
9:22 – I follow this up with COSRX snail-mucin essence, Supergoop! Glow Screen SPF 40, Farmacy Wake Up Honey Eye Cream, and finally Drunk Elephant Protini Polypeptide Cream. That may sound like a lot, but it only takes me about five minutes. And I enjoy every minute of it. As I apply my skin care, I am very mindful of thinking good thoughts and giving myself some confidence-boosting words of encouragement. I do skin care because I love the ritual of it all, not because I am caught up on having perfect skin.
9:27 – After that, if I have time and if I have meetings that day, I will put on some makeup, which is very fun for me. My routine includes Kosas Revealer Super Creamy concealer, Saie Slip Tint, Saie Dew Blush in Rosy, and Cheekbone Beauty's mascara and Sustain Lip Pencil in Sand.
9:38 – I always finish with some lip gloss or moisturizer. I rotate between lip products. I carry them with me everywhere, and I am addicted to them all! Right now, my favorites are Fenty Gloss Bomb in Fenty Glow, Dior Lip Glow Oil in Universal Clear, and Westman Atelier Squeaky Clean Liquid Lip in Nana.
Luger's p.m. routine:
7:30 – At night, my 2-year-old and 5-year-old are home, so I have way less time for skin care. I simply wash my face again with my Malin + Goetz Grapefruit Cleanser, then follow up by removing any last remnants of makeup with La Roche-Posay Micellar Cleansing Water Ultra.
7:34 – Then I use Mario Badescu Caviar Night Cream. This all takes under five minutes. I do all of this right before crawling into bed with my 2-year-old. I then turn out all the lights and turn off all electronics and read for a while after putting her to sleep. My routine with her helps me get a restful night of sleep, which is also a huge benefit for skin care and overall health and energy.
.

On the beauty marketing ploy that makes her cringe:
I cringe when I see a push for extreme nose contouring. I wish we could all embrace our different nose shapes and stop idealizing skinny, pointed noses. Regarding the wellness industry, I am so glad we are no longer referring to postpartum fitness as "snapping back." Moms today are conscious of embracing the changes our bodies go through with pregnancy, of embracing the strength that we embody as mothers, and of moving forward with confidence after giving birth, as opposed to trying to be the person or body we were before we
had kids.
.

On how the beauty and wellness industries are making her proud:
I am proud of the fact that Indigenous representation is far more common today in wellness than it was ten years ago, and I am confident that my work has had something to do with that. It actually feels amazing to reflect on that and say it out loud! I hope the industry will continue to focus on helping people to pursue wholeness and balance rather than to achieve impossible perfection. When it comes to the beauty industry, I will say that it seems to be way, way more diverse and inclusive than it was even five years ago. I hope the industry keeps moving in that direction.
Wellness as an "industry" has a long way to go as far as being more inclusive and less appropriative. Wellness as a sacred and authentic way of life, however, is still alive and well in many parts of the world, and it will continue to be reclaimed by those who are committed to that type of healing and reconciliation.
.

On the hero product in her routine:
In general, I keep my glam pretty simple. Right now, I am obsessed with my Cheekbone Beauty Sustain Lip Pencil in Sand. It single-handedly turned me into a lip-liner girl (which I really wasn't before). I've been using it for about a year now, and while I don't wear it every day, it is something that always adds that finishing touch and makes me feel transformed while still feeling myself.
.

On the self-care routine she swears by:
Outside of products, my beauty and self-care go-to is exercise! I always feel best and most energized after I have done some type of workout, whether it's an hour-long walk outdoors while chatting to my mom on the phone, a mountainside hike with my husband and kids, a weight-lifting session with my trainer, or a Pilates class online in my living room. That and drinking water with a hint of salt and lemon juice for boosted hydration.
.

On the wellness routine that relieves her stress:
Spending time outdoors and having a good conversation with my husband or one of my sisters is always something that relieves my stress. If I'm having a bad day or week, I will ask my husband to go for a coffee and a walk with me. We put our phones away and just talk and walk and sip our coffee, and I always feel much better after that.