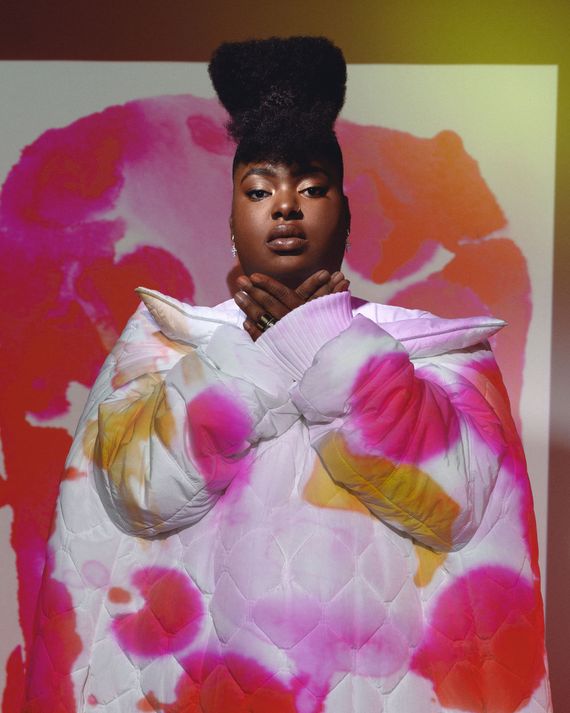 "I know I'm dope," Chika says with a chuckle. The 23-year-old Alabama-born rapper never shies away from her talent. "I'm fully aware. To say I'm not would be spitting in the universe's face and calling her a broke bitch. And I'm not going to do that, because she's done nothing wrong to me except give me back what I've put out."
Chika swerves in and out of the roles of introspective artist and comedian from the moment we start talking. From the heart of her North Hollywood apartment, wearing a black T-shirt with rows of white lettering that reads, "#schoolsnotprisons," twists placed in a high ponytail, and a 1,000-watt smile, Chika gives me a brief tour of her home studio. In addition to a handful of guitars, camera equipment dominates her work space. "I love filmmaking," she tells me. "It's a secret passion of mine." This is not entirely surprising given the way she uses social media — posting videos of herself performing off-the-cuff freestyles and unreleased music, literally dancing in the face of her haters, and showcasing both her wry sense of humor and her masterful grasp of hip-hop.
She points out a fish tank, a random stump with a face carved into it that "looks like Jesus," and a money gun she received during an appearance on The Read With Kid Fury and Crissle West.
"Being someone who grew up on the internet, it is all focused on sharing and capturing in some way. Even in terms of me holding my phone in front of my face to do verses, I've always been doing something with the camera," she says. "When I was little, my dad had one of those old camcorders, and I would set it up and sing songs and post on YouTube." That natural internet savvy sparked her to create viral freestyles over beats by stars like J. Cole and Cardi B as well as an especially pointed verse directed toward Kanye West, over his own militant "Jesus Walks" beat, after he revealed his support for Donald Trump in 2018. "We thought you could fill a void — you a puppet / You looked at all your fans, and you said, 'Fuck it, I'm on now,'" she rapped. "That nigga from Graduation, sorry y'all, he gone now." Then came stamps of approval from celebrities like Diddy, Erykah Badu, and hip-hop pioneer Ice-T, and a year later she was signed to Warner Records. 
Jane Chika Oranika started dabbling in rap in seventh grade and began taking her craft seriously in the mid-2010s. Around that time, she was accepted to the Berklee College of Music in Boston, but the steep tuition kept her close to home. Many of her viral videos were recorded while attending, and after dropping out of, the University of South Alabama and living in her hometown of Montgomery. "It's the South — the deep, deep South, at that … Racism, in Alabama right now, is more nuanced than it was back then," Chika told The Business of Fashion in 2019. "I always knew that like, oh, I'm already going to be looked at as the troublemaker. And on top of that, I'm like big and Black, gay and vocal." Perhaps unsurprisingly, that sense of defiance and southern, gospel-adjacent soul has snaked its way throughout her discography. So too have her West African roots: "Nigerians are just cocky for no reason — it's just in us, we can't help it," she muses. "We just have this competitive nature, which I think also comes out in the way I create things and the way I go for what I want."
That self-assurance and skill have earned her a new level of recognition this year. In March, she released her debut EP, Industry Games, and the influence of her stylistic forefathers (Wale, T-Pain, and André 3000) is palpable. The energy varies from the simple, stirring piano accompaniment of "Intro," to the sunny soundscape of "Crown," to the deceptively subversive "Balencies," and the soul-sampled, drum-heavy "Designer," which is her favorite track. "When I first heard the beat, I started playing around with the concept," she remembers. "I was like, Oh, this sounds like one of those trappy songs that these boys be making and nobody cares about — I'm rude — but I was like, What's something they be doing?"
As much as Chika loves that tongue-in-cheek track, it was "Crown" that caught the attention of President Barack Obama, who selected the song for his 2020 Summer Playlist. "I don't even remember who specifically told me first, because everyone was texting me at the same time," she recalls. Back in 2016, she had shared a verse on Instagram that went on to become "Crown," and it went viral. "It's very funny to think back on because that's where it all started, and it's such a full-circle moment."
After she released her EP, Chika's smooth, meditative style was on display once again later in March with a stripped-down performance for NPR's Tiny Desk concerts. She opened with "Industry Games," establishing her swagged-out underdog status: "And I'm finna take it all, fuck a wall, what's a border? / I've been counted out for too damn long / Like I couldn't take the crown with two damn songs." But she also delivered on her playful side, joking between performances, doing imaginary hair flips, and calling out the attendees for not being engaged enough with her quips. "Tiny Desk was such a beautiful experience," Chika recalls. "It felt so familial." She also admits, laughing, "I was being a headass. Could not help it."
Chika is quick to tell me how much her artistry is misunderstood, even by people who like her songs. She doesn't consider herself to be a "conscious rapper," for example, a box many uninitiated listeners have placed her in. "By saying that, [they mean] people who don't rap about sex or drugs or murder  — the 'others.' Just because I can articulate myself and form a sentence, but also be kind of reckless and rowdy, doesn't mean I'm a conscious rapper," she says.
"All of my music is not political," she emphasizes. "I have one project out. Most of my other [songs] are about love." Her 2019 single "Can't Explain It" featured everybody's uncle, the legendary Gap Band leader Charlie Wilson, and flipped R&B singer Tamia's 1998 song "So Into You" into a queer love story; the video was inspired by the beloved Black sitcom A Different World. 
Indeed, "U Should," a recent tender, acoustic-guitar-accented contemporary ballad, sounds like catching feelings on the breeziest summer day. "It was after the Kanye verse. Everybody was expecting me to be this hard-core rapper. Like, 'Oh, she's a big girl. She's going to come hard and be angry, she's Biggie,'" she reminisces. "And I'm like, 'Bro — shut the fuck up. I'm a lover.'"
Days before we met in late August, it was announced that she had made the XXL Freshman cover, a highly coveted achievement in hip-hop. Megastars like Big Sean, Chance the Rapper, Future, and Kendrick Lamar have been featured in past years. "I got a call a couple of months ago," she says. "Everybody ambushed me, the team — the squad — was like, 'Hey, we got news!' And I was trying to eat some vegetarian lasagna. They were just like, 'Hey, you got the Freshman spot.' And I was like, "Ayeeee, it's lit. Yeah, bitch — let's go! Let's do it.'"
Reactions to Chika's XXL cover have been mixed. "The initial feedback was 'Who is that? She stole whoever's spot,'" she explains, sounding unfazed. "I'm laughing and really enjoying myself because I'm like, Y'all don't even know that I'll rap circles around everybody on this list. And not even on, like, an elevating-myself thing. But if you put me to that challenge, I will do it."
That unshakable confidence got the attention of singer, actor, and general Renaissance man Jamie Foxx, who spotted Chika on Instagram in 2018. Around that time, he'd signed on to star in Netflix's recently released sci-fi action film Project Power, in which he befriends a young girl (played by Dominique Fishback) in New Orleans who wants to be a rapper; Chika originally read for the part and ended up writing the up-and-coming actress's bars. "He went to the producer or the director like, 'If you want the future of rap, here you go,'" Chika says.
But for all the braggadocio and raw vibrancy that characterize her presence on social media, Chika doesn't hide her exhaustion and rage. It's all starting to take a toll.
When I speak to Chika a second time, she sounds less animated than I'm used to hearing her be. "I am currently horizontal in my bed," she admits, giving in to the weariness that comes with committing to an artist's schedule, including back-to-back phone calls. Though she sounds tired, there's still that unmistakable dash of mischief and joy in her voice. "I chose not to sit up today," she says, laughing. "I can't — I can't."
Through her music, Chika looks back on the virality from which she initially gained recognition and compares it with where she aims to be. On the intro to Industry Games, she soberly raps, "I been existing in a world I made my own / But the internet is temporary, now I crave a home." When I ask her to break down what she means, exactly, she pauses for a beat longer than usual.
"I wanted to cement myself in the world that exists outside of Wi-Fi," she clarifies, vacillating between serious and hilarious. "Not to, like, suck my own dick, but I have chills thinking about it, just because I meant every fucking word I wrote in that song. I wasn't dancing around it and being metaphorical. My world has existed solely on the internet for the longest time, which is something that, during this year, I've had to cope with as well. Because finally, my project's out, I can tour — oh wait, the world shut down? Okay, back to the internet. Like, imagine saying those words and literally having to live on the internet."
She confesses to not having any more to give to the web: getting caught up in the comments, being constantly online, and checking to see if she's doing well. Chika says she built her entire career sitting on the hardwood floor of her bedroom on her knees. ("Even if I couldn't do it, there was a pillow — don't worry, I'm a pro," she says irreverently.) At times, she would record up to 50 takes to get something right.
"When I think about it, I was fucking venting," she says, parsing the memories leading up to Industry Games. "I was just like, Bruh, imagine how long I had to walk to get to this moment, to release the EP. How many nights I stayed up crying over whether or not I was going to ever be able to break out."
Chika has often turned to social media as a way to process her frustrations and bond with her fans over issues of mental health. "I've seen so much pain and so much realness in other people. Exposing my own almost feels like second nature," she says. "It doesn't feel like if I say, 'Hey, I've been suicidal before,' someone could use that against me. I don't feel vulnerable when I'm saying these things. I say I'm 'transparent.'"
In Chika's eyes, there's a distinction between the two. The former can indicate a feeling of being exposed, while the latter is an intentional offering of openness. "It doesn't feel like vulnerability," she says. "It almost feels like having a superpower — of having iron, just on me. Nothing penetrates that."
When I ask how she's able to offer sound advice, she responds candidly: "You don't — you do it while you need it. You don't wait till you have the answers. You talk yourself through it. Sharing as much as I do is equally healing for me."
Chika couldn't have predicted that her summer of waiting — to break out, to go on tour, to at long last get off the internet and start living her dreams — would coincide with a summer of panic, protest, and violence. She describes herself as an empath. "I've always been that person to know when the emotions in the room have changed, even by a degree," she says. "I think that's the reason I write the way I do and I'm able to tap into my own feelings so deeply." But what she has felt (and seen) the past few months was a fury and heartbreak taking hold of everyone she knew in response to the murders of George Floyd and so many others at the hands of police.
On May 30, Chika and her manager were detained for several hours after attending a Black Lives Matter protest in L.A. She'd been outspoken before, but this time she was incensed and unfiltered in a way that stood out among the sea of celebrity calls to "use their platform" for the sake of preserving their image. "Our people need justice," she said straight into the camera in an Instagram post. "[Your taxes] fund these bitches, who then put their fucking knee on your gotdamn neck and watch you die as you say, 'I cannot breathe'? … I need to see more videos of shit burning the fuck down. Period. And I said what I said."
Most recently she has been vocal about Jacob Blake, the 29-year-old Black man shot by Kenosha, Wisconsin, police last week. "I haven't said anything cuz, honestly, I just got my mental health back to a stable place," Chika tweeted days after the shooting. "But the Jacob Blake situation, like all others, is sobering and sick to have to process. He did nothing. And now he's paralyzed at the hands of a cop … Stop making fucking excuses. He could've had a samurai sword in his fucking car, if he was white, they would've found an entirely different solution than shooting him SEVEN TIMES IN THE BACK!"
When I ask why it's so essential for her to use her voice to spur conversations about issues affecting the Black community, she's straightforward: "Even within our community, we know people who don't stand up for us. So if you are ever given a position of any kind of influence and you don't use it, then you're selfish."
"Black people have always been made to be the martyrs for a world we didn't break," she continues. "We're always told to be the activists, the vocal ones, and to speak up and X, Y, and Z. Our identities are inherently political. From birth, out of the womb, they've thrown these heavy-ass coats on us, and one by one, we take them off as we get older. And when you feel liberated, you can't help but to be like, 'Hey bruh, let me tell you about this and let me help you take that off.' If we don't do that, we're going to be stuck in the same place."
She sounds more serious, more forthright than I've heard her before.
"I'm damn sure not leaving this earth the way I found it," she declares with the utmost sincerity. "So I might as well — I'm gonna raise hell. I'm gonna use my voice. What else am I here for?"