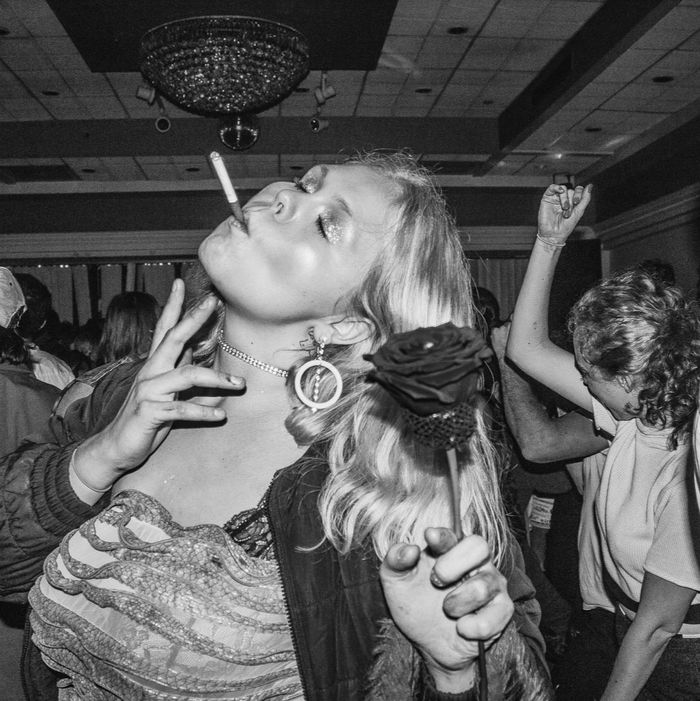 This year, we have devoted New York's annual "Reasons to Love New York" issue to a celebration of the go-tos that have closed since the pandemic struck. A wake for the places that defined our lives here — that gave us community and let us try on new identities in return for our money. The bars where we came together for after-work drinks, the boxing gym where everybody thinks they're in an action movie, the gallery that trusted you to build a cloud, the coffee shop where you were left alone to read, the restaurant with the full bar where you'd find yourself trying to eat after an all-night bender, the place that was so of its moment that it became a relic and then (deservedly) an icon. All gone. And sadly, probably, more to come before the city returns to its purpose: a place of gathering. We'll be sharing these tributes all week on Curbed.
From the hours of 11 a.m. to 9:30 p.m., China Chalet was an unassuming dim sum restaurant. From 10 p.m. onward, especially on weekends, the second-floor space was transformed into a music venue and late-night clubhouse for everyone from underage skaters to Vogue girls to the Democratic Socialists of America (which had its holiday party there in 2017). The layout made it special. You could have a conversation with someone at a booth under the glow of pink lighting, with white tablecloths and roses giving the illusion of glamour, and then follow them back to the sweaty dance floor. It always felt too good to be true, like you were getting away with something. And given all the smoking, underage drinking, and other fun people got up to, you likely were.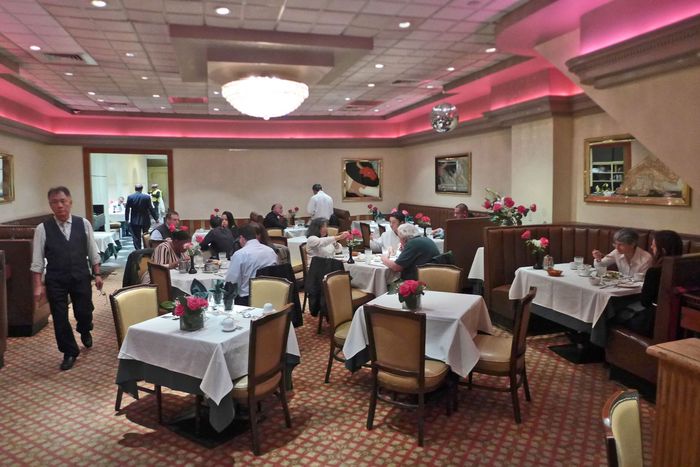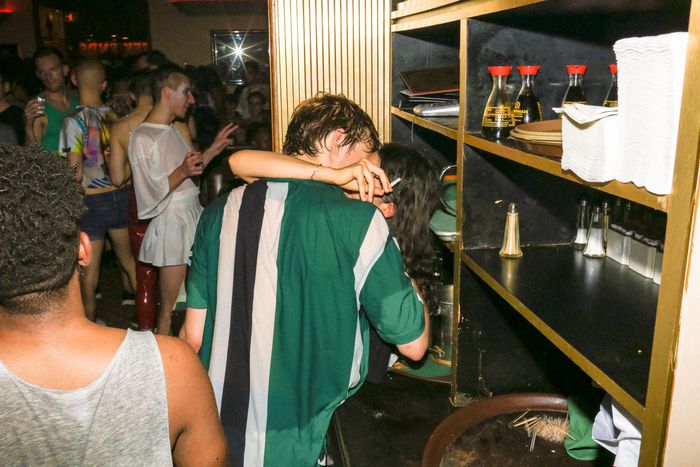 "It was 2005. I was having my first solo show in New York and wanted to have an after-party in a space that no one had ever seen before. I walked around downtown in the rain for literally two days. I was in the Financial District, at the end of my rope, when I looked up and saw the glass room of China Chalet glowing pink. I walked upstairs — I was soaked — and Keith [Ng], the owner, turned out to be there. We sat down at a table, he had his signature snifter of Cognac, and hatched a plan for the first party. After that, Gemma Ingalls and I started doing all kinds of parties there [under our production company Wildcat]. There was definitely something really special about the space, and we knew that, but we could've never guessed that 15 years later, they'd be having designer fashion after-parties there. It took on a life of its own." —Glynnis McDaris, photographer
P

a

r

t

y

t

i

l

l

3

a

.

m

.

T

h

e

n

o

p

e

n

f

o

r

l

u

n

c

h

t

h

e

n

e

x

t

d

a

y

.
"We hired three busboys to move the tables out at night and then move them back when the party was over. We cleaned up as much as we could — if the floor was dirty, we'd sweep it. But then the morning crew would come in and do a thorough cleaning before we got started for the next day's business. I'd usually get there around 11 o'clock. Sometimes, I wouldn't get home until four in the morning. It was a long day, but it is what it is, you know?" —Chicky, bar manager since 2007
I

t

a

t

t

r

a

c

t

e

d

a

y

o

u

t

h

f

u

l

c

r

o

w

d

…
"I celebrated my 21st birthday there. It was the night King Krule performed in 2017. At midnight, my friend told the bartenders, 'You've been serving this guy underage for years, but he's finally 21. Pour him a shot!' They shrugged and gave me one." —Adam Zhu, artist and Supreme employee
…

A

n

d

c

e

l

e

b

r

i

t

i

e

s

w

h

o

k

n

e

w

t

h

e

i

r

w

a

y

a

r

o

u

n

d

.
"In 2019, I was working a party, and Danny Brown was performing. It got to a point where not a single other person could go into the venue. Then Diplo showed up. I had to refuse him entry. Of course, he did what everyone does, which is go around to the back entrance. I was like, 'You're welcome to do that, but I didn't see it.' " —Sophia Sempepos, worked the door
T

h

e

D

J

s

s

o

m

e

t

i

m

e

s

h

a

d

t

o

h

o

l

d

b

a

c

k

…
"I always thought the floor was going to cave in at any moment. It actually got to a point where I was like, Oh, I can't play that song because everyone's going to jump to it — 'Everytime We Touch,' by Cascada, was the one I couldn't play. One time, I did, and I was like, Fuck, it's happening. Tonight's the night. I'm going to be on 'Page Six.' I could feel it. Thankfully, nothing happened." —Ty Sunderland, DJ, promoter, host of Heaven on Earth events
…

T

h

e

g

u

e

s

t

s

,

m

e

a

n

w

h

i

l

e

,

d

i

d

n

o

t

.
"We had Carol [Lim's] 40th birthday there five years ago. I remember, I was like, 'I gotta get Carol a stripper.' So, I called the stripper company — asking for a male stripper — and he didn't show up. And I was like, 'Oh no!' So I just looked on Google, or Yelp, or whatever, and found somebody else to come down. He came out as a fireman and we pretended that there was an actual fire at the restaurant. Because it was Carol's 40th, I really had to go classy. So I also got six-foot tequila luge in the shape of a penis." — Humberto Leon, co-founder of Opening Ceremony and Chifa restaurant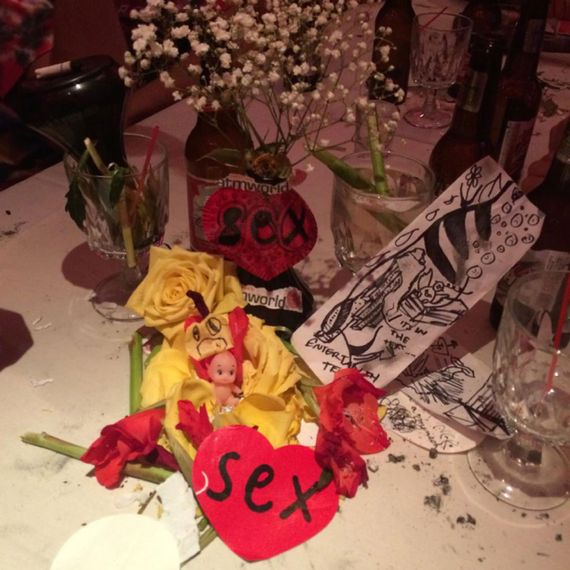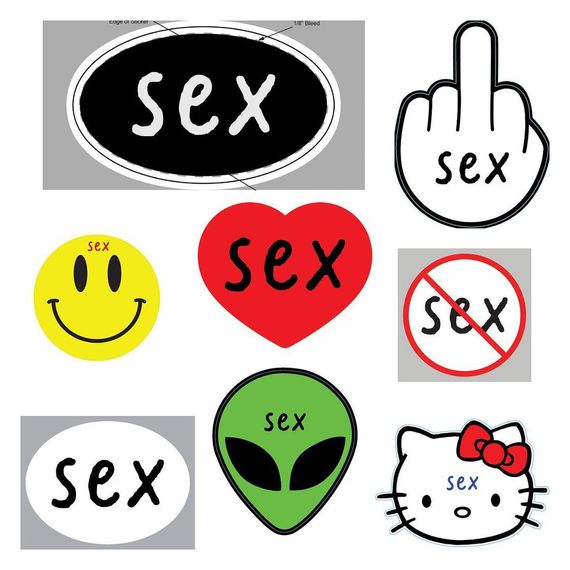 I

t

s

e

e

m

e

d

t

o

h

a

v

e

f

r

i

e

n

d

s

i

n

h

i

g

h

p

l

a

c

e

s

.
"You really have to look at China Chalet's location and the amount of time it was around. You may not have noticed, but when you first walk in, next to the coat check, there are a bunch of photos of Keith Ng, the owner, with Rudy Giuliani, with Bill Bratton, with federal agents. Because they were in the Financial District, the main people eating lunch there were people in the federal buildings. Major political figures. That's another reason why so many of the security staff were all Rikers Island corrections officers. It wasn't really an agreement; it was more of an assumed thing: China Chalet wasn't going to get raided." —Alex Kellogg, event producer
E

v

e

n

t

h

e

2

0

1

6

e

l

e

c

t

i

o

n

c

o

u

l

d

n

'

t

s

t

o

p

t

h

e

p

a

r

t

y

.
"We had an event the same weekend that Trump got elected. We booked it with confidence, thinking that Hillary was going to win, and we couldn't get out of it. I remember that week, it was so depressing. There were all these protests and we were trying to figure out how we were going to promote it. It felt weird to throw a party, but we just did it anyway. I had a lot of support from the host and we got the word out. I really didn't think that so many people would show up, but we packed the venue. I just remember the community vibe felt very positive. Of course, people were depressed. It was very emotional. We had our DJ mixing sounds from the protests on top of the music. Like it would say, 'Not my president! Not my president!' And that got everybody going on the dance floor. It was a really special moment. It brought the community back together and gave us a sense of fight." —DeSe Escobar, co-founder of Club Glam  
T

h

e

l

o

v

e

w

i

l

l

o

u

t

l

a

s

t

C

h

a

l

e

t

'

s

e

n

d

.
"I saw my girlfriend, Esther Gauntlett, for the first time at China Chalet. It was our five-year anniversary this March, so I guess it would have been 2015. My friend was dating her business partner, Jenny Cheng [of the fashion label, Gauntlett Cheng], so I'd met her before. But I'd never met Esther. I saw her at a party and I thought she was really cute. She was wearing these really cool yellow pants, which I later found out that she'd made herself. We were on the dance floor — she's a very cute dancer — and I was with my friends trying to be close by, hoping that Jenny would be like, 'Hey, what's up!' I thought maybe I could just bump into them. But that didn't happen. It was weird because I'd never seen her before, but then I saw her again maybe like three days later at an opening and we finally met. We went back to China Chalet all the time after we started dating. I didn't tell her for a long time that I'd seen her there for the first time and that I remembered it — that I'd basically watched her [laughs]. When I finally told her, I was like, 'Yeah, you were wearing those yellow pants!'" —Jason Matthew Lee, artist
*A version of this article appears in the December 7, 2020, issue of New York Magazine. Subscribe Now!
More Reasons We've Loved New York