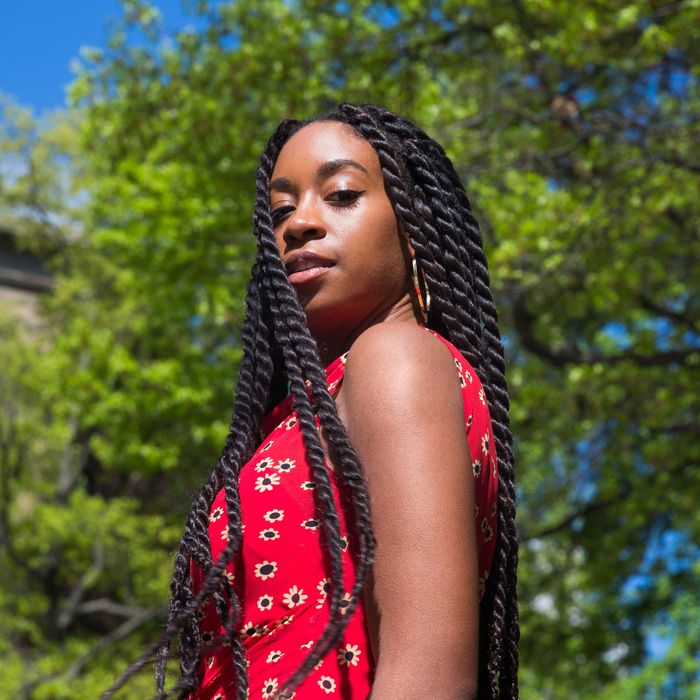 Four days after George Floyd died in police custody following a brutal police assault, Chrissy Rutherford called for action on Instagram. The fashion editor and consultant wants people to do more than say they're not racist. "If you are not Black, and you are not sharing what's going on and talking about it, to me, you're sending a message that you agree with what's going on," she said in an IGTV video. "I don't care if you have a million followers or you have 200 followers, it's still important to have these conversations with your friends and your family and to make your point of view known." The video went viral, and almost two months later, has more than 5.3 million views.
Until March, Rutherford worked at Harper's Bazaar, first as a fashion editor and later as the magazine's special projects director. Among her responsibilities, she had to spend a significant amount of time on camera. Rutherford knows she doesn't "owe anyone perfect skin," but as someone who's had a long and arduous journey with cystic acne, it'd be remiss to say it wasn't on her mind.
"Retinoids were a godsend for most of my 20s, when I only got white heads," she says. "However, shortly before turning 30, I started getting cystic acne, and I realized the retinoid didn't really pack the same punch anymore." Birth control wasn't an option, either — three different attempts at taking the pill went awry.
Desperate for relief, Rutherford turned to Into the Gloss, where she found a comment mentioning DIM. The supplement is meant to balance the body's estrogen levels using the Diindolylmethane compound typically found in cruciferous vegetables. It healed her acne — and it worked fast. Rutherford remembers, "I honestly saw my acne vanish in two weeks, and then my acne scars faded and I had clear skin again. I'd still get a zit or two during my period, but they were smaller, and the painful angry cysts had really vanished."
She stopped taking the supplement after eight months, but her skin took a turn for the worse shortly after, and she reintroduced DIM into her routine. Only this time, it didn't have the same effect. "I continued to take it, even ordered a slightly stronger version, and I didn't see any results," she says. "I wrote a story about it for Bazaar.com in 2017, and honestly, to this day I still get at least one DM a week from someone either asking if I still take it or telling me that it worked for them."
Her cystic acne has slowed down over the past few months, thanks in part to her current skin-care routine and a switch in dermatologists last November — she's now seeing Dr. Dhaval G. Bhanusali. Take a look below for the products that help keep her cystic acne away and a few that help with the aftermath of her breakouts.
Nighttime
The Cleanser
"I was introduced to Renée Rouleau by Tina Craig about three years ago. I was in L.A. for work, and Renée, who is based in Texas, happened to be there at the same time. I met her at a hotel where she was doing custom facials for clients — many of them are celebrities like Demi Lovato and Lili Reinhart. She talked me through dealing with cystic acne, which had very recently become an issue for me.
Once you're "in" with Renee, you basically have a skin guru at your fingertips! She'll reach out every month or so to ask how my skin is doing, and I can just shoot her a text if I'm having a weird flare-up or need some reassurance not to pop my pimples. A few months ago, she blessed me with a lancet and taught me exactly how to puncture my own pimples (white heads only!) so that I can extract on my own. Sadly, I can't get regular facials with her since she's based in Texas, but pre-pandemic, she would come to New York a few times a year. Other than her, I don't really let other people touch my face anymore, except skin doctors.
I use her cleanser every day because it helps with uneven skin tone. It gently exfoliates so my dead skin cells don't clog my pores and create more acne."
The Masks
"I'm obsessed with this mask but you'll look absolutely crazy with it on — sort of like you just murdered someone. It's a rich berry red, and it sometimes stings and tingles when you put it on because the acids from the fruit are working to brighten your skin."
"I love how gentle this mask is, and it smells so good. I use this pretty regularly (not just when traveling), and I really think it soothes my skin when it's inflamed. Many people who suffer from acne think you need to dry out your skin, but it's really the opposite for cysts. Trying to dry out a cyst just seems to make it last longer."
"Barbara Sturm's approach is different from most derms. She says retinol is bad, and it's causing inflammation in the skin in the long run — which could be true, but so much research has been done on retinoids, and it has a lot of beneficial properties. She's very big on hyaluronic acid, but now there's been research that says it's actually dehydrating? It always seems like there's a counter argument to everything in beauty. In any case, I've met her a few times and she is really lovely. I love that she cares so much about dark skin and the unique challenges that it has. And her face mask is great and moisturizing."
The Prescription
Photo: Ridofranz/Getty Images
"I'm allergic to most meds that dermatologists prescribe so I can only use topicals. I've been on prescription retinoid since I was about 22, after a short stint with birth control went awry.
I recently started seeing a new dermatologist, Dr. Bhanusali, and he creates custom compounds of topicals. He created a Tretinoin mixed with niacinamide and azelaic acid — it's been working better than just the straight Tretinoin. My dermatologist also put me on a rosacea topical that has azelaic acid plus Ivermectin and Metronidazole. Since I was breaking out a lot on my cheeks, my doctor said it was possible that it was rosacea because it presents differently on dark skin people. Either way, I've seen major improvement with these two topicals.
When I first started taking retinol, I definitely experienced all the things they warn you about — super dry skin and a little extra breakout activity than usual — but it is 100 percent worth it. I would go through it again if I had to do it!"
The Moisturizer
"I used to be afraid of moisturizer and never thought I really needed it because I have such oily skin, but since I started working with Renée, I've really learned to embrace it. This is my all-time favorite moisturizer because it just smells so good. The fresh citrus scent actually makes me smile when I put it on my face every night. The formula is also pretty thick. In the past, I probably would have been scared of it, but it's not greasy. I really feel like it moisturizes and calms my skin at night."
The Spot Treatments
Photo: Courtesy of Glossier
"If I need to dry out a pimple after it's been popped, the Glossier acne stick is my go-to. It has tea tree oil and capryloyl salicylic acid, but it needs to be used sparingly — I've suffered light burns thanks to the 5 percent benzoyl peroxide content. I love how easy it is to carry around with you, and it's great for traveling."
"I'm already on a prescription retinoid that I use at night, but I'll typically use this on whiteheads or cysts after I've been able to lacerate them and extract the buildup from inside."
Hyperpigmentation
The Vitamin C
Photo: Retailer
"It's one thing to get acne, but it's another thing to have to deal with the aftermath, which is scarring for about two to three months. I've tried laser treatments in the past, and they definitely help, but unless my acne goes away completely, there's no real point in doing it regularly because I just keep getting scars. I've used prescription hydroquinone, but I know it's really not good for long-term use so I stick to glycolic acid. My skin can handle the acid, but I've decided that it's not actually necessary to go so hard on my skin just because it doesn't get irritated or dried out. Lately, my go-to is vitamin C serums during the day. I absolutely love the one from Summer Fridays. The citrus scent is so good, and it feels really nice on my skin. I feel like I've seen pretty fast improvement with it. A few months ago, I also tried the Sunday Riley vitamin C serum, and I also thought that one was good."
The Exfoliant
"I try to use a physical exfoliant once a week. I'll either use Renée Rouleau's Buffing Beads — it's pretty gentle, and I love the minty smell — or the Summer Friday's Overtime Mask if I need a more aggressive exfoliant. It makes my skin insanely soft, but as I tend to be heavy handed, I have to be really gentle when I massage this into my skin because it can be a bit harsh."
If you buy something through our links, New York may earn an affiliate commission.