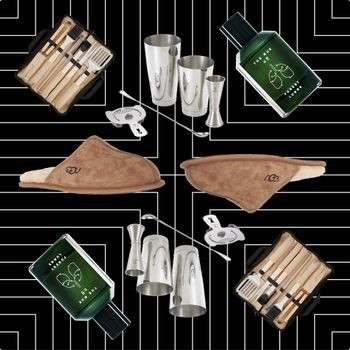 Photo-Illustration: by The Cut; Photos: Retailers
For more of the Cut's favorite fashion, beauty, and home finds, sign up for the weekly Cut Shop Newsletter.
Although it may feel a tad early, it never is when it comes to planning holiday gifts — especially for the fatherly figures in your life. With dads, no two are exactly alike, but all of them have something in common: They always claim they have everything they could possibly want. Obviously, this makes them impossible to shop for, so to best prepare you for this holiday season, we've collected 43 gifts for dads who absolutely "don't want anything."
Whether it's cozy slippers and sweatpants or new tech toys, buy him something from this gift guide and you're sure to get a smirk of approval, the highest form of dad praise.
What to get your dapper dad …
If he's never met a cashmere sweater or trendy sneaker he didn't love, you might have a fancy man on your hands. In which case he's sure to appreciate a stylish addition to his wardrobe.
Slim fit and true to size; he'll want this corduroy gem in every color.
If the only jewelry he currently wears is his wedding band, encourage him to step outside of his comfort zone with a rope bracelet.
If he takes grooming seriously, he'll be happy to unwrap this electric shaver that allows for a smooth shave or precision trim.
If he's one of those older folks who complain about how no one dresses up to fly anymore, give him a chic, practical travel-document organizer.
Fresh, clean white sneakers to go with everything in his carefully curated closet.
A step up from a hoodie with just as much comfort, he won't be able to take this cardigan off.
Even if he already owns a winter jacket, this topcoat is sure to be in his regular rotation.
What to get your tech-obsessed dad …
If your dad loves having the newest gadgets — just to show off, or because he hopes they'll optimize his life — show him that you care with a shiny new device.
The tangle of wires behind is desk is an eyesore. This will help.
If he prides himself on his dental hygiene, this is the gift for him.
If your dad loves movies but hates movie theaters, give him the gift of an at-home experience.
For any dad who likes to keep things clean, this is a must-have.
If he's constantly losing his keys and wallet, he'll thank you for this tracker.
The new version of Galaxy Buds from Samsung are probably the best-looking wireless earbuds available.
What to get your amateur-chef dad …
He won't let anyone else near his grill, he meticulously plates his meals, he takes photos of his creations on his giant iPad, and he still can't stop talking about how much he loved Salt, Fat, Acid, Heat. Get him something that will make him feel worthy of a Food Network competition.
A grill, griddle, and panini press all in one; he might never leave the kitchen.
Reviewers on Amazon love this lightweight knife. It'll hold an edge but still feel balanced in his hands.
These olive oils are the perfect addition to his pantry and will have him sautéing and simmering in no time.
Any home chef would welcome an air fryer to create crispy treats that don't require a ton of cooking oil.
This sous-vide device is guaranteed to cook a great cut of steak, chicken, or duck.
If he spends all his time in front of the grill, odds are his toolkit is looking worse for wear and could use replacing.
If he's a baker, get him this vanilla paste that's beloved by pastry chefs. It's sustainably and ethically sourced, so you can feel good about giving it, and he can feel good about using it.
If he loves to eat leftovers, these reusable bags will keep his goods secure, minus the plastic waste.
It's like the Hot Ones variety pack, but classier.
What to get your outdoorsy dad …
Your dad was gorpcore before there was a name for it. It's time to send him back into the wild (or merely out into the yard) with some new gear.
Is he more into the idea of being outdoorsy than he is an actual outdoorsman? Buy him this scent that's directly inspired by the soothing effects of nature.
This fold-flat coffee drip can be stashed in camping packs so he can brew the perfect cup, even when he's deep in the woods.
Now you won't have to worry about him getting sunburns (or worse). The Suncare Ozone Protection Set consists of two SPF 30 mineral sunscreens for the face and body that don't leave a white cast.
These sturdy hiking boots get rave reviews for their ability to grip the trail and keep toes warm and dry, even in deep snow.
Perfect for bird-watching, these are also waterproof and fogproof.
These merino wool joggers are designed with a waffle knit to keep him extra warm on cold winter runs or walks.
This pocket-size gym features more than 100 isometric workouts that are coached and tracked through an app, so he can squeeze in exercise anywhere.
What to get your La-Z-Boy-loving dad …
He's happiest when ensconced in his special chair — the one no one else is allowed to use — watching TV and napping. Since you can't exactly buy him a second beloved chair, try taking his comfort to the next level instead.
He probably wouldn't spend this much on pajamas for himself. That's what makes them a great gift.
There is no easier way to stream from your phone to your TV. Your dad will love being able to do it without getting up.
These slippers were made for cold winter mornings.
If your dad experiences anxiety or has trouble relaxing, a weighted blanket might be just the thing.
The Theragun craze exists for a reason: This thing works. He can lounge after a long day and use it to release tension and stress.
A scented hand soap–body wash that will make him feel like he's at a spa.
What to get your office-dwelling dad …
Whether he's commuting to work or just commuting from his bed to his desk at home, these items will make him feel professional in our new normal.
A digital picture frame of displaying his loved ones will remind him why he's working so hard.
The sleekest computer cover ever to exist will be sure to impress your dad.
Whether he travels frequently or just has a lot of stuff, this duffel can handle anything from his gym gear to his weekend travel essentials.
What to get your beverage-loving dad …
If he's into mixology or more of a coffee snob, there are plenty of cool accoutrements and tools he'll enjoy.
So he mixes a drink worthy of Bemelmans? He can show off his skills with these elegant glasses.
This set comes with a shaker, jigger glass, strainer, and bar spoon, so he can whip up the perfect old-fashioned or negroni.
If he's a pour-over pro, invest in a kettle with a built-in thermometer. This one has a lifetime warranty, which will appeal to frugal fathers.
This mini Chemex is just the right size for his desk and will actually look nice there.
Beverages to go? Only if they're in this highly rated thermos.