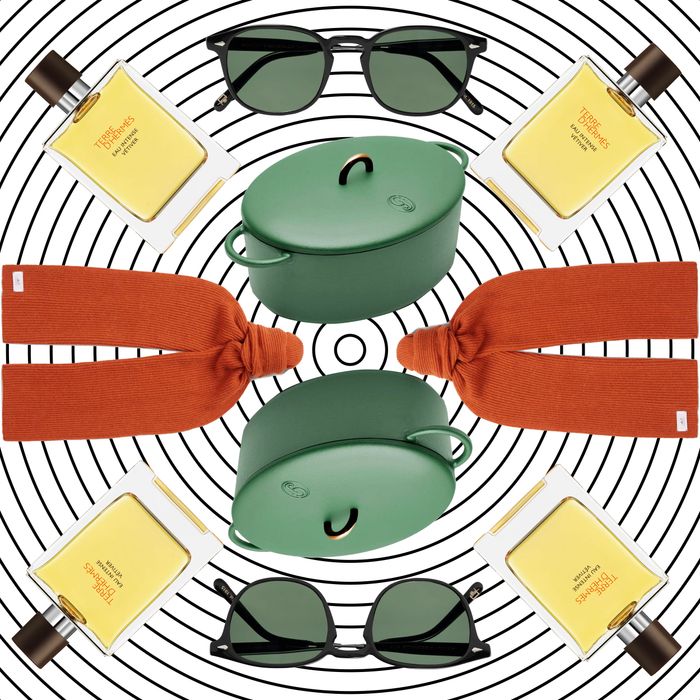 No two dads are exactly alike, but all dads have something in common, something that transcends boundaries to bond them under the vast umbrella of dadhood: They always claim that because they have everything they could possibly want, they don't want any gifts. Obviously, this makes them impossible to shop for, so this holiday season, we've collected 61 gifts for dads who absolutely "don't want anything." Whether it's cozy slippers and sweatpants or new tech toys, buy him something from this gift guide, and you're sure to get a grumble or smirk of approval — the highest form of dad praise.
What to get your amateur-chef dad who doesn't want anything …
He won't let anyone else near his grill, meticulously plates his meals, takes photos of his creations on his giant iPad, and can't stop talking about how much he loved Salt, Fat, Acid, Heat. Get him something that will make him feel worthy of competing in his favorite Food Network show.
Reviewers on Amazon love this lightweight knife. It'll hold an edge but still feel balanced in his hands.
Any home chef would appreciate an air fryer to create crispy treats that don't require a ton of cooking oil.
With deep grooves to catch all the drippings and a pour spout in the corner, this cutting board can be used for everything from slicing meat to chopping salads.
This sous vide device is guaranteed to cook the perfect cut of steak, chicken, or duck.
Order him some pastrami from his favorite deli, plus its candle, scented to smell just like a chocolate egg cream.
If he spends all his time in front of the grill, get him a set he'll be proud to show off.
You know he dreams of perfectly re-creating Julia Child's beef bourguignon, so give him the proper pot to do so.
If he's a baker, get him this fancy vanilla paste that's beloved by chefs, fancy pastry people, and regular folks who just make a lot of cookies. It'll leave these lovely black vanilla bean specks plus it gets bonus points for being ethically sourced.
Extend the life of his farmer's market haul with these veggie bags — they're thick, organic cotton sacks that you dampen before storing. In the fridge, they'll keep most vegetables fresher for days longer, or in the case of cabbage, weeks.
Great for smoothies but even better for pesto.
What to get your dapper dad who doesn't want anything …
Your dad has never met a cashmere sweater he didn't love. He's sure to appreciate a few more looks to add to his rotation.
A stylish polo made in supersoft cotton jersey will look great under his many blazers or even dressed down with nice sweatpants.
He probably owns a pair of sleek leather boots, but it's time for a suede upgrade that reviewers praise for being very comfortable.
It's tricky to buy sunglasses for someone else, but stick to a classic silhouette from a reliable brand and you can't go wrong.
Thank goodness for the new wave of affordable cashmere. Get him a sweater in this light-blue shade — it looks good on every skin tone.
Dapper gloves to match his dapper overcoat.
There's nothing better than a well-made coat, especially in rich camel.
And of course, he'll need a scarf as well. This deep orange one would look especially good with a camel coat.
Classic white sneakers will go with everything in his carefully curated closet.
For the dad who knows who Tom Ford is and will laugh when he sees the name of this product.
What to get your La-Z-Boy-loving dad who doesn't want anything …
He's happiest when he's ensconced in his special chair — the one no one else is allowed to use — watching guys run around on a field with a ball on the TV. Since you can't exactly buy him a second beloved chair, try taking his comfort to the next level instead.
He'll love how warm and cozy this plush robe feels against his skin.
Comfort should extend to his feet. Try these very nice slippers.
If the robe is too informal, why not get him a fancy hoodie?
To go with his new hoodie, throw in some cool sweatpants sustainably made in Los Angeles.
Movie nights with dad mean there will definitely be popcorn, and this popcorn-maker will convert him from the laborious stovetop method.
Why not give him an array of hot sauces he can always keep handy for couch dinners? (Food is the perfect gift for the man who doesn't like possessions, since it will soon be gone.)
The Theragun craze is real for a reason: It works. He can lounge after a long day and use it to release tension and stress.
The award for best-smelling dad is going to go right here, and he won't have to do much besides spritz.
What to get your outdoorsy dad who doesn't want anything …
Your dad was gorpcore before there was gorpcore. It's time to send him back into the wild with some new gear.
Does it even count if you don't share your workout on social media? Obviously not, so get him a watch that'll record his every movement.
This fold flat coffee drip can be stashed in camping packs so he can brew the perfect cup, even deep in the woods.
The Parks Project makes merch with proceeds going toward vital projects at national parks. Get him a T-shirt or hat from his favorite spot like Yellowstone, Yosemite, Joshua Tree. and more.
These sturdy hiking boots get rave reviews for their ability to grip the trail and keep toes warm and dry, even in deep snow.
He'll love wearing these durable, comfy, sweat-wicking shorts on his runs.
Not your finance bro's vest. This version is made from a water-repellent, wind-resistant, matte fabric from Japan.
This pocket-size gym features more than 100 isometric workouts that are coached and tracked through an app, so he can squeeze in some exercise anywhere.
This Patagonia down puffer can be folded into a small bundle, so it'll fit into any backpack. Plus, if the seams start to fray, you can take it to any store for a repair.
A scent that's directly inspired by the relaxing effects of nature and that smells like being in the great outdoors.
What to get your iPad-addict dad who doesn't want anything …
Your dad loves taking approximately 4,000 photos on his iPad at every event, and he will show you all of them. Prove to him that you care with these techy gifts.
A bold little case in the hopes that he won't lose his wireless earbuds anymore.
Over 35,000 reviewers love these very affordable earbuds for their sound quality and fit. Plus, there are seven more color options to fit any dad's taste.
A zingy scented hand soap/body wash that will zap him out of the lull of too much screen time.
Because he wants to take photos outdoors, too, get him tech-friendly gloves.
A handy way to stream shows or FaceTime with you.
All he has to do is drop his phone into this cup and it'll charge and sanitize it at the same time.
So he's ready to cut the cord? Get him this device that's super easy to set up and throw in a subscription to his favorite streaming service too.
If his iPad is from circa 2013, consider chipping in with the siblings for the latest and greatest model.
What to get your office-dwelling dad who doesn't want anything …
Whether he's still commuting to the office or just commuting to a desk in his bedroom, these items will make him feel professional in our new normal.
A classic, comfy sweater that'll go from couch to meeting.
A sleek alternative to those unsightly nylon messenger bags that too many businessmen carry. Gather your siblings once more and split the cost for something he'll really appreciate.
A crisp yet casual button-up that'll withstand any occasion.
Nothing says "power move" more than a handsome Tom Ford watch made from ocean plastic.
Yes, this tie has spray paint cans. But the beauty of a Ferragamo tie is that the whimsical designs are placed so tidily into geometric patterns that, from a distance, it just looks like an amazing, smart tie.
A classic that smells really good (and not too strong) on the inside collar of a button-down shirt.
A digital picture frame will remind him of what he loves most whenever he's sitting at his desk.
Go in with your siblings to get a sleek suitcase that'll have him extra excited to travel again.
What to get your beverage-loving dad who doesn't want anything …
Whether his hobby is being too into mixology or too into fancy coffee, make sure your dad is never parched.
So he makes an old-fashioned worthy of a fancy bar? Have him show it off in these elegantly simple glasses.
This set comes with a shaker, jigger glass, strainer, and bar spoon, so he can whip up the perfect old-fashioned or Negroni.
If beer is his thing, get him this elegant set of glasses and tack on a six-pack of his favorite microbrew IPA.
A true coffee snob invests in a kettle with a built-in thermometer to create the perfect pour-over.
For the real pour-over fanatic, this mini Chemex is just the right size for his desk.
All the better to show off his rare-whiskey collection.
For the wine snob, this purifier will filter out any sediment and sulfites, and it aerates the wine so every glass tastes delicious.
A candle created in collaboration with Johnnie Walker. It smells like Scotch (of course) but also Highland air and moss.
Beverage to go? Only if it's in this highly rated thermos.
If you buy something through our links, New York may earn an affiliate commission.