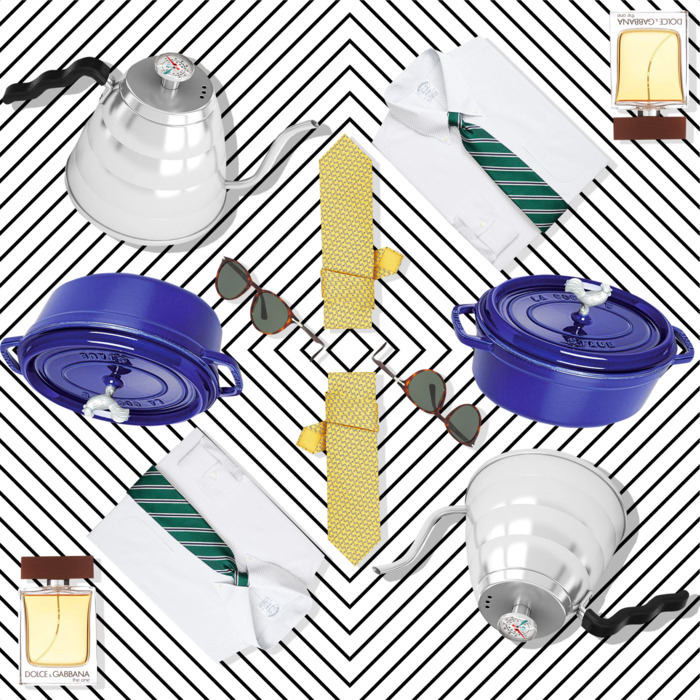 Photo: Courtesy of the Retailers
No two dads are exactly alike, but all dads have something in common — something that transcends boundaries to bond them under the vast umbrella of dadhood: They always claim that they don't want any gifts. Obviously, this makes them impossible to shop for, so this holiday season, we've collected 42 gifts for dads who absolutely don't want anything. Buy your dad something from this gift, and it's sure to get a grumble of approval — the highest form of praise.
What to get your Amateur Chef Dad who doesn't want anything…
He won't let anyone else near his grill, meticulously plates his meals, and can't stop talking about how much he loved Salt, Fat, Acid, Heat. Get him something that will make him feel worthy of competing in his favorite Food Network show.
ChefSteps Joule Sous Vide
Everyone's favorite sous vide, guaranteed to cook the perfect cut of steak, chicken, or duck.
Imarku Pro Kitchen Chef's Knife
Reviewers on Amazon love this lightweight knife — it'll hold an edge but still feel balanced in his hands.
You know he dreams of perfectly re-creating Julia Child's beef bourguignon, so give him the proper pot to do so.
SharkNinja Professional Countertop Blender
Great for smoothies but even better for pesto.
What to get your Dapper Dad who doesn't want anything…


Your dad perpetually has never met a cashmere sweater he didn't love. He's sure to appreciate a few more looks to add to his rotation.
What to get your La-Z-Boy Loving Dad who doesn't want anything…
He's happiest when he's ensconced in his special chair — the one no one else is allowed to use — watching people yelling at each other on the TV. Since you can't exactly buy him a second beloved chair, try taking his comfort to the next level instead.
Righteous Felon Beef Jerky Bundle
If he's more of jerky guy, this brand features flavors like hickory, habanero, and bourbon.
What to get your Outdoorsy Dad who doesn't want anything…
Your dad was gorpcore before there was gorpcore. It's time to send him back into the wild with some new gear.
Does it even count if you don't share your workout on Strava? Obviously not, so get him a watch that'll record his every movement.
What to get your iPad Addict Dad who doesn't want anything…
Your dad loves taking approximately 4,000 photos on his iPad at every event and he WILL show you all of them. Prove to him that you care with these tech-y gifts.
Mpow Flame Bluetooth Headphones
Over 11,000 reviewers love these very affordable earbuds for their sound quality and fit.
A handy way to stream shows or FaceTime with you.
What to get your Frequent Flier Dad who doesn't want anything…
For the dad who spends most of his time between business meetings, eating peanuts 30,000 feet above the earth.
What to get your Beverage-Loving Dad who doesn't want anything…
Whether his hobby is being too into mixology or too into fancy coffee, make sure your dad is never parched.
Coffee Gator Pour Over Kettle
A true coffee snob invests in a kettle to create the perfect pour-over.
For the real pour-over fanatic, this mini coffee maker is just the right size for his desk.
Zojirushi Stainless Steel Mug
Beverage to go? Only if it's in this highly rated thermos.
If you buy something through our links, New York may earn an affiliate commission.