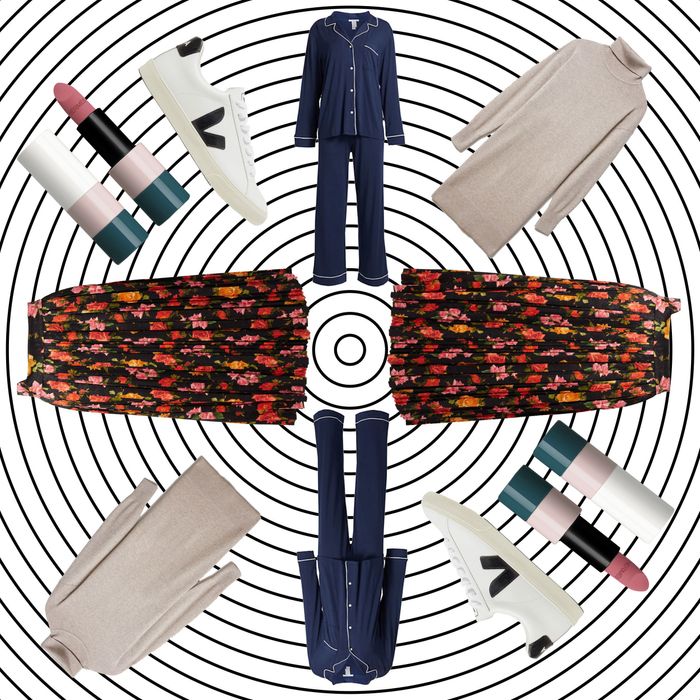 Photo: Courtesy of the Retailers
The holidays are going to hit differently this year. Some people will be able to see family, but many of us won't be able to travel, making the act of gift-shopping even more stressful than usual. What do you buy for your mom during a global pandemic!? To help you find something that feels meaningful, we've rounded up 64 of the best Christmas gifts (and Hanukkah gifts, and nondenominational winter solstice gifts) that a mom could ask for. Whether she's picked up a new hobby like indoor gardening during quarantine, or whether she's just looking for a something fancy and pretty, you'll find the perfect present on the list below.
For the Mom Who Loves Cashmere
You can mix and match this set, which comes in red, camel, gray, and black, to ensure she stays cozy from head to toe.
For the Mom Who Loves Warm Socks
Not only are these made with ultrathick yarn, they also feature little rubber grips on the bottom so she won't slip on hardwood floors.
For the Mom Who Wants a Warm Coat
Reviewers praise how warm and stylish this puffer is. One note: It runs large so you can layer up, but if you worry it'll overwhelm your frame, size down.
For the Mom Who Is Also a Plant Mom
Get her something pretty for her other babies (her succulents).
For the Mom Who Is Busier Than Ever
The perfect gift for an essential worker, a medical professional, a reluctant homeschooler, or anyone else whose life has gotten more hectic during the pandemic.
For the Mom Who Loves Color
These bright kitchen utensils will suit her aesthetic.
For the Mom Whose House Is Always Impeccable
She'll love the fresh, clean scent of this candle. Once it's burned down, she can use the glass holder to store things.
For the Mom Who Likes to Sleep In
Once she tries matching pajamas, she'll never go back to mismatched sweats.
Available in sizes XS–XL.
For the Gardener Mom
She can hang this in the kitchen for a hint of summer even in January.
For the Mom Who Hates Fuss
Your mom is as neutral as Switzerland, both when it comes to picking sides between you and and your brother and when it comes to nail colors. This set contains lots of flattering soft tones, and the polish lasts forever.
For the Mom Who Loves to Cook
This handy cutting board features a prep side with a slot for a cell phone or recipe card, and a carve side with deep channels to catch drippings.
For the Mom Curious About Wellness Supplements
These chocolate bites are not only functional — they're infused with plant collagen to improve skin elasticity and texture after two weeks — they're also delicious. It's all the fun of eating adult M&M's but with actual clinically proven results.
For the Eco-Conscious Mom
This wool cardigan is not only machine-washable but is also certified under the Responsible Wool Standard, which protects both the sheep and the land they graze on.
Available in sizes XXS–XXL.
For the Mom Who Misses Wearing Lipstick
A perfect lip option for 2020: It hydrates your lips and offers just the slightest tint of color, and it won't stick to your mask.
For the Mom Who's Still Wearing Lipstick, Mask Be Damned
She'll love these gently scented lip colors from Hermès. Rose Nuit is a beautiful soft pink.
For the Mom Who Loves Asian Food
These starter packs have all the seasonings you need to create the dishes on the package. The sampler pack features Vietnamese lemongrass barbecue, Thai larb, and Filipino sisig. All you have to do is add the protein and serve with rice or noodles.
For the Mom Who Loves an Outdoor Walk, Even in the Winter
Cold weather–appropriate shoes don't have to be clunky. These are slick, waterproof, and stylish.
For the Trendy Mom
Get her this very of-the-moment Cuban link gold-plated necklace to throw over a turtleneck or under a white button down.
For the Mom Who Needs a Dressy New Coat
Photo: Retailer
Made with a super warm fabric, she can wear this coat with the collar up for a more streamlined look or down, for a more trendy vibe.
For the Mom Who Needs Some Me-Time
Throw in a bath bomb and a her favorite bottle of wine for the ideal spa night at home.
Available in sizes S–XL.
For the Mom Who Complains About Her Tired Feet
This massager combines heat with air compression and rolling balls to soothe aching feet.
For the Mom Who Loves Fancy Beauty Products
This is less a hand cream and more an anti-aging skin-care treatment that happens to be for hands. Yes, it moisturizes (deeply!), but it also gently exfoliates, helps fade age spots, and boost firmness over time.
For the Mom Who's Been Watching Too Much HGTV
Is she in redecorating mode? Get her this stylish, artsy throw to complement her new sofa.
For the Mom Who Loves a Practical Bag
Tiny bags? Too trendy. Extremely large totes? Too heavy. For the mom who wants something not too big and not too small, here's the happy medium.
For the Mom Who Loves a Flashy Accent
If she knows her way around a designer label, she'll love adding this Gucci scarf to her outfits.
For the Mom Who Values Comfort
Known for their cushy soles and flexible shoes, these are some of the most comfortable sneakers out there. Plus, you can throw them in the wash when they get dingy.
For the Mom Who Needs Her Morning Coffee
Help her enjoy it with this very cool-looking mug.
For the Mom Who Collects Jewelry
She'll never want to take off this delicate, subtle bracelet.
For the Mom Who's Always Cold
It doesn't get much warmer than leather lined in cashmere.
For the Mom Who Loves an Elegant Clutch
Technically this is meant to stash beauty products, but its large size and sleek shape makes for a beautiful clutch.
For the Artsy Mom
With slits in the center and on the side, this shawl can be worn in a multitude of ways so she can get creative with it.
For the Mom Who Needs a Break
These supremely luxurious sheet masks are a good way to force your mom to take a breather. To fully enjoy these, she'll need to get away from everything, lie down someplace quiet, close her eyes, and relax — for at least 15 minutes. Her skin will feel better and softer afterwards, too.
For the Mom Who Loves Silk
These sleek, washable silk pajamas are stylish enough to be worn lounging all day.
Available in sizes XS–XL.
For the Stylish Mom
For the Mom Who's Always on a Zoom Work Call
An elegant silk blouse is always a good idea.
Available in sizes S–XXL.
For the Mom Who Loves Routine
If your mom enjoys crossing and checking things off her to-do list, she'll appreciate a solid skincare routine that includes a double-cleanse. This kit contains Tatcha's face wash, their oil cleanser, and moisturizer.
For the Mom Who Wants a Practical, Not-Too-Heavy Coat
Ideal for quick walks with the dog in the morning or for running to the grocery store.
Available in sizes 3XS–2XL.
For the Mom Who Loves a Statement Accessory
These two-tone dangly earrings look like they could be found at an estate sale.
For the Active Mom
Whether she's streaming yoga classes or doing HIIT workouts at home, these leggings will come in handy.
Available in sizes XS–XL.
For the Mom Who Loves Animal Print
Add a little flair to her work Zooms and Facetime drinks with friends.
Available in sizes 0–12.
For the Brooklyn Mom
The ultimate status clog for chic Brooklynites and other well-dressed, slightly hippie people everywhere.
For the Mom Who Says She Doesn't Want Anything
A soft and roomy cashmere sweater dress is always a safe bet.
Available in sizes XXS–XL.
For the Mom Who Loves Diamonds
Here's a diamond necklace that won't break the bank.
For the Mom Who Keeps Up with Fashion
The designers behind the new label Commission were inspired by their own mothers, who lived in Korea and Vietnam during the '90s. Their pieces are elegant and feminine, but still practical.
Available in sizes 0–8.
For the Mom Who Lives Near the Beach
Get her a pair of sunglasses that'll look sleek no matter where she is.
For the Mom Who Loves Baths, Part One
An incredibly indulgent gift of the kind you know she won't buy for herself.
For the Mom Who Loves Baths, Part Two
With space for a glass of wine, snacks, and an iPad, this bath tray will bring her so much joy.
For the Mom Who Always Has Cold Feet
These colorful fluffy slippers will be especially nice on a chilly winter morning.
For the Mom Who Values a Good Night's Sleep
Reviewers rave about the soft texture and the way it really does help you sleep through the night.
For the Mom Who Needs to Replace Her Wallet Already
Is it battered and stuffed to the brim with receipts from 2007? Upgrade her with this retro-inspired style.
For the Mom Who Loves Ceramics
People obsess over the dishes from Heath, but they're kind of expensive. Try Noritake Colorwave for the same aesthetic at a fraction of the cost.
For the Mom Who Loves Fabulous Shoes
Because she would never be happy in a pair of black boots.
For the Mom Who Loves Roses
This blend of four types of roses housed in an ultraslim bottle is a refreshing update to the classic perfume formula.
For the Mom Who Taught You Black Goes With Everything
This classic candle looks even more chic in black glass that reflects the candle flame.
For the Mom Who Loves Meghan Markle
For the Mom Who Always Orders Ventis
A spritz of this is like taking that first, life-affirming sip of coffee first thing in the morning.
For the Mom Who Could Use More Spa Days
This fancy mask for the face, neck, and décolletage is as luxurious as they get.
For the High-Tech Home-Chef Mom
A gift for yourself, really, when she makes you some guilt-free fries.
For the Mom Who's Always Digging for Her Chapstick
This magical balm makes lips dewy and glowy, and the pale pink case is hard to miss.
For the Outdoorsy Mom
Blundstone boots will hold up to any terrain.
For the Mom Who Rarely Puts Her Hair Up
Yes, it's expensive, but if she likes to wear her hair straight, this is the Maserati of straighteners. Give her the gift of smooth, damage-free hair.
For the Mom Who Just Got Into Making Bread
Every chef needs Le Creuset. It's practically a commandment.
For the Mom Who's a Little Snobby
The "Rolls Royce" of candles has a new look that resembles Carrara marble.
If you buy something through our links, New York may earn an affiliate commission.