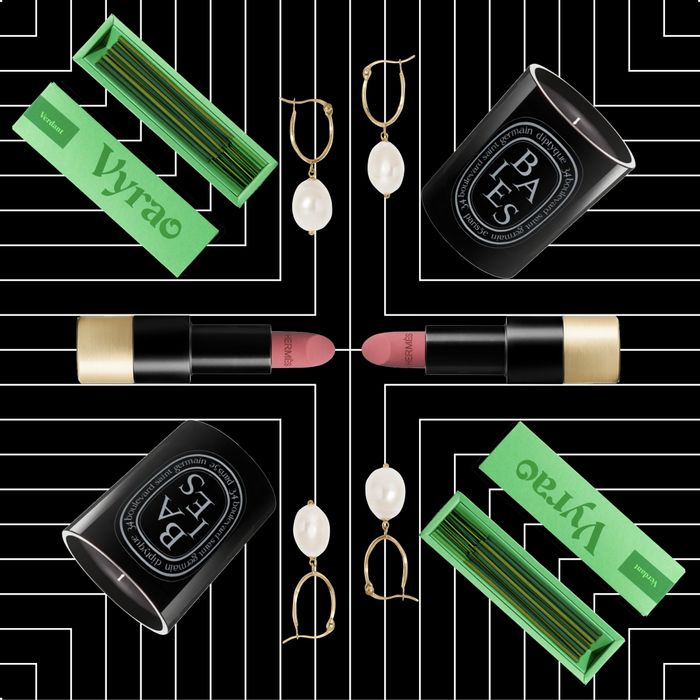 Photo-Illustration: by The Cut; Photos: Retailers
To help you find something that feels meaningful, we've rounded up the best Christmas gifts (and Hanukkah gifts and nondenominational winter-solstice gifts) a mom could ask for. Whether she likes to stick to the classics (think bathrobes and eye creams) or is looking for something fancy and pretty like luxe candles or linen sheets, you'll find the perfect present on the list below.
For the mom who complains about her tired feet
This massager combines heat with air compression and rolling balls to soothe aching feet. Save an extra $10 when you apply Amazon's coupon, a deal that will make any frugal mom happy.
For the mom who loves baths, part one
Make even brisk morning showers feel luxurious with this hydrating body scrub. It gently buffs away dead skin with murumuru seeds and sweet almond and coffee oils.
For the mom who loves baths, part two
With space for a glass of wine, snacks, and an iPad, this bath tray will bring her so much joy.
For the mom who likes to sleep in
Once she tries matching pajamas, she'll never go back to mismatched sweats.
Available in sizes XS through XL.
For the mom who loves Asian food
These starter packs have all the seasonings you need to create the dishes on the package. The sampler pack features Vietnamese lemongrass barbecue, Thai larb, and Filipino sisig. All you have to do is add the protein and serve with rice or noodles.
For the mom who loves warm socks
Soft and cozy lined slipper socks (with no slip grips) that will match her favorite sweaters.
For the mom who hates fuss
Your mom is as neutral as Switzerland, both when it comes to picking sides between you and and your brother and when it comes to nail colors. This set contains lots of flattering soft tones, and the polish lasts forever.
For the mom who could use more spa days
This fancy mask for the face, neck, and décolletage is as luxurious as they get.
For the mom who loves scents
She probably already has tons of candles, diffusers, and sprays, so gift her incense instead. This set lightly scents the room with notes of bergamot, iris, and orange-flower absolute. If she loves this, there's also a perfume you can gift her for Mother's Day.
For the mom who loves Meghan Markle
For the mom who really loves Meghan Markle
She already has the Veja sneakers; gift her this waterproof jacket that's Meghan-approved.
For the mom who needs a new pan
The Always Pan just got way cuter: Meet the Mini Always Pan. It's perfect for quicker, smaller meals and sides. It's also great to test out if you actually want to drop $$$ on the OG pan.
For the mom who loves cashmere
This cashmere crew — which comes in six colors — is a great gift to ensure she stays cozy all winter long.
For the mom who taught you black goes with everything
This classic luxe candle looks even more chic in black glass that reflects the candle flame.
For the mom who wants a warm coat
Reviewers praise how warm and stylish this puffer is. One note: It runs large, so you can layer up, but if you worry it'll overwhelm your frame, size down.
For the mom who loves fresh flowers
Keep it classy with a floral arrangement.
For the mom who is also a plant mom
Get her something pretty for her other babies (her succulents).
For the mom who needs some me-time
A fuzzy robe is a necessity for self-care days — just be sure to throw in a bath bomb and some wine.
For the mom who loves fancy fragrances
Her new signature scent as well as an addition to the decorative soaps you're not allowed to use — all in one chic box.
For the mom who is busier than ever
The perfect gift for an essential worker, a medical professional, a reluctant homeschooler, or anyone else whose life has gotten more hectic during the pandemic.
For the mom whose house is always impeccable
She'll love the fresh, clean scent of this candle. Once it's burned down, she can use the glass holder to store things.
For the mom who loves wine
She'll want to bring out these colorful glasses every time she has guests.
For the mom who already has an air fryer
Instead of buying her an air-fryer, gift her the chicest blender in the market.
For the gardener mom
She can hang this in the kitchen for a hint of summer even in January.
For the mom with weekend plans
Team up with your siblings to get your mom Mansur Gavriel's latest bag. It cleverly incorporates the brand's "M" into the zippered-closure construction, and it's big enough to hold all her weekend trinkets.
For the mom who loves self-care
Yes, another product to add to her multi-step beauty routine.
For the mom who loves to cook
This handy cutting board features a prep side with a slot for a cell phone or recipe card and a carve side with deep channels to catch drippings.
For the mom who's curious about wellness supplements
These chocolate bites are not only functional — they're infused with plant collagen to improve skin elasticity and texture after two weeks — they're also delicious. It's all the fun of eating adult M&M's but with actual clinically proven results.
For the mom who always carries chapstick
Upgrade her lip-balm game by gifting her this lip-repair treatment from SkinCeuticals that hydrates the lips while battling environmental damage.
For the mom who's always wearing lipstick
She'll love these gently scented lip colors from Hermès. Rose Boise is a beautiful soft pink.
For the mom who values comfort
Known for their cushy soles and flexible shoes, these Allbirds are some of the most comfortable sneakers out there. Plus you can throw them in the wash when they get dingy.
For the mom who loves fancy beauty products
This is less a hand cream and more an anti-aging skin-care treatment that happens to be for hands. Yes, it moisturizes (deeply!), but it also gently exfoliates, helps fade age spots, and boosts firmness over time.
For the mom who needs a break
This LED mask only takes about 15 minutes a few times a week so she can get back to her busy schedule. The wireless mask lights up red for anti-aging, blue for acne-prone skin, and orange for dullness.
For the active mom
Whether she's streaming yoga classes or doing HIIT workouts at home, these leggings will come in handy.
Available in sizes XS through XL.
For the mom who loves diamonds
Here's a diamond necklace that won't break the bank.
For the mom who always has cold feet
These colorful, fluffy slippers will be especially nice on a chilly winter morning.
For the mom who values a good night's sleep
Reviewers rave about the soft texture and the way it really does help you sleep through the night.
For the mom who's just a little extra
Yes, feather-lined pajamas.
For the mom who loves ceramics
People obsess over the dishes from Heath, but they're kind of expensive. Try Noritake Colorwave for the same aesthetic at a fraction of the cost.
For the mom who loves roses
This blend of four types of roses housed in an ultraslim bottle is a refreshing update to the classic perfume formula.
For the outdoorsy mom
Merrell's hiking boots will hold up to any terrain.
For the mom who always orders coffees
This collapsible coffee cup is a game changer.
For the trendy mom
Gift her a modern twist on classic pearls that she might even let you borrow.
For the mom who rarely puts her hair up