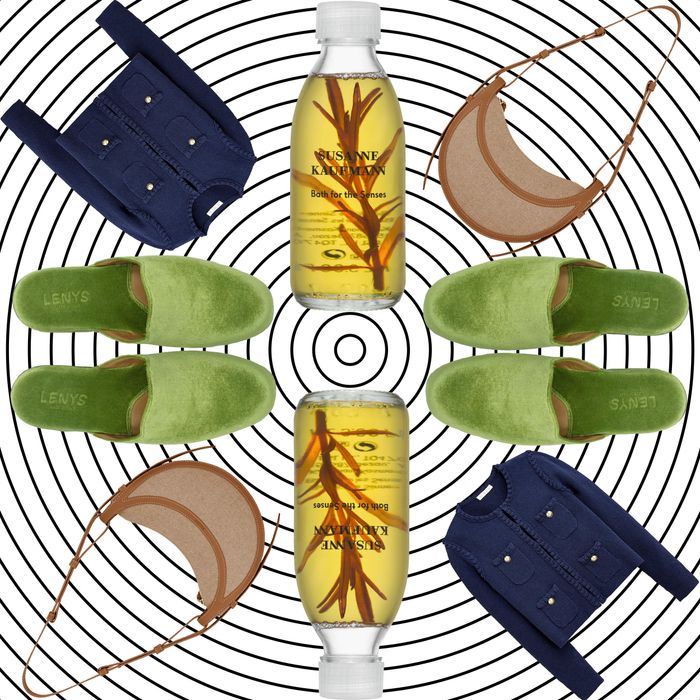 Photo-Illustration: by The Cut; Photos: Retailers
For more of the Cut's favorite fashion, beauty, and home finds, sign up for the weekly Cut Shop Newsletter.
August might be a little early to start thinking about presents for the holidays, but the last couple months of the year always fly by. And it's because of that reason you should start browsing sooner rather than later. You might know your mom like the back of your hand or she might be picky in the present department (another reason to start brainstorming early), but it's always good to get the gift-giving ideas flowing.
To help you find something that feels meaningful and fits her personality, we've rounded up the best Christmas gifts (and Hanukkah gifts and nondenominational winter-solstice gifts) a mom could ask for. Whether she likes to stick to the classics (think bathrobes and eye creams) or is looking for something fancy and pretty like luxe candles or linen sheets, you'll find the perfect present on the list below.
What to get the mom who loves the finer things in life …
Whether the gifts are pricey or just look like they are, these are the upgraded luxuries your mother would probably enjoy. From an affordable wool sweater to a lavish lip balm or hand cream, it's all in the detail.
Gift her a midi skirt with a comfortable stretch waist that she can wear to both casual and dressier affairs.
A chic candle that smells like warm vanilla and incense will make any room so much more cozy.
This shoulder bag is handmade in Spain, and it can also be worn as a crossbody style. She'll be all about the half-moon shape, the secure zipper closure, and the durable leather straps.
If she loves herself a blowout, an Airwrap might be worth the investment with its various smoothing attachments and curling barrels that are gentle on hair.  
Yes, you're probably sick of hearing about "quiet luxury," but this is it in sweater form. And while the silhouette, neutral tone, and wool material screams luxe, the price tag is still very reasonable.
Her new signature scent as well as an addition to the decorative soaps you're not allowed to use — all in one chic box.
Upgrade her lip-balm game by gifting her this lip-repair treatment from SkinCeuticals that hydrates the lips while battling environmental damage.
Yes, it's a steep price for a bouquet, but this isn't just any bouquet — it's one that'll last her forever. Bonus points if dahlias are her favorite flowers, but you can also choose roses, calla lilies, and orchids for this arrangement.
This is less a hand cream and more an anti-aging skin-care treatment that happens to be for hands. Yes, it moisturizes (deeply!), but it also gently exfoliates, helps fade age spots, and boosts firmness over time.
Here's a diamond necklace that won't break the bank.
What to get the mom who needs some "me" time …
A.k.a. all moms. If your motherly figure is in dire need of a break, any of the gifts below will allow her to slow down and prioritize her self-care needs.
Applying a soothing and brightening clay mask once a week can really do her skin wonders; plus, this formula from Japanese skin-care brand DAMDAM is a fan favorite.
This massager combines heat with air compression and rolling balls to soothe aching feet. Save an extra $10 when you apply Amazon's coupon, a deal that will make any frugal mom happy.
With space for a glass of wine, snacks, and a book holder that shields against rogue water droplets, this bath tray will bring her so much joy.
For those nights when she wants to unwind with a bath and a good night's rest, these bath salts will ease any tension and help her fall asleep as soon as she hits the pillow.
Make even brisk morning showers feel luxurious with this hydrating body scrub. It gently buffs away dead skin with murumuru seeds and sweet almond and coffee oils.
This LED mask only takes about 15 minutes a few times a week so she can get back to her busy schedule. The wireless mask lights up red for anti-aging, blue for acne-prone skin, and orange for dullness.
Your mom is as neutral as Switzerland, both when it comes to picking sides between you and your brother and when it comes to nail colors. This set contains lots of flattering soft tones, and
What to get the mom who's always getting her steps in …
A mom always has somewhere to be and places to go. Whether she's into fitness or it's physically impossible for her to sit still, the gifts below will allow her to reach her goals in comfort and style.
The older you get, the more you appreciate socks as a gift. Once she tries these Bombas socks that support her arches with their unique honeycomb design, she won't want to wear any others.
For added energy and focus, these chocolates have lion's mane and cordyceps mushrooms that are a replacement for caffeine.
Known for their cushy soles and flexible shoes, these Allbirds are some of the most comfortable sneakers out there. Plus you can throw them in the wash when they get dingy.
This kit from Bala features its iconic ankle weights and some sleek hand weights to upgrade her walks. Plus, you can choose from all the featured colors.
Whether she's streaming yoga classes or doing HIIT workouts at home, these leggings will come in handy.
Available in sizes XS through XL.
This collapsible coffee cup is a game changer.
What to get the mom who's always hosting …
If your mom always wanted you to invite your friends over or is always hosting dinner parties for her close friends, she'll appreciate anything from a wine holder to a recipe journal.
A casserole would be hard to pass up when it's served in this stylish dish.
Liven up her dinner parties with a set of eye-catching, colorful placemats that'll certainly be a topic of conversation at the table.
The Always Pan just got way cuter: Meet the Mini Always Pan. It's perfect for quicker, smaller meals and sides. It's also great to test out if you actually want to drop $$$ on the OG pan.
Instead of buying her an air-fryer, gift her the chicest blender in the market.
These starter packs have all the seasonings you need to create the dishes on the package. The sampler pack features Vietnamese lemongrass barbecue, Thai larb, and Filipino sisig. All you have to do is add the protein and serve with rice or noodles.
If your mom is always sending you recipes via text, think about gifting her this journal where she can write them all down instead (and you can screenshot later).
Instead of gifting her another bottle (or a wine-subscription service), try gifting this coaster that can hold her favorite.
What to get the mom who puts the "mother" in Mother Nature …
If your mom has a green thumb, is starting her own garden, loves going on hikes, or simply loves the great outdoors, gift her something that you know will bring a smile to her face regardless if she's touching grass or not.
A soft cooler from Yeti will come in handy to bring drinks and snacks on the go for picnics, hikes, or beach outings.
Your mom will be all about these trendy hemp, waterproof, and 100 percent recyclable slip-on clogs that she can wear in — and out — of her yard.
This convenient, outdoor-friendly blanket is compact when it's folded up, but puffy and soft when it's out. It's one she'll want to bring everywhere with her whether she's going camping or simply cozying up with her morning coffee on the porch.
She can hang this in the kitchen for a hint of summer even in January.
Get her something pretty for her other babies (her succulents).
Merrell's hiking boots will hold up to any terrain.
Have you ever seen a cuter water-bottle holder?
What to gift the mom who taught you the power of a great outfit …
If your mom is your biggest fashion icon or she simply taught you the ways of self-expression, she'll surely appreciate classic pieces to add to her wardrobe. From Meghan Markle–approved jackets to a classic lipstick to pull the whole ensemble together, there's something below for her.
A stylish jacket in a comfortable knit material will be one she can easily throw on to dress up any look. 
Accessories can make or break a look, and these Prada sunnies will definitely complete her ensembles.
Add some shine to her wrist in the form of this minimal yet pretty diamond bracelet.
Gift her a modern twist on classic pearls that she might even let you borrow.
Team up with your siblings to get your mom Mansur Gavriel's latest bag. It cleverly incorporates the brand's "M" into the zippered-closure construction, and it's big enough to hold all her weekend trinkets.
Reviewers praise how warm and stylish this puffer is. One note: It runs large, so you can layer up, but if you worry it'll overwhelm your frame, size down.
Statement ring(s): This multipurpose ring can be worn together or separately.
She'll love these gently scented lip colors from Hermès. Rose Boise is a beautiful soft pink.
What to get the mom with a keen sense of smell …
Satisfy your mom's senses with a fragrance gift that will soothe even the pickiest nose.
She can spritz this on her hair right after she gets it done or to simply freshen up her locks. It'll earn her tons of compliments and will last a long time.
A bath oil is just as much about the scent as it is about the cleansing power. She'll love how this soft floral fragrance wafts through the house and feels like a spa experience at home.
This Margiela fragrance is a popular one, and she can put this reed diffuser in her room or display it in shared spaces to impress guests.
This classic luxe candle looks even more chic in black glass that reflects the candle flame.
You probably gifted your mom a Vitruvi diffuser during Mother's Day, so it's only natural you need to keep her essential oils in stock.
This blend of four types of roses housed in an ultraslim bottle is a refreshing update to the classic perfume formula.
What to gift the mom who likes to sleep in …
Your love for naps was passed down from your mom? Gift her anything that will make catching z's so much more relaxing.
There's something so luxurious about velvet slippers. These slip-ons come in multiple bold hues and have a Vibram sole for that plush cushion feeling.
Photo: Amazon
This face oil is infused with retinol and works while she's sleeping to give her more a radiant complexion in the a.m.
A fuzzy robe is a necessity for self-care days — just be sure to throw in a bath bomb and some wine.
This cashmere throw is the definition of cozy. Made from 100 percent cashmere, it's the perfect addition for any room in the house.
Once she tries matching pajamas, she'll never go back to mismatched sweats.
Available in sizes XS through XL.
Reviewers rave about the soft texture and the way it really does help you sleep through the night.
Nothing says sweet dreams better than this lavender-and-chamomile-scented pillow spray.
What to gift the the new mom …
Whether it's a human child or a four-legged one, the new mom will appreciate anything that will make her life easier (and cuter).
Cut Shop contributor Harling Ross raved about these in her newsletter Gumshoe. She wrote how "it was really nice to have some legit maternity T-shirts that were fitted up top but long and big enough at the bottom to go all the way over the bump so that I didn't resemble Winnie the Pooh." She's worn them with everything during her pregnancy, and they can be worn well after.
A curated bundle of diapers, a stuffed animal, wipes, and a soft storage pouch is always a thoughtful gift, and it doesn't even require wrapping.
While this crib is definitely a splurge, it has everything a new mom could possibly want. It converts from a bassinet to a crib for 24 months of use, and it has a baby monitor, soothing sound machine, and automatic bouncing motion built in. With the accompanying app, it tracks the baby's sleep schedule, monitors video, and gives notifications when your little one is stirring and needs to be tended to. Mom will sleep so much better, and the gift of rest is priceless, right?
Your dog won't know what memory foam is, but they'll be so happy about this very soft dog bed that's made with it. It comes in three different sizes, and you can choose between six colors so that it coordinates with the recipient's space. 
Dog moms love nothing more than showing off their pups. Staud allows you to customize your item with an embroidered pet portrait and up to ten characters' worth of text. All you need is to send in a picture, the text, and voila!
A stylish mom should also have a stylish pup.