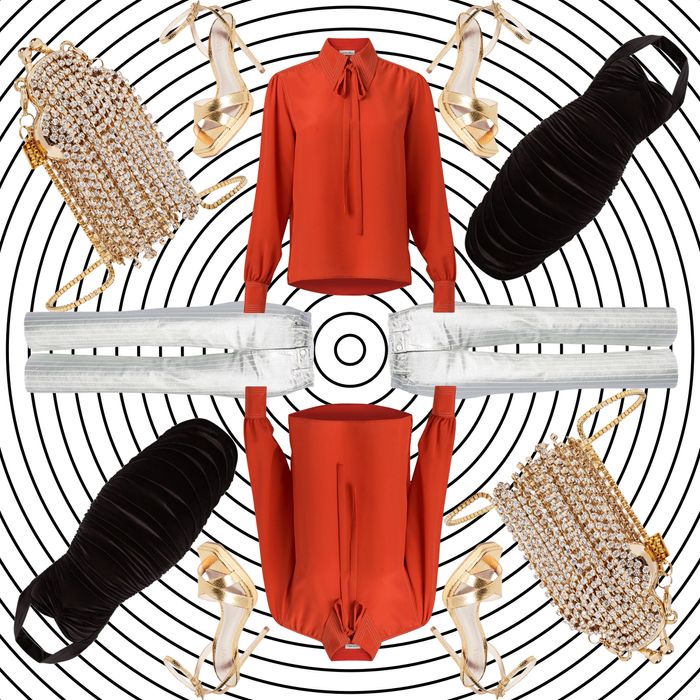 Photo: Courtesy of the Retailers
Chances are right now you have too many holiday-party invites to count. There's that office holiday party looming, then that get-together your work friend invited you to but you don't really want to go to. Plus, Christmas is just around the corner. With so many occasions jam-packed into so little time, now's the season to really put your closet to work. But don't go broke trying to buy a new Christmas-party outfit for every invitation. All it takes is one or two special statement pieces to liven up your existing wardrobe. Scroll down to shop our favorites to give your holiday outfit some pizzazz.
A Trendy Blingy Belt
Designers have figured out that everything looks better covered in rhinestones, and belts aren't exempt. You might have seen these crop up at places like Veronica Beard and Shopbop but rarely at such a low price. Use it to give your basic turtlenecks or knits some extra flair.
The Easy Party Hack
Arguably the easiest holiday-party hack is a statement earring. Pearls like these feel elegant, dainty, and special.
A Party Blazer
It's always awkward when business meets the holiday-party season. That's wear a party blazer comes in: In velvet, it's professional with a hint of fun. Try it with high-waist trousers and a metallic pointy-toe pump.
Available in sizes 1X–3X.
The Statement Sweater
Sweaters are usually worn out of necessity, not to make fashion statements. But behold, a sweater that's actually not boring! Pair it with a satin slip skirt for a cool, low-key outfit perfect for that holiday house party.
Available in sizes XS–L.
A Va-Va-Voom Dress
Norma Kamali knows how to make dresses that hug all the right places, and this showstopper is no different. The sweetheart neckline lends some Old Hollywood glamour that goes great with a red lip.
Available in sizes XXS–XL.
The Festive Pants
Instead of opting for skirts and dresses for special holiday occasions, why not give festive pants a try? These carry a hint of shimmer that's interesting and minimal at the same time. Finish them off with a black cropped sweater and sparkly drop earrings.
Available in sizes US4–12.
If You Love a Comfy Heel
It's a given that at least one holiday party will require a formal dress code that calls for heels. Don't be the person struggling to walk because your shoes are torture devices: Choose a pair with a platform to equalize the stress on your feet.
Available in sizes US5–11.
The Necklace You Can Wear Year-Round
Give your neckline some extra assistance with a sculptural gold necklace. It's an easy way to add interest to your tops, and the sleek design can carry you long after the holiday season.
A Dress to Match the Décor
Emerald green may be a seasonal cliché, but it looks pretty and dramatic in this jewel-tone dress.
Available in sizes US14–28.
If You Love Jeans
If I had it my way, I would wear jeans for every occasion. When they're fancy like these, you can actually get away with it.
Available in sizes US00–28.
The Throw-It-On-and-Go Dress
The Sleek Party Dress
If you'd rather look more edgy than sweet. Finish it off with a pair of thigh-high boots.
Available in sizes US16–24.
A Vibrant Winter Topper
Your party outfit is all good until it gets down to choosing between a puffer and an anorak. Never ruin a great outfit with an ugly coat again: This lush faux-fur wonder can also give the outfit underneath the upgrade it needs.
Available in sizes XS–XL.
If You Hate Cold Feet
When strappy sandals aren't a reasonable choice for the weather, a heeled boot can do the trick.
Available in sizes US6–11.
The Flashy Jeans
If you want to be casual but not too informal, try these silver-coated jeans.
Available in sizes 23–32.
Earrings That Bring the Drama
Crystal drop earrings have a way of making even the plainest white T-shirts look fancy. Throw these in your bag in the morning and put them on before leaving the office.
A Fancy Mini-Bag
Yes, it's so tiny it's essentially ornamental, but the moment of the mini-bag is still upon us.
A Dreamy Top
So you have a great pair of pants or skirt in mind, and all you need is a top to finish it off? Might we suggest this silky, high-neck top from Aritzia? With an open back and bow details, there's so much wow factor to take in.
Available in sizes XXS–L.
The Multifunctional Blouse
If you're in the market for interesting tops that are timeless enough to be worn over and over, Maiden Name is a brand to know. Pair this with fun trousers for a polished, work-friendly party look.
Available in sizes XS–L.
If you buy something through our links, New York may earn an affiliate commission.