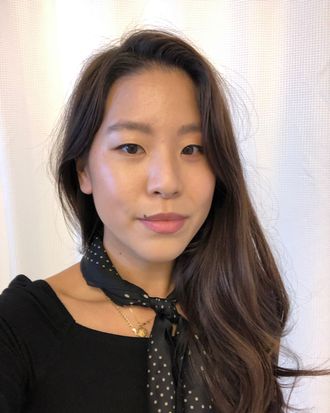 Photo: Courtesy of Jina Kim
Jina Kim got a crash course in sustainable manufacturing almost six years ago, when she was part of the small team launching cool-girl favorite activewear brand Girlfriend Collective. Kim found herself studying "everything from carbon footprints to how recycled plastic bottles turn into textiles," she says. "I knew this same philosophy could be applied to other industries and was much needed."
At the time, brands like Everlane and Reformation were drawing attention to the topic of sustainability in the fashion industry, but the concept was still foreign in the beauty world. "As a matter of fact, at times it seemed like the industry was moving backwards," Kim says. "From elaborate, eye-catching (but wasteful) packaging to deceptive marketing tactics like age-shaming and fear-mongering, it was almost like fast fashion." So Kim and her husband sold all of their belongings and drove close to 3,000 miles from Seattle to New York City to work on what would later become their skincare brand, Circumference.
"As a brand, we can make conscientious decisions about even the smallest details," Kim says. "For our packaging, for example: using glass for ease of recyclability, Forest Stewardship Council-certified papers to reduce the impact on deforestation, and vegetable-based ink. These were simple decisions for us in creating a quality product." But she recognizes that sustainability is far from perfect. "It's still in its infancy in the beauty industry. Brands, customers, retailers, insiders — everyone's still trying to figure out how to talk about it, and there's certainly a lot of noise and green-washing."
And keep in mind, she says, clean beauty is not synonymous with sustainability. "There is absolutely no scientific evidence that says 'all natural' is better," Kim explains. "Don't get me wrong, I obviously don't want to use toxic chemicals that are harmful to our health and the environment. But if 'natural' ingredients — commercial plantations, palm oil, coconut oil, etc. — are harming the environment, how is that beneficial? There's a balance to everything."
Below, an in-depth look at eight products Kim loves for her combination skin, including the toner she uses instead of a cleanser in the mornings and the serum she uses to treat irritated skin.
The Double Cleanse
"I've been using Tatcha's Pure One Step Camellia Oil Cleanser as my go-to oil cleanser in the evenings. I've stuck with it for years. The beauty of oil cleansers is that you don't need to scrub and tug at your skin; you can gently make your way from top to bottom and just massage it around in circular motions, then rinse with warm water to wash away the makeup, dirt, and grime.
Oil cleansers bind to the makeup and help break it down and lift it off your skin. This particular one has additional surfactants that help dissolve the makeup as you rinse it off. I generally avoid 'oil cleansers' that are just 100 percent oil. You want to make sure the cleanser still has surfactants that help wash the excess oil and grime off your skin with a rinse. Otherwise, the dirty oil can stay on your skin even after a water rinse."
"When you double-cleanse, the first step (oil) helps break down and wash off all the makeup or any debris on your skin, but the second step is to make sure there's no excess oils and to help clear out your pores. The Ordinary Squalane Cleanser has become my go-to second cleanser lately. It's a solid, cheap, no-fuss cleanser. The simple formula has gentle surfactants and squalane, which is a really light oil derived from olives. It leaves your skin feeling nice and refreshed but not stripped. No skincare product should make your skin feel tight and dry! That could cause micro-abrasions and disrupt your moisture barrier.
This is a no-foam cleanser. I know people are pretty particular about that, and I will admit, there's something satisfying about a cleanser foaming up. But the foam is not necessary! Foam actually has zero effect on a cleanser's ability to be effective."
The Toner
"I've been trying this toner for a few weeks now. It's actually a K-beauty brand my cousin launched, so I guess there must be something in our blood. In the mornings, instead of reaching for a cleanser, I usually go for a nice gentle toner such as this one. Your skin works hard to heal and replenish itself with good, healthy natural oils overnight, so why wash all that goodness off first thing?
A nice gentle toner should be a foundational layer to quickly feed your skin various antioxidants and micronutrients. This particular toner has a lot of ingredients that are based on ancient Korean medicine such as ginseng, goji, and dogwood — all with a healthy dose of antioxidants and micronutrients like polyphenols and enzymes. I especially appreciate these ingredients because they're not typically found in U.S.-based skin care products, but they've been historically used in Asia for medicinal purposes."
The Serums
"Vitamin C is an antioxidant workhorse! Sun, rain, snow — doesn't matter, I make sure to wear our Vital-C serum every day, and it really helps keep skin troubles at bay. We formulated our Vital-C Serum to be gentle for daily use — you don't want a big bang out of your vitamin C serum, you want consistency.
We also formulated our Vital-C serum with niacinamide (vitamin B3). People say you shouldn't pair vitamin C and B3 together, but it couldn't be further from the truth. This disinformation came from a very dated study where stability wasn't taken into account. Fact is, vitamin C and B3 hold different properties that benefit your skin separately. Niacinamide helps to refine and minimize pores and improve fine lines and uneven complexion. Meanwhile, vitamin C is a powerful antioxidant that helps protect your skin from free radicals, most notably UV rays, but various other external stressors such as pollution, too.
On that note, there's currently an arms race in the industry to see who can have the highest percentage of vitamin C, but as with many things in skin care, the percentage doesn't say as much as the quality and type of derivative used within the formula. The industry go-to is l-ascorbic acid, which is cheap but notorious for being unstable. Instead, we formulated with a synthesized derivative called 3-0-ethyl ascorbic acid, which is an 'ethylated' version of ascorbic acid and is far more stable and versatile in both water and oil-based formulas.
But this is where synthetics and derivatives are so important! 'All-natural' skin-care products can be fickle and are rarely stable, whereas synthesized versions are far more stable, less likely to oxidize, and uphold the integrity of the actives. We rigorously ran through multiple stability and compatibility tests to ensure our stability holds even in extreme settings — such as 110 degrees Fahrenheit — for elongated periods of time. This is really the key difference in quality ingredients and formulas versus cheaply manufactured products that aren't thoroughly tested or vetted.
Pro tip: Color change is an easy indicator of instability of vitamin C serums. Quality, active vitamin C serums should be white, generally opaque, not yellow-brown. Watch out for those colorants added to trick you!"
"This serum is a great extra booster that I use a few times a week. I first started to incorporate it after reading about the great pairing of niacinamide and zinc. The pairing is really effective in addressing uneven skin tone and hyperpigmentation.
The first one I tried was the Ordinary's. It was one of their signature serums and was even hard to find in stock at times, but the texture was just too sticky and off-putting. Naturium's answer to the Ordinary's is just beautifully formulated. It's a simple formula, but the texture is far more refined, balanced, and easier to incorporate and use with other products, including makeup.
I don't use this serum everyday because our Vital-C Serum already has niacinamide. But with the climate changing toward colder and dryer, I'll find myself reaching for this booster more often than not."
The Moisturizer
"Our new Active Restorative Moisturizing Cream has been a lifesaver for my combination skin. I've actually been using lab samples of this cream for a year now, and it's performed incredibly well through both cold and hot days.
It's formulated using some of our most nourishing signature oils from our Pure Balancing Botanical Face Oil and infused with a number of amazing actives such as peptides and snow mushroom extract, which holds five times more water retention than hyaluronic acid! (Though just to be sure, we layer in hydrolyzed hyaluronic acid for good measure.)
Our true pride and joy in this formula is our vitis vinifera (grape leaf) extract. This ingredient is the first part of our Waste-Not Sourcing Initiative, which we recently launched to identify opportunities to source bio-waste and byproducts of agricultural industries and test and formulate with them for skin-care purposes.
We partnered with Bedell Cellers, a sustainably certified winery, for this particular ingredient. Following their grape harvest, they allowed us to collect leaves and branches from their vines (neither of which are used in the winemaking process). We took the leaves and extracted the active ingredients — which include antioxidants, polyphenols, and gentle levels of enzymes and malic acid — to use in our moisturizer. Afterward, we returned the post-extraction mulch back to Bedell Cellars to be used as compost for their following season. It's a cross-industry partnerships for real sustainable impact, and we're just getting started!"
The Sunscreen
"I always tell my friends, 'You can forget to wear a serum or a toner, but a good sunscreen should be a non-negotiable.' I've used a number of different Supergoop! products and have found that they're consistently good. I really love this CC cream.
The biggest challenge with most mineral-based sunscreens is the white cast it leaves, but a well-formulated BB or CC cream with a tint blends in so well. Also, it is just the perfect replacement for foundation for those days where you need to even out your complexion a bit but don't really need full coverage.
I do get a lot of questions from people asking about mineral versus chemical sunscreens. They're both effective, and, truth be told, from a textural and 'white-cast' standpoint, chemical wins in the texture department. However, I've always found that mineral-based sunscreens perform better purely as a SPF. I've really put Supergoop! products to the test by wearing them out and about in Hawaii, and they get two thumbs up from me!"
The Lip Balm
"Don't forget about the skin on your lips! I use the clear lip balm from Kosas before bed every night and wake up with plump, moisturized lips. From hyaluronic acid to really rich botanical oils, it's made with high-quality ingredients that you just can't find in most lip balms. I use the peachy shade in Pulse during the day for a boost of color with the added hydration."