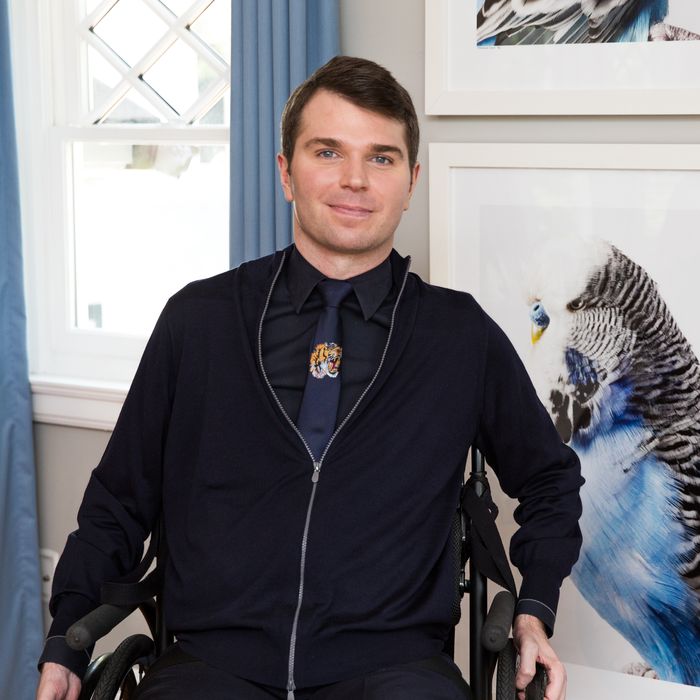 Photo: Courtesy of Francesco Clark
Want more skin care? Join the Beauty Group on Facebook.
When Francesco Clark says that vanity saved his life, he truly means it. At just 24 years old, the founder of Clark's Botanicals, then a fashion assistant at Harper's Bazaar, sustained a spinal cord injury from a diving accident. "Not only did I become paralyzed in the blink of an eye, but I also experienced what it meant to have survivor's guilt. My surgeon told me I had a 19 percent chance of surviving not only that night but the next few years of my life. I was on a ventilator; I was on life support for two weeks; my vocal cords became paralyzed; my left lung had collapsed from taking on pool water from being underwater for a little bit less than a minute." Clark slowly, painstakingly regained some movement and the ability to speak and breathe on his own. But "I started to realize that not only was this a traumatic event for me, but also for my family, and the fact that it affected other people suddenly put me into this mind space of I don't want to be a worry to them. I fell into this deep depression, and I disregarded completely the way that I looked."
Clark would shave his head bald every week. He couldn't stand to be in a room with a lot of windows because he didn't want to see his reflection. "I would see myself sitting in the wheelchair and I would just burst into tears." For three years, he didn't look in the mirror.
Then Superman actor Christopher Reeve, who had been paralyzed from the neck down in a horse-riding accident, died. "He was the biggest advocate for anybody that felt like they didn't have a voice, and in starting the Christopher and Dana Reeve Foundation, he also was the biggest proponent for spinal cord injury research for the cure," says Clark. "The day that he was gone, I felt like the rug had been pulled from under me, and I realized that I hadn't done anything to take responsibility for what happened in my own life and that I wanted to become part of the solution instead of relying on other people."
Clark was asked to join an advocacy group, and for the first time, he was excited to be around people again. He remembers, "In getting ready for the meeting, I said, 'I want to put on a real shirt; I don't want to wear this T-shirt that I've been wearing every single day. I don't want to wear hospital pants.' I looked in the mirror for the first time in three years, and that's when I noticed the secondary effects of my injury." Because his injury was so high up on his spinal cord, Clark lost the ability to sweat, causing his skin to become dull, red, flaky, overly reactive, oily in some spots, and dry in others. "I looked ten years older. To this day, because I still have this injury and because my skin doesn't sweat with temperature, it's the perfect storm. Anything that can go wrong with your skin goes wrong with mine," says Clark.
So he joined forces with his dad, a homeopathic doctor, to create a solution: a "clean" and cruelty-free skin-care brand. "I just wanted to look like myself again," the founder says. "I didn't have a profit-and-loss statement in my back pocket; I didn't expect any sort of return. It was purely part of my psychological and emotional recovery from experiencing severe trauma. I wanted to rebuild my sense of self and reconnect my character and personality to the way that I would present myself to other people — and that is a very, very healthy dialogue. In fact, when you think about it, one of the first signs of depression is not caring for the way that you look and not grooming yourself, and I experienced that firsthand."
Below, Clark shares his skin-care essentials, including the moisturizer he's used for 19 years, the sunscreen he doesn't have to reapply, and the eye patches that "really make you look like you slept all night."
The Cleanser
"I was testing this cleanser about three months ago, and then Indie Lee, the founder, and I unexpectedly met on Clubhouse. After we spoke there, we met in person. It was just by complete chance that I was trying the product and then she became a good friend. She's this incredible human being, and we've connected so deeply and so quickly. I just am so proud to love the products that she makes.
Her Brightening Cleanser is kind of a metaphor for what she's like. The cleanser does what it says it's supposed to do — it's dependable — and it brightens and clears, and she's just like a little ball of energy and joy to me. The cleanser leaves your skin feeling clarified, brighter, and squeaky clean. It doesn't have too much of the AHA that makes you red, but it has just enough to make your skin glow. It has a very slight smell from natural ingredients — it's a little bit of a citrusy scent."
The Toner
"I need things to be very easy to use because I can't use my fingers — I think of multiuse all the time, and then I think, 'How do I use the product that I like but in a better delivery system?' Jean Godfrey June, Goop's beauty director, sent me this toner. We were recording a podcast for Goop together, and she recommended this toner, and I transferred it to a spray bottle — I don't use it like a regular toner where you apply it with a cotton round. I spray it on and I leave it on, and I love the AHA; you can really feel it — it kind of tingles a little bit — and then it feels refreshing. I do a 'Z' pattern to spray so it's four sprays for my face and neck, and I always like to include my neck because I don't like when you get the red face and a white neck. I've been using it for about a month and a half now."
The Serum
"Casey Georgeson, the founder of Saint Jane Beauty, and I became BFFs when we met at a conference three years ago. I was the speaker at a Women's Wear Daily event, and she came up to me afterward — we're always swapping products to give to each other, and her beauty serum is so cool because it's one of those things that incorporates the calming effects of CBD. It's rich enough to feel like a luxury treatment, but it's light enough to put on and not make me look shiny, and it doesn't clog pores. It's lightweight, it works, and your skin just glows when you use it — it feels like vitamin supplements for your skin, and it gives you a nice bounce. I apply three drops — when you have a male customer, guys never want to show that a product is on their face if it's skin care. They're like, 'This needs to work today. I don't want anyone to know that I put on a product. I just want people to assume that I look good all the time.' They are the most difficult customers ever."
The Moisturizer
"The Smoothing Marine Cream is the first product that my father and I formulated together. It is like Superman because it incorporates the best of what it means to have a serum and a moisturizer in one jar, and it uses 5 percent sugar-dried glycolic acid, which is a small enough molecule to penetrate the second and third layer of the dermis — hyaluronic acid is a bigger molecule that doesn't really penetrate as deeply. The sugar-derived glycolic acid helps to stimulate your skin's own production of its own hyaluronic acid. What that means is that when you use this product on a Monday but not on Tuesday, you've stimulated your skin to produce its own organic acid production so you're still going to reap the benefits of it the day after using it. It's changing the way that your skin is behaving.
We also incorporate other bioactive ingredients that are incredible, like dehydrated algae microspheres. They attract moisture from the air — they plump up, and when they plump up, they give you about eight hours of hydration. They also help to support collagen synthesis in the skin so you might notice that your nasal labial lines have a softer kind of look — you don't notice the lines and wrinkles as much since your skin has this bounce. Like, your cheekbones become sharper and your jawline becomes sharper. Glucosamine HCL, the antioxidant that we have in there, is so strong that it's brightening your skin and really clarifying any sort of dull complexion. I've been using it for 19 years."
The Sunscreen
"Salvatore Piazzolla is the founder and CEO of Hampton Sun, and we met by chance. He's such a nice person and sent me products. I don't have the ability to constantly reapply products because of my disability so a product needs to really work after only applying it once during the day. SPF, for me, is always a very tricky product, so I love the fact that this one is a continuous mist. You can have the bottle upside down, and it still sprays. You don't get any sort of metallic sheen or a white cast — that's my pet peeve. SPF 30 is the right amount of coverage for me not to get any sort of redness, and I don't have to reapply it.
It doesn't smell like a piña colada, which is good because I can go to a work meeting and not smell like I just rolled out of spring break. First of all, I like scents to be natural, but also, if you're layering a lot of different products that have different scents to them, and then if you were to apply perfume or essence or cologne, that would be disruptive. People should decide what they want to smell like — I wouldn't want to be layering 15 different scents over each other and have them all be superstrong."
The Eye Patches
"I keep these in the refrigerator. Sometimes I put them in the freezer. If my eyes are super puffy, I'll put the ones in the freezer on. They do get rock hard so you have to wait for them to melt a little bit under the skin, but it only takes like 30 seconds for them to start to ease up. I put them on my under eyes, and then I'll take the one that I put under and put it on the upper part of my eyelid for a minute or two, as well. They really make you look like you slept all night, and they firm up the skin. They give me that sensation of when you're outside, and it's 100 degrees and you come into an air-conditioned room."
The Night Cream
"The reason why we formulated the Retinol Rescue Overnight Cream is that, obviously, retinol is the most trusted ingredient by dermatologists and in skin care, but with my sensitive skin, it will have a lot of kickback in redness. So if somebody like me were to use retinol with very sensitive skin, you would use it on Monday, then on Tuesday your skin would be red, then on Wednesday you'd be red, and then on Thursday, you would probably use it again. The problem with that is that you're not getting enough of the ingredient to reap any sort of benefit from it. What we decided to do was take the holy-grail ingredient of retinol and think about how you can use it in a more real realistic way. We micro-encapsulated retinol and made it time released — so it's actually a weaker form of retinol but because it's continuously working on your skin while you're sleeping, and it doesn't make you red, you use it more consistently, and you end up getting better results from it. If you're using it every day, then it has the ability to really work on undoing the effects of sun damage and undoing the effects of oxidative stress and really help to increase the cell turnover of your skin.
When we micro-encapsulated it, we were able to keep the retinol active. Retinol is a very unstable ingredient, and many products that you buy that are retinol-based, before you even open the jar or pump it out, a lot of the retinol in the product has already become unstable and ineffective and gone bad because it's oxidized.
We coupled the retinol with a time-released vitamin C, and the reason why we included vitamin C was that it helps to brighten the skin, and it helps to boost collagen production, as well. And then the way that we further ensured that your skin would not get red from this, and to give you nutritional support, is by including colloidal oatmeal, which is an ingredient that people use to calm the skin down, to destress, and to take away any sort of redness or sensitivity from even the most reactive skin types. No retinol uglies here — it's like a cashmere blanket for your skin."
The Shampoo
"I love that this shampoo revives the scalp with gentle exfoliating beads, and the coconut oil moisturizes the scalp. The mint feels so refreshing. Scalp health is so important, and when I get stressed out, again because I don't sweat, my scalp immediately feels itchy. It gets inflamed, and it gets red — I actually get splashes of red marks on my scalp so I need something that is going to be calming but also cleansing, and this does both. It feels amazing."