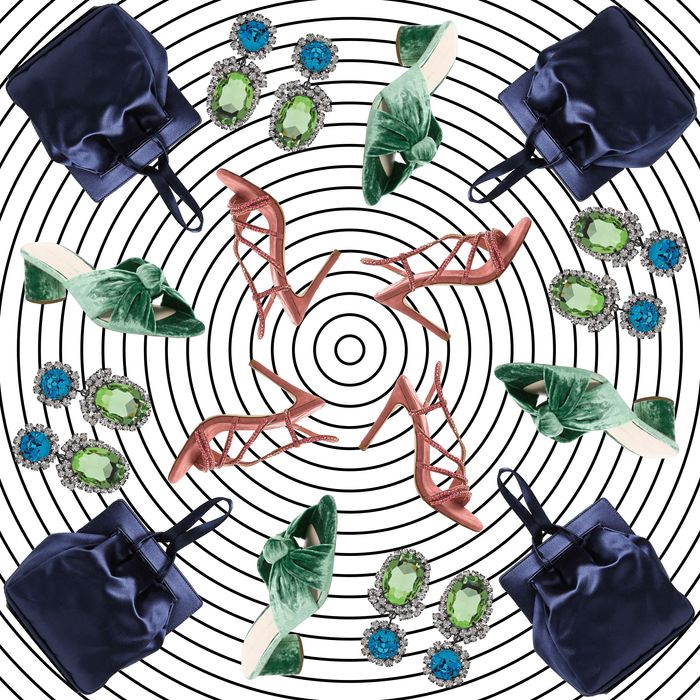 We all think we know what "cocktail attire" means — it's what you wear to a wedding that's not black-tie, right? There are no strict rules about what makes something cocktail-appropriate, but you do want to keep a few things in mind when planning your outfit. Scroll on for our guide to cocktail attire, from dresses and jumpsuits to shoes and bags.
Tip One: Find a Dress in an Elegant Fabric.
Most people automatically default to a dress when they see the words "cocktail attire" on an invitation. Length doesn't matter: a mini can be just as appropriate as something that skims the floor. The trick is to choose fabrics that look refined, like silk, chiffon, crepe, or velvet. Embellishments like swishy fringe, lace and sequins are great for amping things up. Avoid cotton sundresses unless you can zhuzh them up with really fancy accessories like sparkly earrings or shiny new shoes.
Take advantage of the warm weather and go for a seasonal yellow shade. Extra points if you pair it with equally colorful shoes.
Available sizes 14-24.
Not ready to dive into prairie-core but still love the idea of something with a feminine, homespun appeal? Try this ruffly number and dress it up with metallic sandals.
Available sizes small–large.
A Sophisticated Fall Option
The deep V-neck and wrap silhouette make this ideal for the inevitable September heatwave.
Available sizes 0–14.
If you want to show off, this is the dress for you. Take a cue from the way it's styled in the image above and elongate your legs with barely there sandals.
Available sizes xxsmall–xlarge.
A flouncy red number can work equally well for the summer wedding season or the holiday party circuit.
Available sizes 14–28.
Shimmery silver velvet is a bit too heavy for summer, but it'll feel appropriately festive by the time September rolls around. Save this for all of your end-of-year parties.
Available sizes xsmall–large.
Yes, you can wear a caftan to a fancy party! Just choose a brightly colored style and add sparkly flats.
Available sizes 0–6.
A Flowy Summertime Option
Tan summer skin deserves a dress to show it off, like this golden yellow number. Wear it to a cocktail party with drop earrings and heels, then recycle it for day with slide sandals.
Available sizes 0–10.
The Easy, Pretty Wrap Dress
A faux wrap dress means you won't have any wardrobe malfunctions while still remaining on-trend.
Available sizes 14w–24w.
If You Want Something Unusual
Swingy fringe coupled with a bold floral pattern is a nice way to stand out in a sea of jewel-toned cocktail dresses.
Available sizes 12–18.
If You Want Something Sweet
While it's not quite melodramatic purple, this long-sleeved lace dress is a close cousin of the trendy color. Take a cue from the way it's styled and play up the iciness with silver sandals.
Available sizes 12–24.
Because You Only Wear Black
Just because you only wear black doesn't mean your dress has to be boring. Try this lacy number with a sweetheart neckline and off-the-shoulder sleeves for a romantic look.
Available sizes xsmall–xxlarge.
A Colorful Dress for the Holidays
The velvet trim and moody shade feels heavy for August, but come November, it will stand out in a sea of black.
Available sizes 0–10.
For the Star of the Party
This dress has everything: a sexy V-neck back, a high slit, color, and sparkle. Make sure to tone down the accessories to keep all the focus on your shimmering dress.
Available sizes xxsmall–large.
Tip Two: You Can Also Wear a Jumpsuit
You don't have to wear a dress to a cocktail party when pants are equally appropriate, especially in the form of a jumpsuit. Again, the same rules apply: No cotton or anything that skews too athleisure. Look for styles that accentuate the waist, and don't be afraid of pattern or bold colors.
When You Want to Stand Out
Want something dramatic? The super-wide legs coupled with the bright orange shade make this perfect for a big entrance.
Available sizes 12–24.
Photo: 18-04-30 lauralove AM1 B2 raypfeiffer W
Swing left, swing right, and boom — you have the perfect Boomerang.
Available sizes 0–10.
Because Black Is Always Chic
All you need are sparkly earrings and a great pair of heels.
Available sizes 14–28.
A Stylish Alternative to Black
Deep navy is just as sophisticated and would look especially nice with gold accessories.
Available sizes 14w–22w.
How do you translate the fancy robe trend into something you can wear to a cocktail party? Make it a one-shoulder jumpsuit with a fringe trim.
Available sizes 14–28.
The Most Versatile Option
If you're looking for something flattering, chic, and versatile enough to wear multiple times, get this one.
Available sizes xsmall–large.
Photo: 18-07-09 micalbockru AM2 B9 benbrubaker W
It's summer, so you might as well just lean into this print.
Available sizes xxsmall–large.
Tip Three: Your Bag Should Be Teeny
Fans of roomy handbags take note: a large slouchy tote is out of place at more formal affairs. You'll need to downsize and bring the bare minimum. While clutches remain the default accessory of choice, the recent tiny bag trend has spawned a wealth of options. From silk pouches to structured miniature purses to downsized cross-body slings, you can mix it up and wear whatever works best with your dress.
This simple black clutch looks more expensive than its $13 price tag, especially when you remove the chain strap.
Not into squishing a clutch awkwardly at your side when you're trying to use both hands? Slip your wrist through this handle.
A Pretty Cross Body Style
A hands-free bag can be appropriate for a cocktail party if it's in a nice fabric. The bow detail here reinforces that this is meant for formal occasions.
Instagram is filled with swingy little pouches like this fringe number. Here's your chance to get one for cheap.
Wearing a black dress or jumpsuit? Try a hard marble clutch to break up the dark palette — without killing the minimalist vibe.
The Instagram-Friendly Option
Beaded bags are another social media-friendly trend, especially ones by British brand Shrimps. While the one influencers love isn't on sale, this one is just as good and marked down.
A True Conversation Starter
Everyone will want to touch this fluffy clutch.
The One You Can Use as Styling Trick
Photo: 18-02-15 Accessories PM1 B9 phillee W
While this round clutch in peacock blue will amp up a black dress, a truly pro stylist will play it off more unusual colors like citron yellow, bright red, or even hot pink.
Photo: 18-05-30 Accessories AM1 B8 toddmaughan W
By Solange-approved downtown New York staple Maryam Nassir Zadeh of course.
Tip Four: Your Shoes Should Demand Attention — But Not Too Much
Now that fancy flats and sensible block heels are trendy, you don't necessarily have to wear stilettos to your next party. But if you do opt for lower styles, look for ones with bold color or embellishment. And if you decide that you can't be parted from your sky-high heels, the opposite rings true — the simpler, the better.
A Versatile Pair of Sandals
Photo: 17-12-27 Accessories PM1 B2 tedketterhagen W
Simple enough to go with everything from denim to floral skirts to your favorite black dress.
If You Love a Statement Shoe
The bright fuchsia and swingy tassels make these bold without being tacky.
If You Love Jumpsuits and Caftans
Photo: AUSTRIA
Glittery slides give the look a glamorous louche vibe.
These will give you a bit of height but won't leave you limping in pain.
If You Love the Olsens' Style
The Row makes a similar-looking mule for much more money.
Photo: BUTAWAN
Sexy enough to wear with a mini for a night out, but equally appropriate with a calf length dress for a wedding.
Photo: NALAGON
What's better than twinkling rhinestones on your feet?
A Super-Fun Pair of Black Flats
Photo: 18-03-15 Accessories AM1 B1 tedketterhagen W
Between the frills and the rhinestone trim, these black sandals feel almost fancier than statement heels.
Photo: 18-05-25 Accessories AM1 B1 andrewyonda W
Polka-dot mesh and a patent bow means they won't be mistaken for your work shoes.
You might think these low-heeled green velvet mules are more appropriate for the holiday party circuit, but the shade is pale enough to be worn year round.
Stylists and celebs adore Stuart Weitzman's signature minimal sandals — they won't fight for attention when you're wearing a flashy dress. They're well-worth the investment whether you go for beige or black.
Tip Five: When It Comes to Earrings, Go Big
We're living in a golden age of danglers, so why would you want to wear any other jewelry? Whether we're talking about rhinestone shoulder dusters, colorful hoops, or extravagant clip-on baubles, you need little else to finish off your outfit.
The Dramatic Shoulder-Dusters
Céline vibes without the price tag.
Because Hoops Are Trending
Photo: DIANO
This acrylic pair feels especially current with a sleek slip dress.
The complementary gems are delightfully gaudy and meant to be worn with an colorful dress.
Trendy yet sculptural. They would look equally good with your daytime clothes, too.
For the Minimalist Who Likes a Bit of Flash
The sleek design is a striking complement to a simple, well-cut black dress.
A wearable spin on Calder's signature mobiles.
Big, dramatic, and sparkly enough that you can wear a basic black dress and still stand out.
If you buy something through our links, New York may earn an affiliate commission.