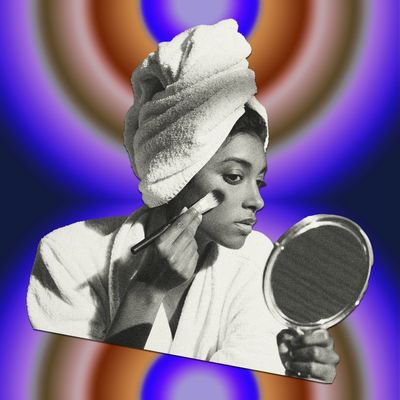 Photo-Illustration: by The Cut; Photo: Getty Images
Hi! I would like to explore color-correcting makeup for my post-inflammatory hyperpigmentation (PIH), but I'm not sure what color to choose. I know green cancels red, which would work when I'm in the middle of a breakout. But usually what I'm trying to conceal is the brown (possibly bordering on gray or taupe?) mark leftover after the breakout. I know peach-orange-red shades are supposed to cancel out the blue-purple of under-eye circles, but my PIH isn't really that color. What shade should I be looking for? —Lily
You already have the basic principle of color correction figured out: To hide an imperfection, you camouflage it using the opposite shade on the color wheel. Green cancels out red, orange cancels out blue, and so on. From your description, I'm guessing you have light-medium skin with taupe-colored hyperpigmentation — and that's a bit trickier. "Since true taupe is a blue undertone of brown, its opposite would be an orange undertone of brown," explains makeup artist and educator Terri Tomlinson. But good luck finding Orange Undertone of Brown That Matches Lily's Skin Tone at Sephora! Instead, you're probably going to have to make your own — either by layering or mixing cream products. And to do that, a little background in color theory and professional makeup techniques will be helpful.
The key to effective color correction isn't just choosing a product with the right tone (in this case, the orange-toned brown to counteract the blue-toned brown of the spot). "The product you're using also has to match the intensity, or depth, of your skin color," says Tomlinson. If you have very light skin, your "brown" is going to be a light beige (picture brown with lots of white mixed in). If you have slightly tanner skin, your "brown" is going to be more like a beige or a tan. Dark skin? Your brown may be a cocoa shade. And if you have deep skin, you may be able to work with pure orange as your color corrector (if your skin is deeper than brown, mixing in any shade of brown would leave you with a lighter blotch).
After Tomlinson explained this to me, I started thinking about all of the color-correcting products I've seen with Easter egg shades of lemon, mint, peach, and lavender. How the heck would they work on anyone other than really light-skinned people? Unfortunately, they don't, Tomlison says. Not surprising, since many brands still haven't mastered foundations for dark and deep skin tones. The other issue she has with many of the color correctors designed for consumers is that they're too literal in their color theory. You can't use a green cream on its own to camouflage redness. "We're skin and flesh, so our corrections should look like skin," she says. "They shouldn't look like a pure color" — e.g., blue, yellow, green, orange, red — "because we're not pure color." Color correctors should be close to skin-toned with undertones of a corrective color. That was a revelation to me. And Tomlinson said I'm not alone. In fact, she actually just launched something called the Flesh Tone Fan to help explain skin undertones and color correction to laypeople and makeup artists ("It's much easier to understand when you're looking at a card rather than a face"). But maybe I don't have an artist's eye and you already knew all this! If so, let's move on.
Next step: How to find or create this magical orange tone of brown that matches the intensity of your skin tone. Deepica Mutyala, who turned a viral YouTube video on color correction into a full-blown brand, suggests applying an orange-toned color corrector (like her Live Tinted Huestick Color Corrector), then topping it with a concealer (like Live Tinted Hueskin Serum Concealer). "Both the concealer and the Huestick have a really beautiful creamy texture that makes it super-easy to get that blend that just looks like skin," Mutyala says. If your skin is light to light-medium, you might be able to buy a concealer with a peach undertone that can work as your color corrector (for example, Tomlinson says she sometimes uses the Macaron and Biscotti shades of Jouer Essential Liquid Concealer to correct bluish discolorations on light and medium skin tones). If you have a dark to deep skin tone, check out Huda Beauty FauxFilter Luminous Matte Concealer in Honeycomb or Brownie.
But the best option is probably to mix your own shade — especially because certain spots may be more blue-purple or more intense than others, and you want to be able to adjust accordingly. For the DIY approach, consider investing in a professional cream color palette like Ben Nye's Studio Color Concealers + Adjusters or Terri Tomlinson Makeup Cream Rescue Palette. If you're not confident in your artistic skills, something like the M.A.C Studio Fix Conceal and Correct Palette might be easier (you choose your palette based on the intensity of your skin tone, and it comes with pre-mixed concealers and complementary peach- or orange-hued correctors).
And if all this sounds way too advanced, I have to back up and ask: Have you tried a full-coverage concealer like Dior Forever Skin Correct Concealer or e.l.f. Cosmetics Camo Concealer? Even Multyala, the woman who built an entire business based on color correctors, says it's a good place to start. "Concealer is a great way to visually neutralize hyperpigmentation," Multyala says. She's not trying to deter you from experimenting with correctors! I think her point is that it's worth experimenting. If you apply the right shade of concealer, with the right amount of coverage, you may not need to bother with the color correcting. Unless you want to, of course.
Try These Color Correctors and Concealers
Send your questions to AskABeautyEditor@nymag.com. (By emailing, you agree to the terms here.)