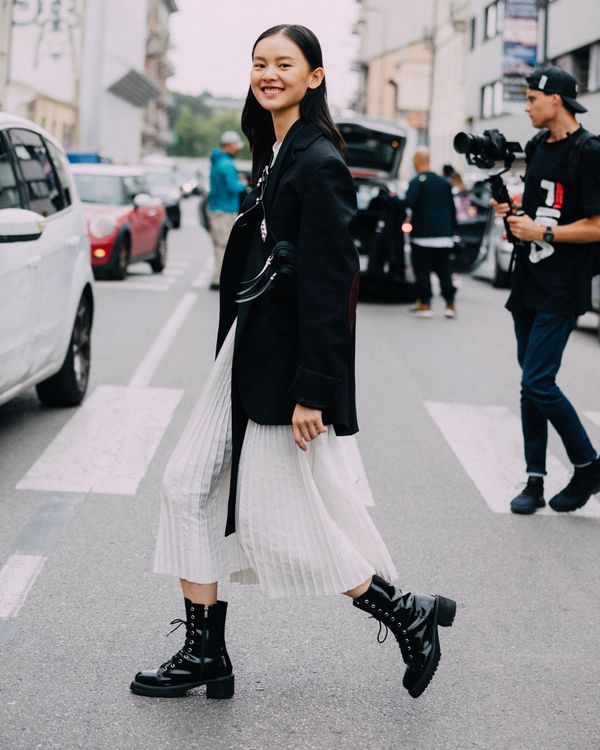 Even if you aren't a fan of cold weather, it can be fun to shop for winter clothes, especially since we're all spending more time outside these days. From fun coats to heeled boots, there are plenty of ways to have a good time while bundling up. But mustering the desire to wear high-heeled shoes is hard these days, and house shoes, while cozy, aren't the smartest choice once the snow starts falling.
Year after year, you can't go wrong with a pair of combat boots. They never go out of style and their rugged soles have enough traction for icy surfaces. Plus, the tall shafts keep your ankles warm and some can be just as chic as a heeled boot. The right pair can work with nearly any outfit, now that "work clothes" are decidedly more casual.
Whether you're in the market to splurge on a designer pair that will last you a lifetime or looking for inexpensive durable ones for right now, shop below for our favorites.
The Quintessential Combat Boot
You can't go wrong with Docs. Even though they're notoriously stiff until you break them in properly (but now's the time do that!), these at least have a side zipper for extra convenience.
The Boot for Hiking (Around the City)
These add an outdoorsy flair when you're running around town, and they're made for hiking.
The Sleek Pair
These are an affordable version of The Row's elegant combat boots. They'll look good with slouchy trousers and jeans alike.
The Trendy Ones
Get your feet wet (figuratively, of course) on the chunky sole trend with these boots.
The Fuzzy Pair
The furry lining will keep you extra toasty.
The Discount Find That Looks Expensive
The Printed Pair
Snakeskin is totally a neutral.
The Everyday Pair
No bells or whistles, just a sturdy pair of leather combat booties.
If You're Not Afraid of Dirt
The One You Can Wear With Skirts
A slim fitting shaft is extra flattering and works better with skirts and dresses.
For the Winter-White Lover
The sole is sturdy enough to handle an inch or two of snow.
If You're Indecisive
If you're stuck deciding between a pair of thigh-highs or combats, here's a very stylish medium.
If You Want More Height
If you absolutely must wear heels, get ones with traction.
The Slightly Punk Pair
This is what people mean when they say to stomp in your combat boots.
If You Want to Unleash Your Inner Idol
The pearl trim and narrow fit give these a slight K-pop vibe.
The Wide-Calf Option
The socklike knit fabric allows these to stretch over any size calf, and they're extra-comfortable.
If You Want an Embellished Pair
These rainbow jewels will add your own flair to any look and match just about anything.
The Slip-on Bootie
Because we all need a boot that we can easily slip on and off for our lazy days.
The Nylon Pair
No longer dread rainy days with these water-resistant, edgy nylon boots.
A Lightweight Boot
Because sometimes we don't want to lug around heavy boots.
The Insta-Worthy Boot
These are worthy of a #shoefie, from the bold green to the embossed print.
If you buy something through our links, New York may earn an affiliate commission