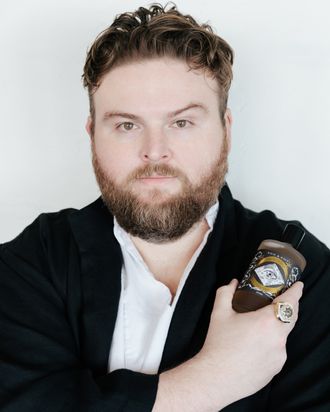 Photo: Courtesy of Corbin Chamberlin
Because Corbin Chamberlin knew that, at times, the fashion industry can be "awash with toxic vibes," he took it upon himself to change that with his crystals and wellness brand, Sage & Salt. After spending time as an editor for the likes of the New York Times, the Financial Times, Vogue, and more, "I faced my ups and downs, especially as a plus-size person," Chamberlin explains. "I saw where there was a need for items that conjure good energy on demand throughout the day," he says.
This lifestyle has always been a part of Chamberlin's life. "I grew up in a witchy household," he says of his childhood in Gilbert, Arizona. In other words, crystals, grounding, and full-moon gazing were regular activities throughout his childhood. "My journey to confidence is ongoing," he explains. "I really had to look inward and eliminate people and circumstances that weren't bringing the best out of me. I meditate every morning and set the intention of what I want from myself and life — this has been a tremendously helpful practice in my confidence."
And when he's not busy writing for major magazines or gearing up for a new Sage & Salt launch, he's running the show over at the Lux Cut — an editorial site curating conversations about the objects and experiences that keep people inspired. Chamberlin started this endeavor after being sick in the hospital with COVID. "I thought about all the things I wanted to accomplish when I got out. I always loved the idea of starting my own outlet, but never had the nerve. I was so over pitching snobby editors, chasing down $10 (sarcasm, kind of?) checks and people not getting my vision," he says. "I wanted a place to show my obsessions and tell the stories of creatives."
And with juggling a lot comes the knowing of how important it is to make time for yourself. For Chamberlin, that appears in the form of meditation and double-cleansing. "Beauty and wellness are magic," he says of his approach. "It's about transformation inside and out. I know personally as a larger person that you might have limited options for clothes, but to wear a beautiful scent or your favorite lipstick is truly a kind of ritual anyone can partake in."
.

Corbin's A.M. Routine
4:30: I meditate with a clear quartz. I use my Sage & Salt Abundance Mist— because I'm trying to secure the bag. All in all, that takes about 30 minutes.
5:00: I make matcha with Manukora Manuka honey. Then it's time to put on my face.
5:23: I double-cleanse, first with Manyo Factory Pure Cleansing Oil and then with La Roche-Posay Toleriane Purifying Foaming Cleanser.
5:28: I alternate between Lotion P50 from Biologique Recherché and tretinoin cream — it took me years of use to be able to handle these.
5:32: After I've let those settle on my skin, as a serum I use the Skin Caviar Liquid Lift from La Prairie (gifted!). It's expensive, but it leaves the skin with a dewy, bougie glow.
5:34: And then to my most cherished step: the Bader Cream. In small circles, I rub it into my face and tell myself that it's for sure working. Honestly, I can tell a huge difference using it. I live in the desert and I'm fighting genetics that would have my face looking like a pirate's treasure map of wrinkles, so the cream's super-hydrating qualities have me sold.
5:36: Finally, I slather on the Etude House Sunprise Mild Airy Finish Sun Milk SPF50+ because I want to avoid the sun at all costs. It's super-milky and absorbs well with the other products I use.
5:39: For hair care, I'm using Iles Formula — especially obsessed with the Scalp + Hair Rejuvenating Booster. It's made my hair thicker and generally healthier without being too heavy.
.

On the beauty-marketing ploy that makes him cringe:
Anti-aging rhetoric: "I don't think we should be positioning aging as some kind of condition we need to concur. We're all aging — and how lucky we are to be doing so."
.

On what he's proud of in the beauty industry:
Diversity: "I'm proud of the explosion of diversity. The demand for it. I love seeing people like Nyakio Grieco and Patrick Herning create brands like Thirteen Lune that really change the narrative on what beauty brands should look like. And in a big business format."
.

On the change he hopes to see in the industry:
Less celebrity-founded beauty brands: "I think there's room for everyone in beauty, for products at every price point and for all types of consumers, but I'm a little fatigued with the celebrity brands. They often lack heart."
.

On the ingredient that's overhyped:
Collagen: "Collagen has been a buzzy word in the beauty market for some time, but there's just no studies supporting topical formulas actually doing anything to help."
.

On the ingredient he avoids at all cost:
Fragrance or alcohol in skin care: "I'm repelled by fragrance or alcohol in skin care. It always makes my skin feel so dry, and I'd rather not smell my face cream throughout the day."
.

On the ingredient he loves:
Hyaluronic acid, vitamin C, and/or amino acids: "I'm recently learning that 'clean beauty' is not all that it's cracked up to be. I shunned synthetic ingredients in the past, but now know better. My ears perk when I hear a product has hyaluronic acid, vitamin C, and/or amino acids. But really, I review a product on a case-by-case situation and look to industry experts for confirmation that an ingredient is actually helpful."
.

On deciding what's worth trying:
Thoughtful brands: "I don't have the time to write for a lot of outlets these days, but I do edit my own site called the Lux Cut. Because of this, I'm lucky enough to get a ton of products to review. And because of our type of coverage, I get a lot of expensive goods — most of which are not worth it. I really try to find the best products from smaller creators, with interesting stories and brands that have the research and studies behind their goods. Great packaging and a trillion-dollar PR budget aren't enough for me to want to dive into a product."
.

On the hero product in his routine:
His Smokeless Smudge spray: "Honest to God, my Smokeless Smudge spray. I literally created it in 2013-ish because I needed to clear the energy in a space without lighting up some resins or desert sage in the office. I use it when I come home from being out, in hotels and even funky cabs. I'm a vibe snob, and refuse to sit in shady energy. It just helps clear the gunk you pick up whilst confronting the day."
.

On the product he loves that he recently discovered:
Augustinus Bader's the Cream and Joanna Czech's Pumpkin Peel: "I actually have a little informal coven of beauty experts in my life that are always introducing me to the best products. The makeup artist Pati Dubroff turned me onto Augustinus Bader's the Cream — absolute witchcraft in a bottle. Skin sorceress Joanna Czech has me addicted to the Pumpkin Peel by Protective Nourishment — it smells like you're slathering on a PSL onto your face, but provides the most insane glow and clears up any breakouts. Those two products will forever live in my routine."
.

On his favorite beauty service:
Saunas, vitamin drips, and salon appointments: "My friend and genius behind Lashify, Sahara Lotti, introduced me to HOCATT — it's an ozone sauna. It looks like a little spaceship you sit in, but it helps stimulate the lymph system and all sorts of things. I'm often at Colair Beauty Lounge & Med Spa in Arizona getting vitamin injections; they just help SO much with my energy levels. I see my hairstylist Dana Fraze for trims every two weeks — he's a genius with my wavy locks and brow tints."
.

On the one product he must use, even in a rush:
Fragrance: "I know the right answer to this is sunscreen, but I'm likely going to spritz a little bit of Hypnotizing Fire by the Harmonist. It's the most magical perfume, and I'm struggling not to gatekeep it right now. It's a spicy blend of incense smoke, vanilla, and rose, and every time I wear it, people compliment it. Again, so pricey, but it's unlike anything else you've smelled."
.

On the one routine he can't live without:
Meditation and crystals: "My woo answer is meditating or grounding myself in the morning, or even putting a black tourmaline palm stone in my pocket for energetic protection. In my profession, you learn quickly that your own cup must be full before you assist anyone else. My little rituals for myself are vital to my sanity and energy."