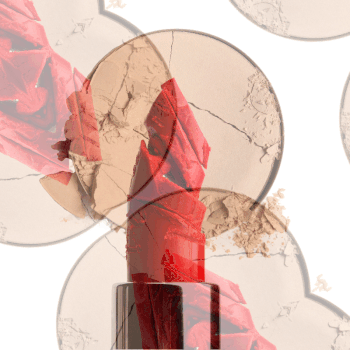 Photo-Illustration: the Cut; Photos Getty Images
"Peak Dupe" is a series about the end of authenticity as we know it.
I recently purchased a bottle of SkinCeuticals' famous CE Ferulic serum from DHGate — the Chinese marketplace full of dupes, counterfeits, and knockoffs — for $25.14, way less than the $182 it usually sells for. It came from a seller called shangquanwangluo5. It arrived in a too-shiny box with weird shrink-wrapping. Unlike the product's usual vitamin-y scent, this serum was a milky liquid with no scent whatsoever. I put it back in the box and haven't looked at it since.
I never really thought the serum seemed legit. But it's not always possible to tell the difference between a good deal and a totally fake product. "The distribution of goods has really changed in the past ten years, and that's made it harder than ever to distinguish with total confidence that you're getting something authentic," says attorney Julie Zerbo, founder of the Fashion Law, a website about fashion copyright infringement. Part of the problem are marketplaces like DHGate, Alibaba, and TMall that connect buyers and sellers without storing, shipping, or verifying the authenticity of their goods. Then there's Amazon and Walmart, two companies with third-party marketplaces that sell legitimate stuff alongside imports and fakes.
I have no way of knowing what's inside this SkinCeuticals bottle. It could contain allergens or contaminants that may cause skin irritation — or worse. U.S. Immigration and Customs Enforcement has discovered counterfeit cosmetics that contain cyanide, arsenic, mercury, lead, urine, and rat droppings, all of which can lead to serious health problems. And we aren't talking about dupes at drugstores here (let's say you decided to buy e.l.f.'s Camo Concealer instead of Tarte's Shape Tape, which, congratulations, you just saved $24); we are talking about fake and counterfeit products. So here's how to tell if a product is too good to be true.
What to look for
To decrease your chances of purchasing a counterfeit product, only buy from the authorized retailers that are listed on a brand's website. (DHGate is definitely not on SkinCeuticals' list.) You can also check the photos to see if the packaging matches the version displayed in the brand's marketing, but many counterfeit sellers use fake photos, so you usually have to wait until you receive a product to give it the once-over. If any seals are broken, the fonts or wording on the packaging look funny, or the product itself has a different color or consistency than you expected, don't use it. (If you think it's counterfeit, you can report it to the National Intellectual Property Rights Center.)
Look for the watermark
I just bought a Truecica Aqua Calming Suncream SPF 50+ from Stylevana (which allows returns and states on its FAQ page that its products are authentic) and was totally satisfied: It has the silky texture I expected and seems to keep my skin protected. The outer carton was even sealed with a holographic HiddenTag (a digital watermark that verifies authenticity) that I scanned using the HiddenTag app to confirm I received the real thing. But not all brands use tags to authenticate their products, and some sites won't accept returns.
Read the reviews
It's worth poking around on Reddit and review forums such as MakeupAlley to see if the site you're buying from has gotten bad reviews, because once you click "purchase," you're on your own. If you buy from a third-party marketplace that doesn't authenticate its products or allow for returns, you're taking the same risk you would be if you were knowingly buying a fake.
Watch for any adverse reactions
If any product you're using causes a rash or irritation, stop using it and talk to your doctor. If you swipe on a fake lipstick or spray a knockoff perfume and don't get a rash or reaction immediately, you still could end up sick down the line. "In toxicology, the dose makes the poison, meaning that any chemical, even water, can be toxic if too much is ingested or absorbed through the skin," says toxicologist Lois Kotkoskie, Ph.D., president of the regulatory-affairs consulting firm LAK3 Consulting. "So, my concern would be the cumulative dose if a consumer bought and used multiple counterfeit products containing similar impurities at one time."
Check the expiration date
What about buying beauty products that can't legally be sold in the United States, like certain sunscreens? SPF is considered an over-the-counter drug in the States, and (for now) the FDA has only approved 16 UV filters for use. But in many other countries, they're sold as cosmetics, and manufacturers are able to formulate them with at least a dozen other (arguably more advanced) UV filters. In-the-know shoppers used to stock up on sunscreen when they traveled abroad: The $9 Bioré UV Aqua Rich Watery Sunscreen SPF 50+ from Japan is widely considered to be a dupe for Glossier's $25 Invisible Shield, and I think Korea's $13 Joseon Sun Relief SPF 50+ outperforms most of the pricey sunscreens at Sephora. But now, they're readily available online.
If they're authentic, they're unlikely to cause harm — after all, regulators in their countries of origin have deemed them safe for sale. But if the products are shipped from abroad or stored longer in warehouses, there's a chance they could be expired, rendering them less effective. Some brands may print expiration dates on their products, some might not — and labeling requirements vary from country to country, so there are no hard and fast rules to help you ID expired or old products.
Personally, I'm willing to take a slight risk in order to get my favorite sunscreens without a plane ticket. But you'll have to figure out for yourself what chances you're willing to take for a price break on your favorite serum or access to imported sunscreen. I know I won't be putting that suspect SkinCeuticals on my face anytime soon.