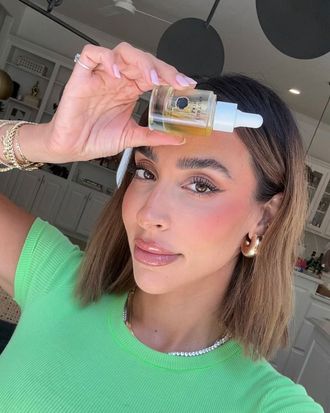 "It's really cool to be able to think of something and then, one day, be able to hold it in your hands," says Courtney Shields, founder of DIBS Beauty, a cosmetics line featuring best-selling and award-winning products — like the Duo Brush and No Pressure Lip Liner.
After graduating from Berklee College of Music with a degree in songwriting, Shields wanted to reconnect with a passion for beauty that she'd had since she was a little girl. "When I look back at home videos, I was always doing people's makeup," she says. "I've always loved it, and it's stuck with me." Shields's career in the space began about ten years ago with content creation. "It all started because my friends would call me asking for advice on what makeup and products to use ahead of their date nights and big events," she says. "I thought I might as well share this advice online." In 2021, Shields was inspired to launch DIBS after two years of planning its concept. "I was driven by this idea of not only being the best at what you do, but also genuinely loving it," she says. "I think the confidence to go for this really stemmed from this and how I was brought up." Shields adds, "I was always taught to persevere through any doubt or hard times." And now she's able to bring this uplifting energy to her own community with joy-inducing products, one launch at a time.
And as a mother, a beauty-brand founder, and also a founder of the jewelry brand Bows & Brooklyn, Shields, as you can imagine, has a lot on her plate. That said, taking care of herself between it all is a priority, too. Think: long walks, pedicures, and green juices. "When I think of self-care, I always think of being on an airplane when the flight attendant says, 'You have to put on your mask before you help someone else,'" she explains. "If I'm feeling stressed or burnt out, I can't be a good chief creative officer. I can't be a good co-founder, and I can't be a good mom."
.

Here, Shields' a.m. routine:
My weeks tend to look a little different. I have a 5-year-old and share custody with her dad. Some weeks, I'm up super-early getting her ready for school. Other days, I can take my time in the morning when she's with him. I always try to do my walks and workouts on either days, but the timing is usually different depending on if there's a 5-year-old in the house or not or if my kitten is biting my face when I wake up.
7:30 – I love the Tula face wash. It really cleans your skin without dehydrating it or making it feel stripped of all the natural oils. I love to follow up with micellar water from Bioderma. This really gives the skin a deeper clean.
7:35 – Paula's Choice liquid exfoliator on a cotton pad is my next step. After, I use the Eminence Strawberry Rhubarb Hyaluronic Serum to hydrate my skin. I've gone through so many different containers of these and I feel like that really says a lot.
7:39 – For oil, I really like the Fortuna Skin one or the Eminence Firming C and E oil. It sits really nicely underneath makeup.
7:40 – For moisturizer, I love the Eminence probiotic one for the daytime. It's nice and light. For sunscreen, I'm currently on a Kosas kick.
7:44 – On the days where I put on makeup, I gravitate toward the Haus Labs foundation and Huda Beauty Concealer. I also use the Dibs Desert Island Blush/Bronzer Duo. It smells like vanilla and makes me happy. The Dibs brush has been sold out forever but it's back in stock. But one side is for powders. Speaking of powder, I love using Pat McGrath's. And clear gloss is also a must.
After all of that, I usually make an athletic greens drink and then I go grab a coffee. I've been really into cold brew or iced coffee with some cold foam on top and a little bit of vanilla.
.

Makeup Routine
.

On the beauty industry as a whole:
I'm proud to see more inclusivity and diversity begin to emerge. I think there's obviously a long way to go, but it's good that it's happening. I love seeing people embrace different types of beauty — different shapes, sizes, and skin tones, more wrinkles, fewer photos being retouched, etc. Something that I hope changes? I hope brands stop duping one another. At Dibs, we honestly completely stop production of something if we notice another brand has already put something similar out. Unfortunately, we live in a culture and age in which we people knock each other off left and right.
.

On beauty trends:
In general, I just love how authentic TikTok feels for the beauty space. I love how people integrate their lives — I love story times and watching people get ready for the big dates. But other than that, I don't feel like beauty should even be a trend. I think it should be more about asking ourselves what makes us feel good and what products bring us joy.
.

On deciding what's worth trying:
I really look for shade range inclusivity. There have been skin tints from brands that I really like and where I've found my shade, but if I feel like people on both ends of skin-tone spectrum wouldn't be able to find something for them, it usually makes me want to not buy it or try it.
.

On the beauty services she swears by:
I love pedicures. They're so relaxing. I like the massage but it's a service where you can still be productive if you need to. I also love a massage after a lot of traveling. Additionally, I use this crystal heating mat from Higher Dose. It can either relax you or give you energy. It's pretty cool.
.

On the beauty routine she must do, even in a rush:
I would definitely do my makeup. I'm such a makeup girly. I would cheat a little, though, and make sure to do a sunscreen that has a tint and use my duo and some concealer because I have really bad dark circles. And I definitely have to brush my brows too.