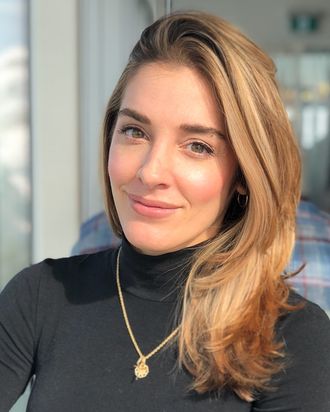 Photo: Courtesy of Christina Uribe
Skin barriers are having a moment. After years of intense acids, exfoliators, and 12-step routines, many people are taking a look at their skin-care lineups and wondering if they're doing more harm than good. For Googler Christina Uribe, that moment came years ago. "With social media constantly pushing new products and trends, I started to believe that the more products I used, the healthier my skin would be, so I concocted an elaborate routine that, at its peak, had 12 steps, half of which were canceling one another's benefits out," she says. "I was constantly playing product roulette, swapping products in and out, and looking back, it was crazy that I fell into the trap of such a complex routine — it was like playing skin-care mad scientist." So she joined forces with her best friend, supermodel Emily DiDonato, to simplify her approach to skin care. The result was Covey, their joint brand offering a three-step lineup, all built to work with each other and the skin's natural functions.
"You want to use the same products every single day and all of the ingredients in your products should work together — that's how you see results," Uribe says. And contrary to popular belief, she says, it's worth investing in a high-quality cleanser — The Covey Routine includes a non-stripping cleanser formulated with soothing aloe leaf juice and anti-inflammatory babassu oil. Even though, yes, it is ultimately on your face for a minute or two and then washed down the drain, Uribe calls it the "foundation" of your entire routine. "If it strips your skin, all of the other products in your routine won't be able to penetrate your skin as effectively."
Beyond her Covey products, Uribe always makes room for sunscreen ("Stay out of the sun!"), LED masks ("Since facials haven't been on the menu for most of this year"), and hand cream (always following hand sanitizer). She breaks them all down below.
The Towels
The LED Mask
The Serum
The Moisturizer
The Sunscreen
The Lip Mask
The Supplement
The Body Oil
The Hand Cream