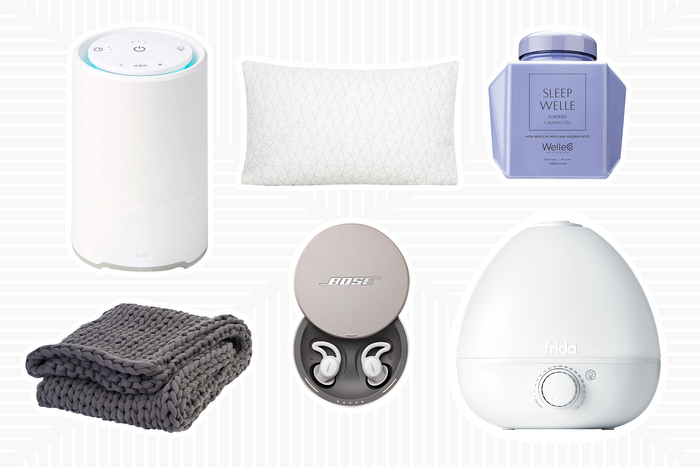 It's no secret that getting at least eight hours of blissful, uninterrupted sleep is the dream (terrible pun not intended). It's a crucial and, for many, seemingly impossible feat. Setting the intention of being under the covers, deep in a snooze, by 11 p.m. is easy enough, but making it actually happen can be a different story. And for parents, the barriers to sleep can often be greater. The cries of a fussy child, early wakeup times for feeding schedules, or just general stress from being responsible for another human can be enough to interfere with proper REM.
Luckily, there are plenty of ways to help improve your sleep. Whether you're a parent with a baby struggling to get comfortable in the other room or someone who's often distracted by the glow of a phone just in reach, the seven products below are designed to help. From the 3-in-1 Air Purifier + Sound Machine + Nightlight from Frida Baby, designed to help clear the air and lull you and your family to sleep, to a highly rated hypoallergenic pillow, these are a few buys that might encourage you to say a final goodbye to late-night phone scrolls and counting sheep.
A multi-faceted air purifier
A soothing story time
A 5-star humidifier
A fortified pre-sleep tea
An acclaimed adjustable pillow
A side-sleeper approved pair of sleep buds
A cozy weighted blanket
This advertising content was produced in collaboration between Vox Creative and our sponsor, without involvement from Vox Media editorial staff.