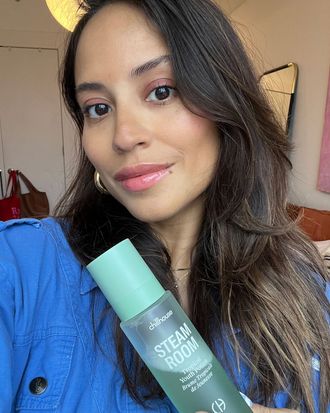 Chillhouse's founder, Cyndi Ramirez, founded the wellness space in lower Manhattan after searching for a place to get a massage in 2017. "Everything felt so clinical," she explains of her spa experiences. "Nothing felt fresh and cool nor spoke to me." Her mom, who was an aesthetician, taught her about the industry. She made a skin-care, nail salon, and massage spa that felt new and fresh to her.
Since then, Ramirez has expanded Chillhouse to offer branded beauty products, facials, pedicures, and more in a lofty space on Varick Street, as well as a location in Paris. Her best seller? Press-on nails called Chill Tips.
Due to the positive response to products like these, the brand will be "doubling down on our product offerings in 2024," she says. Until then, Ramirez will continue managing her business and, of course, making sure she has enough time of her own to chill, too. "Self-care reminds me that I come first," Ramirez says. "If I can't fill my cup, I can't show up for my work, child, husband, or friends."
.

Here, Ramirez's A.M. routine:
7:00 — I wake up, hang with my toddler, do the breakfast thing with the fam, and then it's me time.
8:00 — I usually shower first thing in the morning, even if I'm going to the gym and go to work after the gym. I don't sweat a lot, so I generally go straight to work post-gym anyways (which isn't often these days, thanks to pregnancy). In the shower, I use Olaplex to condition my hair. I also love the Necessaire body wash. I use our body conditioner, Chillhouse's Alt Milk.
8:15 — From there, I get out, brush my hair, add the Olaplex leave-in conditioner, and wrap my hair with the Crown Affair hair towel. 
8:20 — I then start my skin-care and body-care routine. I start with Chillhouse's Steam Room on both my face and body, then apply the Have a Chill Day body oil. After, I start layering La Mer's Concentrate, the La Mer eye cream, Chillhouse Day face oil, Dermalogica moisturizer, and an SPF (I'm not religious about which). I usually grab a gua sha and do about two minutes of drainage on my face, shoulders, and neck.
8:30 — Once my skin care is done, I do my makeup, which is a five-minute process usually. I use the Fenty foundation and a bunch of different blushes (though I'm a hard-core Nars Orgasm girlie forever). Merit concealer is used under the eyes and in different areas that I want to brighten. I brush out my brows and use the Sania eyebrow pencil. Then, I curl my lashes and use Wander Beauty's mascara. For lip gloss, I love Fenty, but lately I've been so into Ami Colé's cherry color. It's phenomenal.
8:40 — I take the towel off my hair and let it air-dry. I just add a little hair oil, Crown Affair these days, and then either leave the house or braid my hair to help with styling.
Here, Ramirez's 5-Minute Makeup Routine
.

On finding confidence:
The beauty industry plays a huge role in breeding confidence and insecurity at the same time. As a 38-year-old woman, I feel like it's impacted both for me quite heavily. There will always be this lingering feeling that I'm not doing enough to look and feel my best, but at the same time, my entire brand is predicated on the complete opposite feeling. Doing anything for yourself is "self-care." It doesn't need to include fancy skin care or makeup. It could mean slowing down in the morning, stretching, and drinking lemon water. I have to remind myself daily that I'm doing my best — and that helps boost my confidence more and more every day.
.

On the beauty marketing ploy that makes her cringe:
Reusable packaging with lipsticks. I genuinely don't know the last time I made it through a stick of lipstick, so I personally am not the customer for it. Lip glosses, on the other hand — sign me up for a sustainable solution there.
.

On what she's proud of in the industry:
Representation, hands down. It's about damn time. Love seeing Latinas building brands for our people and for all people. Love seeing Black women fundraise from the same VCs that invested in the unicorn brands. I want to see more WOC-owned brands in all of the major retailers, and I want to see VCs actively seek out those founders and invest in them because they genuinely believe they'll get the return they want, not just to tick off a box.
.

On the beauty services she swears by:
Botox and some fillers! I enjoy an upper-cheek filler. Also, Chillhouse has an amazing dermaplaning service.