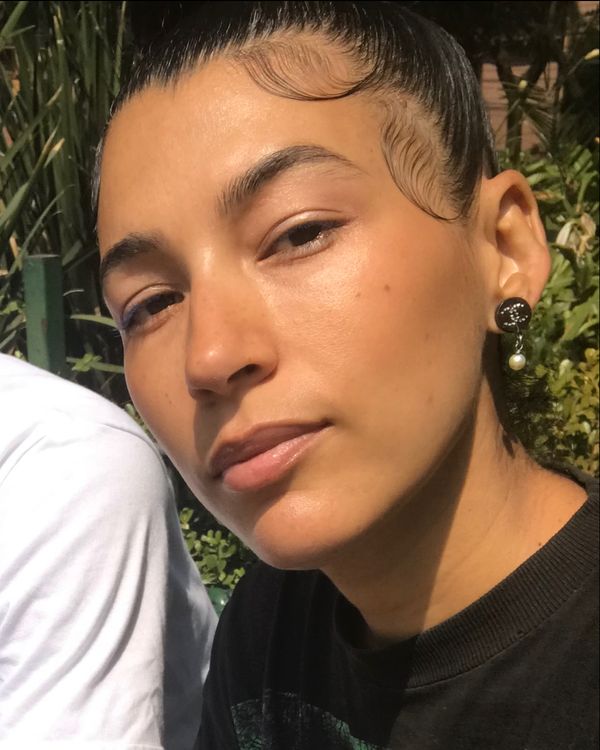 Photo: Courtesy of Cynthia Cervantes
Want more skin care? Join The Beauty Group.
When Cynthia Cervantes Gumbs became pregnant, she had to rethink things, including her skin-care routine. The Latinx artist, who co-founded the zine Maroon World, discovered that the majority of her skin-care products could could no longer be a part of her rotation.
Cervantes Gumbs used to look for strong ingredients like retinoids, salicylic acid, and AHAs, ingredients she now has to avoid. "Anything that would make my skin tingle in the past now makes my skin feel like it's on fire," she says of her skin's heightened sensitivity. "I have also seen the return of random rashes — a small bump or bumps that last a few hours, then go away." She ended up giving a lot of her old products away to her husband and friends and turned to 15 Minute Beauty to double-check products for pregnancy and breastfeeding safety.
Read on for her full, "lengthy" routine, which includes an eye cream she discovered through her grandmother, a cult hyaluronic serum "people live for," and an essence that keeps her skin "plump, juicy, and hydrated."
The Double Cleanse
"My first step used to be swiping my face with a makeup wipe. Then I went on a YouTube double-cleansing spiral and came out the other end convinced of how important it is to use an oil or balm that actually cleanses your pores. Whether or not I am wearing makeup, there is so much environmental grime we have accumulated throughout the day, and a makeup wipe doesn't offer a deep cleanse. This was also around the time that we worked with Malin + Goetz on a project, and I started using their products. I pretty quickly became hooked on how this oil made my face feel, and since then, it became the first step in my double-cleansing routine. It's formulated with an essential oil blend that is gentle but always removes almost all of my makeup on the first cleanse. It also leaves my face feeling super-soft and never oily."
"The second step in my double cleanse is this gel cleanser. I actually used this for about a year before I added the oil cleanser. I have always loved a thick cleanser that foams up and smells good, and this ticks all those boxes. One of my concerns with the double-cleanse method was that my skin would feel dry, but it turns out that the opposite is true. Even in the dead of winter, the double cleanse works because the Grapefruit Face Cleanser was created to be gentle enough for people who have rosacea. I sometimes use a little face loofah as well with this cleanser."
The Toner
"I love everything from Circumference! It's an ethical skin-care line based out of Brooklyn, founded by Jina and Chris Kim, an incredibly thoughtful husband and wife team who work hard to make the brand as green and sustainable as possible. I met them through my good friend Eda Levenson (a.k.a. Lady Fancy Nails) and have been using their products pretty religiously. I was never a die-hard toner person before using this, but now I use it twice a day. It's like an antioxidant-packed reset button for your skin, preparing it to receive the multiple layers of hydration that are about to follow."
The Essence
"My biggest skin-care concern is anti-aging, and when I found out I was pregnant, I immediately stopped using any products that contain retinol or salicylic acid, both of which are not safe for pregnancy. I did a lot of research on pregnancy-safe anti-aging routines, and one thing I kept seeing was the use of an essence, and specifically the SK-II essence. The story behind this essence is so interesting. Back in the '70s, the SK-II product developers were looking to find the best anti-aging ingredients and somehow noticed that older women who were sake brewers had really young-looking hands. The secret was Pitera, a by-product of the yeast-fermentation process that is used to brew sake, and this makes up roughly 90 percent of the essence formula. If you had asked me a year ago, I would have said essence was fancy face water, but I couldn't have been more wrong! I love how it makes my skin feel — plump, juicy, and hydrated.
The Serums
"During the day, I follow the essence with this serum. It specifically helps to combat all the free radicals and grime we come in contact with, and within a week of using it, I immediately noticed a major difference in my skin sensitivity. I was looking way less red in my typical delicate areas (around my nose, my forehead, and around my mouth), and my skin just looked all over glowy. Also, since my pregnancy began, I have been insanely sensitive to smell, and this serum basically smells like heaven — fresh and earthy."
"At night, I follow the essence with this very, very carefully considered investment, which is another prenatal addition to my skin-care regimen. Being pregnant and then breastfeeding means I basically won't be able to use my favorite ingredients (retinol and salicylic acid) for almost two years! So I wanted to make sure I was using a cult hyaluronic product that people LIVE for, and this serum was the most consistently recommended by all corners of the internet. You literally need only a few drops of this to see a difference. When I put it on, it feels like drinking a cold glass of water after a long hot Vinyasa class — refreshing, delicious, rejuvenating. All the things!"
The Moisturizers
"My morning moisturizer, applied right after my day serum. A gentle (my favorite word since being pregnant) moisturizer that I like because it helps to stimulate your own collagen production. One of my best friends, Vivianne Yi, is the embodiment of the fountain of youth, and she swears by collagen everything, so this is my collagen fix. I also like that it is a bit glowy, especially since I use it in the morning and it plays nicely with my foundation and/or creamy Fenty matchsticks."
"I hope the universe bestows eternal blessings on the woman who sold me the hyaluronic serum, because she also gave me an insane stash of face-cream samples that I now use nightly after the serum. My skin is so sensitive right now, to the point that I had to stop using a lot of my regular weekly exfoliating face masks. This cream has definitely made its way to the top of my 'must-buy' list because of how gently and effectively it hydrates with just a small amount. As my pregnancy progressed, I would notice certain night creams giving my face a bit of a burning feeling, which would lead to my face getting red, and that never, ever, happens with this cream."
The Mist
"Before I seal everything with a face oil and often an eye cream, I do a quick spray of rose water, nothing fancy. I buy it at a local health-food store and put it in my own small spray bottle. I love the aromatherapy component of this step, and it helps with redness that I usually have, especially at night. I don't use a specific brand — I just make sure there are no additional ingredients or additives besides organic roses and water. The organic part is important so that you ensure your water is pesticide free."
The Eye Cream
"I didn't realize how controversial eye cream is until I started researching the best eye-cream formulas. Some people think eye cream is a scam, and other people swear by it. I watched my grandmother use this line of eye cream forever, and her eye area was always smooth and plump even in her late 70s. It's a classic, and I have come to love it, especially now that I wake up 100 times to pee at night and will most likely not be getting much sleep in the year to come ☺."
The Face Oils
"Face oil is the final step in both my morning and nighttime routine. In the morning, and on alternating days at night, I seal my routine with this oil, which contains a mix of organic oils I love, including marula and jojoba. It's not at all greasy, mixes perfectly with all my other layers, and, of course, using an oil last helps to make sure all the other steps in your routine are more effective."
"A few times a week, I will alternate the Circumference oil with the Juno oil at night, just depending on my day or how I am feeling. Sunday Riley products were my gateway into my current skin-care obsession, and while I don't use many of my favorite products now because of the ingredients, the Juno oil is still a staple nighttime product. It's a bit too intense for me for daytime use, but at night it's the perfect topping to a long day when I feel I need extra pampering."
If you buy something through our links, New York may earn an affiliate commission.