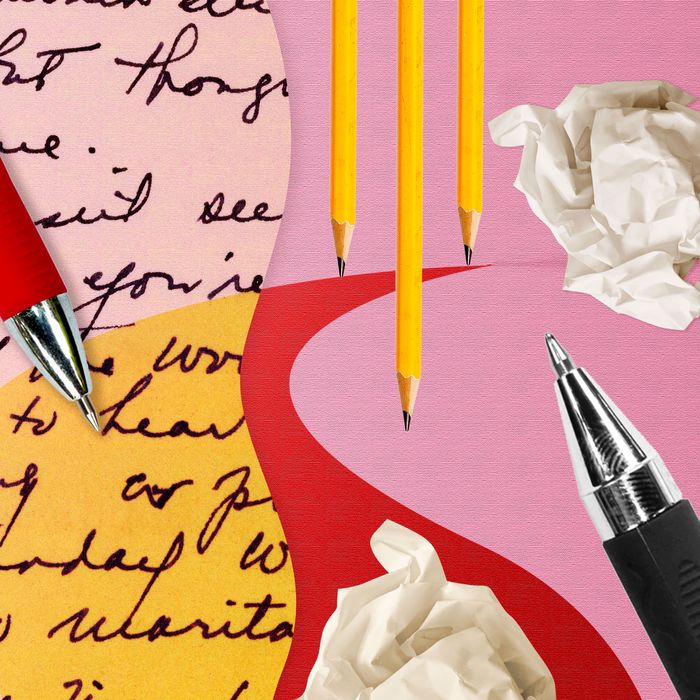 Photo-Illustration: by Preeti Kinha; Photos: Getty Images
It's not that I think you can't be a writer if you don't write every day. It's that I know I can't be a writer if I don't make myself write every day. There are apparently people out there who can write a few days a week, or even a few days a month, and have that result in a book. I envy those people, and if you're one of them, I wish I could be you.
My newest book, Party of Two, came out last month. With this book, just like the four I wrote before it, once I started writing a draft, I worked on it — at least a little bit — every day until I was done. I've tried a variety of rituals and schedules and word-count goals: When I did NaNoWriMo, it was 1,667 words a day. Sometimes it's 1,000 words a day. Once, on a tight deadline I aimed for 2,000 words a day. Sometimes, when I'm having a particularly hard time (like, for instance, now), I handwrite and don't track my word count.
But the number of words doesn't matter. What matters is that I've spent that time with my work. The most important thing, for me, is to keep at it, day by day.
When I was working on The Wedding Date, my first published novel, I had so much fun writing it — I couldn't wait to get back to it every day. I would bring my laptop to work with me and sneak across the street to Starbucks to write at lunchtime, and then would write even more after work. That feeling you get as a reader, when you can't wait to get back to reading your book? That's how I felt, except I was writing the book.
Writing that book was a magical experience, but it was also when writing was for fun — it was before I had deadlines or responsibilities or anything riding on this. Now writing is a job, and while it's a great job, knowing that makes the actual work both harder and scarier at the same time. Skipping a day of writing means opening myself up for nagging worries about whatever project I'm working on: What if my work isn't actually good? Will this book ever see the light of day? Could a stray typo ruin my career forever? And on and on. The only way to shut up the person in my head asking those rude-as-hell questions is to just write, every single day.
When I was writing the first draft of The Proposal, my second book, I wrote a scene early on where I knew, the entire time, it wasn't working. I knew I needed to get something on the page, but the scene was all wrong — wrong for the characters, wrong for the book, and worst of all, I didn't know what would be right. It's so easy after a day like that to want to give up, to decide that the book I'm writing is bad, that I'm not good at this, that I'll never be able to fix it. But for the whole next day, my mind wrestled with that scene, and when I made myself come back to the computer screen the next night, I tried it all over again and wrote one of my favorite scenes in the whole book.
When I write every day, the fictional world that I'm creating is always there, alive in my brain. My subconscious holds onto it and constantly works to solve plot holes, or add new twists, or figure out who the characters really are. I need to open my book, jump inside it, touch it with my fingertips and my mind every day so it's running in the background of my life. Even just a few minutes, or a few paragraphs, keeps the world I'm creating, and the characters, there with me, day in and day out.
I've had so many great ideas when I'm driving around, or doing yoga, or trying to fall asleep — all times when I'm not actively thinking about the book at all, but it's still fresh for me from working on it earlier that day. This often happens to me after those bad writing days, where I know something is wrong with what I'm writing, and I often know why it's wrong, but I have no idea how to fix it — 12 hours later, I'll be thinking about something completely different, and suddenly the answer to my problem will drop down, gift-wrapped, into my hands. My third book, The Wedding Party, was (so far, at least) my hardest book to write, and throughout the very slow drafting of it, I was dissatisfied with my plan for the ending. And then, one night, I sat bolt upright in the bathtub and laughed out loud. There it was, an ending that I loved and couldn't wait to write. The triumph of that moment made those months of struggle worth it.
I do usually give myself time off in between books, and during other really busy times; I was in a time-off period when the shelter-in-place orders all came down in March. Now I — like many other novelists I know — am having a very hard time working on a book. It's hard to pull myself away from the fire hose of bad news on my phone. Why would anything I write matter when so many people are dying every day?
The only way I broke this cycle of anxious thoughts and creative paralysis was to remind myself that writing is a practice, just like so many other things in life. I didn't want my writing muscle to atrophy. Since the beginning of April, I have written at least something every day, just to keep going, to put one foot in front of the other. And to snatch an hour or so of escape, of fun, maybe even triumph for myself while living with a pandemic and a government who tells me over and over again that my life doesn't matter. I'm searching for that joy and discovery and wonder in creation, as I try to envision a different, better future. It's not easy, but I think — I hope — it'll be worth it.
Jasmine Guillory's latest book is Party of Two.