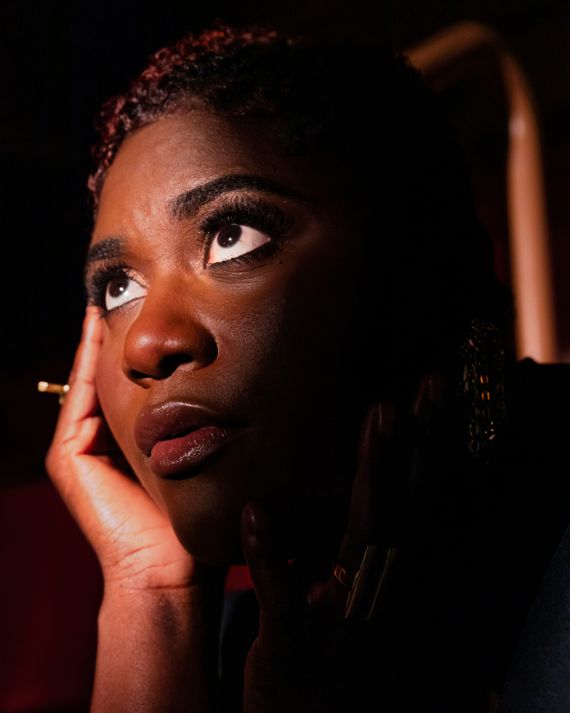 Photo: Elliott Jerome Brown Jr.
Danielle Brooks is sitting in a corner of the Glass House Tavern's upper level, brows furrowed, fingers furiously slashing across her phone screen. "Whatchu playin'?" I ask her. "Fruit Ninja, horribly," she says. Her eyes, once focused on dicing digital citrus and berries, now convey a winsome giddiness. Those in the know tell me this tavern is where the cast of August Wilson's The Piano Lesson goes to kick it — to decompress after the latest rehearsal, to clown, talk shit, and bond. But on this early-fall Friday afternoon, the place is buzzing with layfolk, tourists, and theater nerds sipping on midday martinis before jaunting through a Theater District recovering from pandemic woes. And then there is Brooks, dressed down in a burnt-orange hoodie and matching sweats, wearing a dark, fitted cap with a D embroidered in Collins Old English–style font. "What exactly does social media serve?" she asks with an almost familial calm during one of our conversation's many digressions. "It's dumb, entertainment," I suggest. "Well, I'm supposed to be the entertainment!" her voice skies.
Brooks, 33, has been performing for applauding audiences since starting at the age of 6 in her South Carolina church. She snuggled into viewers' hearts as the undermined inmate turned activist leader Tasha "Taystee" Jefferson in Netflix's Orange Is the New Black fresh out of Juilliard nearly a decade ago. While shooting that seven-season banger, she earned a role — and a Tony nomination — as Sofia in the musical The Color Purple (a role she'll reprise in the 2023 film adaptation). James Gunn hand-picked her as co-lead opposite John Cena in HBO Max's superhero comedy Peacemaker, which, by season's end earlier this year, proved to be one of the streamer's most viewed original programs. Oprah swears by her.
Film and TV may come calling with checks and fame, but the stage is home. It keeps Brooks honest about her skills: It's where the cornbread is soft and piping hot; it's where banter and backbone are tested. While pregnant in 2019, she turned down a film to do Shakespeare in the Park instead, a spin on the decision she made earlier in her career when she joined OITNB after being cast in two different stage productions. Still, only recently did she begin to feel at ease with her craft. "I think I've spent a lot of my time onstage living in fear and being nervous of what I love so much," she says, "because of the perfection side of it."
The Piano Lesson, in its content and elocution, is a declaration of this newfound fortitude. And not just for Brooks. The 2022 restaging of the play, which opens October 13, is an epically chatty tale set in the Great Depression and centering on a weeks-long confrontation between the Charles siblings — Berniece (Brooks) and Boy Willie (a very game John David Washington) — over a handmade piano passed down from their father that survived the dawn of the Jim Crow South. They're flanked by Doaker Charles (Samuel L. Jackson), the sibs' uncle and eye-rolling sage; Doaker's elder brother, Wining Boy (Michael Potts), a pianist; Avery Brown (Trai Byers), a lithe preacher of suspect spirituality who's had eyes for Berniece; and Lymon (Ray Fisher), a most delightful himbo and homeboy to the ever-scheming Boy Willie. The wealth of Black talent extends beyond the cast — actor LaTanya Richardson Jackson (Samuel's wife of 42 years) is the first woman to direct an August Wilson play on Broadway, one of many signs this season that New York theaters are re-upping the profitable commitment made to Black thespians and playwrights last fall.
Berniece is the play's dramatic center, holding fast to the heirloom while her little brother aims to sell it off. (She won't touch the piano in part because she believes it's haunted by her ancestors.) Throughout the production's two hours, Berniece's intense sentiment spreads across the proscenium, her rage and the strength of her kinship palpable even when she isn't onstage. Just about every character anticipates her arrival and the loving, messy hell she brings with her. Brooks has to balance "playing her angry" with "trying to understand how to love her brother," she says, while keeping in mind that "the history of the piano matters so much more." "Everyone says, 'You know how Berniece is,'" she explains. "So I gotta live up to it."
The challenge of unwrapping a character who, on the page, seems only to strike one stereotypical note was one of the reasons Brooks was drawn to Berniece. In the guts of the text, it's easy to read Berniece as a blunt instrument, a force with no outstanding trait besides her utter frustration with her sibling and station. Her language is repetitious — variations on "Leave that damn piano alone, Boy Willie" and "Get the hell up outta my house." But Berniece is also a widow who, it's made clear, has learned to self-sustain and advocate. The looming romance with Avery makes us privy to her true desires — her sexual and spiritual fancies — and subverts the notion that she will never be okay until she's cared for by a man when no one questions how a man will get on without a woman.
It would be fair to worry that Brooks might not be able to have as much fun as Washington's hyperactive, ultra-aggy con man, Potts's drunken one-hit wonder, or even Jackson's dryly sarcastic uncle. Yet Brooks's down-home southernness, complete with a swampy twang and a protective impulse, provides one of the play's honest-to-goodness laughs when she volleys a question about the origin of a truck that Boy Willie and his knucklehead friend have clearly grand-theft-auto'd: In that interrogation, Brooks's neck and eyes whip from one side of the stage to the other so hard the audience can track them like a tennis ball at the All England Club. The moment, quick and smooth, signals that Danielle Brooks would hold serve.
Preview showings have given Brooks and the ensemble an opportunity not simply to work through Wilson's mile-a-minute pathos but to learn the dimensions of its repartee; to align the timing of wit and blocking to the crowd's laughter; to react, respond, and relate to the stage and set. And each challenge animates Brooks, even in the retelling. "Bro …" she says, placing her hands on her face, wrestling with her giggles to get the story out. In the second act, while performing a DIY exorcism, Avery hands Berniece a candle, softly commanding her, "Whatever you do, make sure it don't go out." Once, as soon as Byers put it in Brooks's hand, the flame extinguished. "I looked down and was like, Oh my God," she says. Maybe in her younger years, that would have been a time to excoriate herself. It took a minute to shed her feelings of anxiety and let go of what she calls the "establishing moments" that made her feel "less than" in the past: "Those moments where you were playing 'soldier to the left' and it was established, like, I'm not a leading lady."
But only a lead could pull off the sort of snap decision Brooks recently made after an audience member's cell phone blared in the middle of a scene with her and Fisher. She bucks up telling this story, a toothy grin etched across her face. "I have never done this in my life, and believe me, I do not plan on doing this consistently," she begins. "I straight up said to Ray, 'So what was you sayin'?' And Ray came through with the line, thank God." The play gained steam. "I think the audience leaned in more; he and I leaned in more, and everybody was like, Ahhh. It was a beautiful show." Improvising helped her feel more relaxed in her confidence as a performer. "Sometimes," she says, "there's just this mental thing in the back of my head that keeps saying, No, you're not that great. You're not ready. You don't know what you're doing. Why are you here?"
One wonders if Juilliard's exalted reputation had an impact on how she saw herself onstage. So few actors get in, and even in the early '10s, there weren't many Black women who made it through the program. Brooks could have easily faltered under the burden of comparison or impostor syndrome. Did she always know it was going to be Juilliard? "No, I never was that kid," she says. For her final two years of high school, Brooks lived on the campus of the South Carolina Governor's School for the Arts & Humanities, taking classes with 15 other students in acting, dancing, and singing. "I was only there for theater and was the only Black girl in my class," she says. "The school was pretty new at the time, but all the Black girls that were coming were getting into Juilliard: people like Nicole Beharie, Teyonah Parris, and this girl Stacey Scott — she's gon' pop. They all got into Juilliard before me, and I was like, I don't know what Juilliard is, but they're letting all the Black girls in so I'm gonna test that out." While searching for monologues for her audition, a then-17-year-old Brooks riffled through material and, in a wonderfully time-is-a-flat-circle coincidence, found The Piano Lesson. Berniece's speech about never laying hands on the piano secured her a spot.
The histories of esteemed theater programs have been shaped, at least recently, by a cohort of generational Black acting talents coming out of their ranks, many of whom made a name for themselves almost immediately. Yale's M.F.A. has given us graduates like Lupita Nyong'o, Brian Tyree Henry, Winston Duke, Yahya Abdul-Mateen II, and Aja Naomi King, while Donald Glover, Mahershala Ali, and Danai Gurira all finished at NYU. "I think Juilliard was shifting when I came in because we started out with six Black people out of a class of 18," Brooks says. "That's big, major. And three out of the six already have a Tony nomination. So we hold each other down."
There was, of course, plenty of cross-pollination. The Black actors in those programs knew of one another and became a small network of their own. "Yale, Juilliard, and NYU would do these chocolate mixers — I hope they still do — but we all get together and just — " "Be Black," we jinx. Even in the most privileged, well-resourced spaces, without other Black folks to laugh with, to struggle with, to keep them alive, shit can get bleak. "It'd be like, 'Oh, y'all doing that Shakespeare play for the third time. Oh, okay,'" she says.
With the cast of The Piano Lesson, Brooks has settled into another network turned chosen fam, but it's nothing compared to the one she has newly built outside of work. She pulls out a picture of her husband, Dennis Gelin, whom she married in January, and their almost-3-year-old daughter, Freeya. She's got her mother's eyes but apparently looks just like her father when his beard is shaved.
"The only time I've ever felt freedom and peace onstage is when I had my daughter in my stomach," she remembers of starring as the loquacious spinster Beatrice in a Public Theater production of Much Ado About Nothing. "The reason was because I didn't feel alone." It also helped to know that she could nail Shakespearean verse while carrying a child; the fiery soubrette role is physically and linguistically taxing. Brooks sees it as a reminder that God, the spirit, is always with her. Motherhood has not just become a new responsibility that, she says, shifted who she was completely, but had an outsize influence in all areas of her life. "I like who I'm becoming, I really do. It's someone who's more sure of themselves and grounded," she says. "That's what I hope Freeya will discover for herself. I know what I'm capable of."