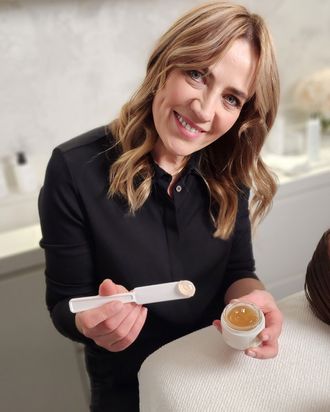 The woman behind New York City's highly in-demand Rescue Spa, nestled steps away from Union Square and beloved by celebs, supermodels, editors, and skin-care enthusiasts, is Danuta Mieloch. "I have a genuine passion for helping others achieve their best skin and overall well-being," she tells the Cut. "I love witnessing the transformation and confidence boost that my clients experience after receiving personalized skin-care treatments," the Poland-born aesthetician says.
Before opening Rescue Spa's first location in Philadelphia in 2004, Mieloch learned the ropes under rigorous training at various spas in Paris. "Throughout my career, I have given thousands of facials, constantly striving to provide exceptional service and results," she shares. This same goal extends to her skin-care brand, Danucera — a line of clean and simple products that aim to deliver real results in an oversaturated industry — which she launched in 2022.
Between being one of the industry's most sought-after aestheticians and running a chic, top-of-the-line skin-care brand, Mieloch makes time for movement, masking, and hydration. "Self-care is vital because we only have one body and one life, and it is essential to take care of ourselves in order to live well," she says. After all, "I believe in investing in oneself, whether it's through education, experiences, well-being practices, or maintaining good health."
.

Here, Mieloch's a.m. routine:
6 — I drink lemon water and apply Cerabalm from Danucera while I enjoy a cup of coffee. Using Cerabalm as a mask feeds the skin with nutrients, giving it a radiant, supple texture. Sometimes I incorporate face massage or use Masque Vivant from Biologique Recherche. A face massage wakes up my skin, and Masque Vivant is super-balancing. I recommend trying a mask challenge, which is applying a face mask for several days in a row to reboot your skin.
6:15 — Working out is a big part of my routine. I spend at least 30 minutes to an hour daily stretching, doing yoga, or going to the gym. This is nonnegotiable.
7:15 — For the body, I start with dry-brushing or using MBR Cell-Power Lipo Peel as a scrub in my shower routine. Body exfoliation refines the skin. I particularly love to use the Lipo Peel because it's nourishing and it's made of tiny crystals that melt away, so it's easy to rinse off. I finish with a cold rinse and then apply a body oil, followed by Creme MSR-H Corps from Biologique Recherche. Creme MSR-H redensifies the skin, and it replenishes moisture without leaving a tacky feeling. Hand in hand with exfoliating, hydrating your body daily is the key to skin that looks and feels revitalized.
7:45 — After, I cleanse my skin with Cerabalm. Then I continue my skin-care routine with D22 Tonic from Danucera, applying it in a specific manner, which is using lifting and sweeping motions to activate circulation and lift the muscles.
7:48 — Then I use a serum with active ingredients, alternating between different options like MBR Cross Lift Serum Ultrapeptide, Biologique Recherche Le Grand Serum, iS Clinical Pro-Heal Serum, and Environ Retinol. Serums are a surefire way to make sure your skin is getting potent ingredients for the best results.
7:50 — For a moisturizer, I love using a rich cream like Cream Extraordinary from MBR. It illuminates, rejuvenates, and stimulates circulation.
7:51 — Sunscreen is a must for me, and I prefer EltaMD because it's lightweight and offers broad-spectrum UVA/UVB protection.
7:52 — My daytime makeup is light with products from Chantecaille and Westman Atelier. Chantecaille's Just Skin is an ultrafeatherweight skin tint that evens out the skin without looking cakey or overdone. Westman Atelier blushes and highlighters create the perfect rosy cheeks. My all-time-favorite mascara is Chantecaille Longest Lash. This mascara always makes my lashes look healthy and elongated.
.

Mieloch's Makeup Staples
.

On confidence:
The world of beauty has played a significant role in my journey to confidence by allowing me to enhance people's natural beauty, boost their self-esteem, and contribute to their overall well-being.
.

On the beauty-marketing ploy that makes her cringe:
When everyone claims to be an expert, then proceeds to recommend that people use too many products at once. This approach can overwhelm the skin and potentially cause sensitization.
.

On the beauty industry:
I'm super-proud that I have never followed crazy trends. I have always focused on using great products that deliver results, even before they became trendy. For example, I have been using electric currents and LED technology for a long time, recognizing their benefits early on. I take pride in being instrumental in popularizing exceptional products like Biologique Recherche's. It's gratifying to see their positive impact on people's skin and overall well-being. My greatest achievement, however, is creating my own brand, Danucera. It is a clean, conscious beauty line that truly caters to real people, providing them with authentic and reliable skin-care solutions.
.

On beauty and TikTok:
I can't stand excessive use of filters and editing that creates unrealistic beauty standards. I love when people promote self-acceptance, embrace their natural beauty, and discuss the importance of having a skin-care routine.
.

On overhyped ingredients:
In my opinion, the one ingredient that is often overhyped is gold-infused skin-care products. While gold may have some antioxidant properties, its effectiveness in skin care is often exaggerated.
.

On the ingredient she avoids at all costs:
Personally, I avoid skin-care products containing harsh sulfates, such as sodium lauryl sulfate (SLS). They can strip the skin of its natural oils and cause skin sensitivity and irritation.
.

On the types of products she gravitates toward:
To build a comprehensive skin-care routine, I tend to gravitate toward products with ingredients like hyaluronic acid, niacinamide, vitamin C, retinol, AHAs, PHAs, and natural botanical extracts. These ingredients are effective and known for their hydrating, brightening, and rejuvenating properties.