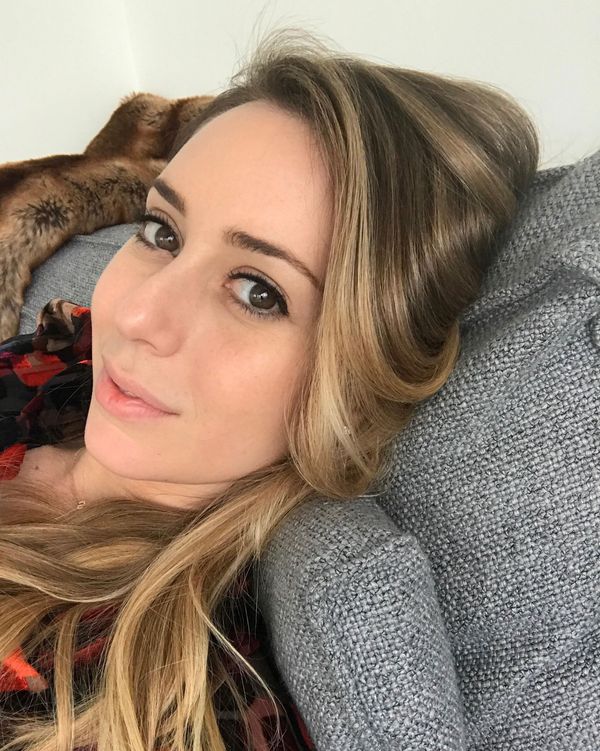 Photo: Courtesy of Shereene Idriss
Want more skin care? Join The Beauty Group.
Dr. Shereene Idriss had a big 2019. When the Cut interviewed her in March, the dermatologist had 38,000 Instagram followers. Less than a year later, her following has skyrocketed to 160,000 — and with good reason. Every Sunday, Idriss lays in bed and doles out advice on her Stories under the hashtag #PillowTalkDerm. She covers everything from acne to Botox to pregnancy skin care, which she dealt with last year when she was pregnant with a baby boy.
Thanks to childbirth, "my hormones have been out of whack recently," she says, "and they've triggered pigmentary changes in my skin, particularly on my face." She's been using brightening agents and staying out of the sun, and she's back on a prescription retinoid now that she's finally finished breastfeeding. "I'm starting slow and steady with a 0.025 percent prescription. It can be irritating if you start off too aggressively — retinoid is a very potent ingredient. You can begin using it a couple times a week and build up to using it every night. I wouldn't recommend this product to someone who has extremely sensitive skin — they should stick to retinols, which you can get over the counter."
Even if you're not a dermatologist yourself, she says, the best thing you can do is read up on skin-care ingredients and your skin type. "The sad truth is that dermatology is a privilege for those with insurance," she acknowledges. "You have to decide whether you want to spend the money on treatment, or buying skin-care products more often." When deciding between the two, she has an analogy: "Would you rather pay for a gym membership and train in a facility or run outside for free? There's nothing wrong with either, but if you are one of those people who would rather run outside, I recommend getting to know the products on the market and educating yourself."
Read on for six #PillowTalkDerm–approved products, including her favorite $9 drugstore cleanser, face pads that keep pigmentation at bay, and a luxury moisturizer worth its hefty price tag.
The Micellar Water
"I use this micellar water as a makeup remover and an overall 'crud' remover. I use this one in particular because I feel like it's gentle and effective enough to do the heavy work without irritating my face and leaving an oily residue."
The Cleanser
"After micellar water, I wash my face with a gentle cleanser to remove any remaining impurities. I double cleanse to make sure I remove anything remaining on my skin that the micellar water might have missed. You don't need to spend a million dollars on a cleanser, and I like that this cleanser is gentle without being irritating or harsh without overdrying my skin. It's non-foaming and can be used in all year throughout the different seasons, which is another reason I like it."
The Face Pads
"I exfoliate every other day with this combination of lactic and glycolic acid to help tone and brighten my skin. The pads keep pigmentation at bay. When I laid off on use for like two weeks, I noticed pigmentation became a little darker."
The Vitamin C
"Vitamin C helps the appearance of sun-stressed skin while protecting from ongoing free-radical damage. Free radicals are the result of environmental stressors, which can damage the core of your cells. Vitamin C neutralizes them. SkinCeuticals is the brand I like at the moment because it has a high concentration of Vitamin C and doesn't break me out, but I do alternate between a variety of other brands, too."
The Serum
"Because discoloration is the bane of my existence, I go a step further and use this serum to help optimize results and brighten. This product has topical tranexamic acid that brightens your skin further. When I say 'brighten,' I mean 'improve and create an even skin tone throughout,' meaning fewer dark spots."
The Moisturizer
"With fall comes a change in humidity, so I swap my moisturizer for a thicker cream. This one, although pricey, goes a long way and lasts me the full season. It is a complete indulgence that I allow myself because I know it will last me six months — a little really does go a long way. You can, of course, always find other great creams on the market that have a lower price point."
If you buy something through our links, New York may earn an affiliate commission.