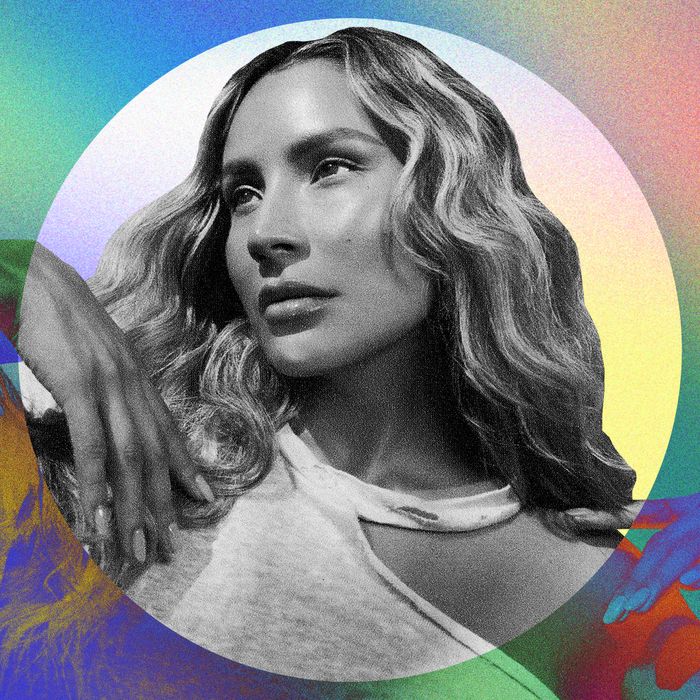 Desi Perkins
Photo-Illustration: The Cut; Photo: Courtesy of Dezi Skin
Though she rose to popularity for her mastery of makeup, beauty influencer Desi Perkins has been breaking out the metaphorical micellar water more often to share what's going on underneath it all. Whether it's disclosing her depression after suffering a miscarriage or filming the pimples hiding beneath a full beat, she isn't afraid to share content that isn't always pretty.
"I uploaded a video years and years and years ago about covering up my acne, and I gained so much empowerment from that video because I was so insecure about it. But once I uploaded it, I got so much feedback from viewers; so many people could relate to the situation," says Perkins. "It was really in that moment that I realized people want to see the real deal. A lot of things that we see online are so perfect, but people want to see imperfections, and imperfect skin, because they don't want to feel alone."
Perkins has launched cosmetics, and still finds time to sculpt the faces of Victoria Beckham and Kim Kardashian West, but knew she wanted to make her own mark in the skin-care category ever since she shared the skin she's in. Not long after the birth of her son, Perkins welcomed the arrival of Dezi Skin, her skin-care line two years in the making. Like many women of color, she is familiar with the ongoing fight against hyperpigmentation and dark spots, which sparked the creation of her debut product, Claro Que C, a potent, brightening vitamin-C serum that pairs the star ingredient with Dezi Youth Juice, an antioxidant cocktail of Mexican-plum, dragon fruit, açai berry, tamarind, mango, soursop, guava, and avocado any skin would be happy to sip. The Cut caught up with Perkins to talk meditation, Instagram filters, and vaginal steaming.
Do you think of beauty as self-care?
100 percent. I also think it depends on how you see beauty. For me personally, when I take the time to do something for myself, it helps me mentally. Whether that's skin care or doing my makeup, something about that makes me feel like I'm putting myself first in the day, and I think that's definitely important.
Has the way you think about beauty changed during the pandemic? How so?
I think it has shown me that there's so much superficial beauty. Once you take all the glitz and the glam away, you realize what's really important. Not going to events, not getting ready, made me focus more on myself internally — on meditating and things like that, instead of doing these full-glam, crazy-outfit looks that I was doing almost every single day before this. I think I will forever be different. I think it'll be more exciting now to get out. I think it'll be a more genuine experience. Before, I would go out to serve looks, take pictures, but now I think my going-out experience will truly be to connect with people and have genuine moments and genuine conversations with people in person, and I'm excited for that.
What do you wish more people understood about what you do?
I wish people understood that the career that I'm in is more than just putting on makeup in front of the camera. This is probably what a lot of different people will tell you. It looks so easy, but we're actually so pressed for time, especially when I first started my career. I had no idea what I was doing. I was my own cameraman, my own editor, my own makeup artist, my own producer, my own manager, and my own assistant. I didn't have anybody helping me, so when I would get emails from brands, I would just pretend to be my own representation. It's just a lot of work, and I love to do it, but I definitely wish people didn't downplay it, because it's definitely a workload.
What was the biggest "no" you heard in your career, and what did you
learn from it?
I'll never forget it. I was in a boardroom, and I had been working with the company for so long. I was asking for a renegotiated contract because I knew that I was worth that, and I remember being really talked down to in the room because I was a woman. The exact quote was "That's a lot of money for a little girl," and ultimately I was told no. That was a huge turning point for me because I realized this was going to push me to do my own thing, and I should be doing my own thing. I'd been wanting to start my own brand for so long, and that was what I really needed to hear to say, I'm going to start tomorrow. I'm getting up. I'm doing this. And I did. And it was the best thing that ever happened to me. It was the best "no."
What's the most challenging part about starting your own skin-care line?
The formulation is a lot of work. I've done several collaborations in the past, working with chemists on beauty products like makeup, and with makeup, obviously, you have instant gratification. You can really test and wear a product and quickly see if it's working and if you love the formula. Whereas with skin care, there's so much that goes into it — so much education on raw ingredients — and then the trial period of testing a product to make sure it works is so much longer. We went back and forth, back and forth, trying different products, and that felt like forever.
What's one fan experience that stood out to you?
Years ago, we did something called the Squad Tour where me, my husband, my best friend, and her husband toured and did meet and greets. It was kind of like a scavenger hunt: We never said where we were going to be until an hour prior; we would be in Arizona one day and Texas the next. I remember the meetup was in Houston. We gave people the hour notice, and when we got there, it was so incredible to see all the people that showed up. They had these signs, they made posters, and we were in this glass salon, and all the fans were hitting the glass as we were inside. I remember I started crying because I couldn't believe that this was something that was happening to me. It was very surreal that these people would want to meet us. There was a fan who was crying, saying that our videos saved her life and helped her through depression. I think with beauty videos, you think, Oh, I'm just making a tutorial helping somebody apply makeup, or whatever the video is, but when you see the actual people and how it affects them, you just have no idea the impact you could have. I'll never forget that moment.
Where would you like to see the beauty industry go from here?
I think we're getting more inclusive, which I think is beautiful. I would also like to see things that are more real, and I know that's such a hard ask because there needs to be a whole societal shift for that to happen. We expect everything to look perfect, even though we know it's really not. You know, sometimes people ask me why I'm wearing filters while doing Stories. Some days, you just want to wear a filter, right? You don't feel that great about yourself in that moment, and you just prefer it. And then I'll get people asking me, "Why are you doing that?!," and when I take a filter off, or when my friends take filters off and just try to be real, people are like, oh my God, picking you apart about every little thing: if you have a breakout, if you have texture, if you have pores. It's almost like we're so used to seeing everything so perfect that we don't even realize reality is not. It would be nice if people just became a little bit more comfortable with that, myself included.
Fill in the blank: Unfortunately, _______ is worth it.
I feel like laser facials are worth it. I was going to say skin care and coffee, but here we are. They're expensive, but you actually see the results. It helps improve the skin on a more aggressive level — with wrinkles, skin tightening, all types of different situations. I don't get them very often, and I've only gotten them a few times, but I know people who get them often and I've seen such dramatic results that I'm blown away. Any time I go into a med spa, it's the talk of the town. I actually just did a laser treatment on my stomach as well, to help with the skin on my belly, because after you have a baby, obviously your skin texture changes. I actually went in to get a lymphatic-drainage massage to help with all the swelling in my body, and she told me about VelaShape. When I posted it, I had a lot of people let me know that they went to a few appointments as well after having kids and got help a lot with the skin texture.
What, in your opinion, is the best affordable beauty product or products?
I really, really love products from NYX Cosmetics. I think they're such a great, affordable brand with good-quality formula, and throughout my whole career — even when I first started, all the way to now — some of my favorite products are NYX. They have great eyebrow gels, and their lip products are incredible — their lip liner and their Matte Lip Cream.
Is eye cream "worth it"?
There's such a debate on eye cream. Is it worth it? Is it not? Do you need it? Do you not? I think it's worth it, mostly because I feel like the texture on your under eye is different than the texture on the rest of your face, so it's important to treat that accordingly. Using just some normal face cream could be way too heavy for my under-eye area and for sensitive skin, and I'll just get milia bumps. I'm currently, you know, formulating some stuff over here [laughs], but I also really liked the one by Shani Darden. I think that one is really, really good.
What's the wildest luxury beauty experience you've ever had?
Going to a beauty spa and doing a vaginal-steaming treatment. I know, I know. But at the time, they told me it was great for infertility issues, which is something I was struggling with, and I was desperate, so I was like, Okay, let's try it. But I will definitely never forget that experience. They were like, "Okay, we're going to put you in this giant time-traveling-looking egg-machine, and there's just going to be this hot steam." It was very interesting, and I took my husband with me too, and he was like, "Okay … so this is … a thing." I had to lie in that egg for like 30 minutes, just steaming. That was a onetime, I'm-really-desperate thing, but I recently had my son, so I think I'm good now [laughs]. I think I'm all done with vaginal steaming.
Photo: Courtesy of Dezi Skin