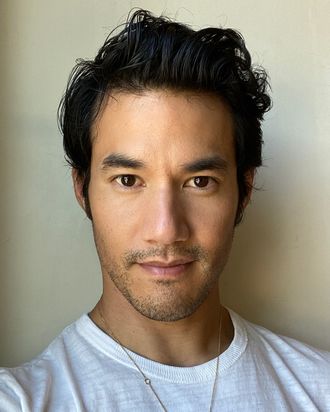 Photo: Courtesy of Joseph Altuzarra
Like many people, designer Joseph Altuzarra found himself stuck at home when the COVID-19 pandemic hit last spring. His home became his office, and suddenly, there was no separation between his personal life and his work life. "I was on edge in the evenings because there was no clear distinction, and I also felt sluggish and unproductive in the morning because it was hard to transition from being at home to 'being at work,'" he says. So he developed a beauty ritual to help him break up his days.
"Beauty was always something that I was interested in, but always as a reaction to a problem that I was trying to solve," Altuzarra explains. "I had pretty bad acne as a teenager and had always tackled beauty with a corrective, almost pharmaceutical, approach. But through quarantine, I started learning more about self-care, the holistic benefits of a beauty routine, and different products. I found it to be meditative — a moment of self-reflection that I needed."
Upgrading his skin-care routine was a matter of turning to friends like model and Rose Inc. founder Rosie Huntington Whiteley, makeup artist Gucci Westman, and MatchesFashion's CCO Elizabeth Van Der Golz. They were particularly helpful in guiding him to gentle but effective products. "​For a very long time, I was obsessed with exfoliating my skin — one might say over-exfoliating — believing that it would cure my clogged pores and acne issues. If anything, it made things worse," he remembers. "I wish I had learned earlier that not using harsh products and techniques on my skin would help it look better. Using a face oil on my already oily skin, for instance, was counterintuitive, but a revelation."
The designer has also begun to play around with makeup, which has motivated him to deconstruct some of his long-held ideas. "I had always felt a certain amount of discomfort and shame around the idea of men wearing makeup, but it is something that I really have grown to love and enjoy," he says. "It just makes me feel really good."
Below, Altuzarra breaks down his morning routine, including the serum that smells like ham but changed the texture of his skin, the sunscreen that also acts as a primer, and the $9 cleanser he's used for five years.
The Cleanser
"My dermatologist, Dr. Francesca Fusco of Wexler Dermatology, recommended this cleanser. I was having really bad breakouts, all stress-related, and she recommended this, and I've been using it probably for the past five years. You know, I had really bad acne when I was a teenager, and I used to think that stripping my skin was the answer. This cleanser was a really big turning point because it taught me to be gentler with my skin and to be kinder to it, which made a huge difference. I love that it doesn't have a scent, and it has this kind of cream-gel texture."
The Serums
"It's true what they say about this product: It smells like ham. And you know what? The smell kind of gets worse as you use it. The first time you open it, you're like, 'Oh, it's not that bad.' And then the longer you use it, I think because of the chemicals in it, the smell gets stronger. You have to get used to it. I heard about it through my dermatologist, and I have been using it for probably as long as the Cerave, so around five years. I did see a difference pretty early on, maybe like two weeks in. There was genuinely a brightness to my skin. Now, I use it during the day to help with the consistency and the texture of my skin. It also creates a little bit of a barrier to the elements.
Vitamin C serums have become super popular. I've tried a couple of other ones, like the Drunk Elephant C-Firma Vitamin C Day Serum, which I know is really popular, but I always go back to this one. It's just what my skin is used to now. Sometimes I get a little lazy with my skin care, and I stop using it, but as soon as I start using it again a few days later, I notice that the texture of my skin is more consistent and I have a brighter complexion. Overall, it makes a pretty big difference. It's expensive, but it's long-lasting, too. I would say a bottle lasts me around six months — my dermatologist told me to only use like three to four drops in the morning."
The Moisturizer
"I actually discovered this moisturizer on James Charles's YouTube channel around four years ago. I am addicted to watching makeup videos on YouTube, and he was using it. I've been on a journey with moisturizers. I feel like I have used everything, and the issue that I have as someone with kind of oily skin is that a lot of moisturizers are just heavy, where I kind of feel them on my skin or feel like they're wearing me. I'm attracted by the marketing aspect of a lot of moisturizers, but then they don't actually work for me, and when I tried Tatcha's, it immediately absorbed into my skin. It was super light, but it was also really emollient. I also love the smell — I usually don't like things that have a scent, but I think the cucumber, fresh smell is something that I just really, really love. It's a super good value for money, too. It's a big tub, and it lasts me a really long time — I don't feel like I need that much; I just dab a couple of dots on my face, and it probably lasts me like six months."
The Sunscreen
"I know how important it is to use sunscreen — this is something that I've actually done since my early 20s. But the problem with sunscreens, again as someone with oily skin, is that I find that sunscreens are oftentimes very oily and make my skin super shiny, and I can feel the product sit on top of my skin, like it doesn't obviously doesn't absorb into my skin. This is the first and only sunscreen that I found that I actually feel is kind of mattifying. I love the primer property, as well. It does feel like it's giving me more consistency across my skin. It's also scentless."
The Drops
"I am a skin-care and cosmetics junkie, and I love trying all different kinds of things, but I have to be honest: I'm not exactly sure what this does. I can tell it's sort of making a difference, and I like using it. I discovered it because I met Dr. Barbara Sturm at a dinner. I love talking about my skin with basically everyone but especially with people who are in the beauty field, and she was like, 'Oh, you should try these drops.' I tried them, and they gave me this very subtle glow.
Over the past couple of years, I've become more and more interested in cosmetics and makeup for men. It's something that I had always loved in womenswear, and I became interested in for myself, and I started using some makeup. And one of the things that I struggled with was finding something that would give me a glow that wasn't shimmery or overpowering. The glow drops are kind of an in-between. I guess it isn't skin care, but it's not exactly makeup either, it's sort of in the middle."
The Foundation
"I've tried a couple of different foundations. This is something that I've been experimenting with recently, and I find that I don't love that a lot of foundations that I used have a kind of satin finish, or they're ultra, ultra-matte, which doesn't look natural to me. When I tried this Chanel one, I really liked the finished texture on the skin. It was slightly matte but then it had a natural amount of shine, which I thought was really nice. The way I look at it, it's very much like a beginner foundation. It's super easy to apply, and you really don't need a lot (but I'm not going for full coverage). I'm really only doing the center of my face and then blending it outwards. I use the shade N30 Medium Light."
The Blush
Photo: Glossier
"I use the shade 'Dusk' — I tend to like blushes that are a little bit peach. It's a really good value for your money; I've had a tube forever now, and I'm nowhere near finishing it. I think I use blush more like how other people use bronzer, where I use it on my cheekbones but then also at the bridge of the nose because I like looking like I have a rosy tan. If I had one thing to say about it, it's that I wish it was a little bit less pigmented. It's very, very saturated so I just use a little bit or sometimes like I'll mix it with a bit of my Tatcha cream [above] just to make it more buildable — I'm sure some people love how pigmented it is though. I also really like Surrat's Artistique blushes. They're in powder, and they're so pretty. I use their shade 'Guimauve.'"
The Mist
"I never understood mists until I tried this product, and it's such a game-changer. You just look a lot better with it, just refreshed and glowy, and you really don't need that much — a couple of spritzes, and you're ready to go. I discovered it around the time I found my moisturizer because I went down a Tatcha hole once I started using the water cream. I was like, 'This brand is amazing.'"