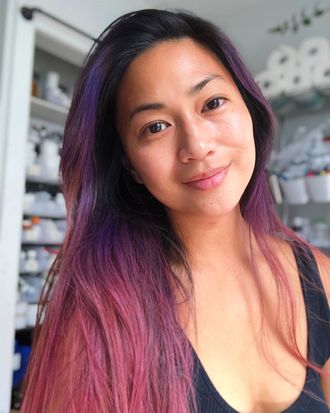 Photo: Courtesy of Joyce de Lemos
Expensive skin-care products — the kind that promise to fix all of your problems, if only you're willing to spend some money — will always have their allure. But "the most expensive product does not equal the best performing product," says Joyce de Lemos. "I hate telling people that because it's like telling them that Santa Claus doesn't exist."
De Lemos is a clinical cosmetic chemist with multiple patents under her belt. She's an alumna of SkinCeuticals (among many other beauty brands) and a co-founder of the transparent skin-care company Dieux. "My co-founders Charlotte Palermino and Marta Freedman and I had seen so much bullshit in our past lives," she says. "We've seen so many brands get away with making outrageous, unsubstantiated claims, and we want Dieux to be entirely different from any of that."
De Lemos is a big believer in clinical data. Rather than skewing to one skin-care ethos (clean, natural, silicon-free, etc.) she relies on her knowledge of ingredients to guide her. "When I see a skin-care carton full of marketing claims, I immediately look into the ingredient listing on the back, and I can usually figure out the percentage of the marketing ingredients in the formulation. Then I think to myself, Is there enough of this ingredient to do what the product claims it does? Has this ingredient been tested before to do what the product claims? Is there data to support these claims?"
Brands she generally trusts include SkinCeuticals (" I know from experience that they really invest in researching ingredients and designing thorough tests to prove the efficacy of their formulations"), Dr. Murad, and Chemist Confessions. But she cautions that skin compatibility makes a big difference, too. "Not every product is for every person; what may work for your best friend may not work for you, and that's okay. It doesn't negate the quality or efficacy of the product — it simply means that the product is not compatible with your skin type."
Read on for de Lemos's approved skin-care products, her take on the recent uproar over sodium lauryl sulfate (SLS) and petrolatum, and why you should store vitamin C in the fridge.
Morning
The Cleanser
"I do a quick cleanse with Cetaphil, which I've been using since I was a teenager. I've always had really sensitive, dry skin with the occasional eczema flare up. The formula is fairly simple. It contains a healthy amount of the emollient cetyl alcohol, which leaves my skin feeling soft and supple.
The main surfactant is sodium lauryl sulfate (SLS), which is an incredibly efficient cleansing agent — this is why it's used in dish soaps, detergents, and even toothpastes. The recent uproar over SLS probably has to do with the fact that solutions containing high percentages of SLS are often used in clinical studies to elicit irritation on the skin because at high percentages, they can dissolve lipids on the skin and attach to proteins. With that said, it's completely possible to formulate with sulfates at lower levels and with emollients and humectants to create non-drying and non-irritating formulas."
The Serum
"If I'm feeling like my skin is looking a little dull or uneven, I'll use C E Ferulic for a few weeks. It's fairly pricey, so I don't use it year round. Also, as a SkinCeuticals alum, I learned very quickly about how fast it oxidizes. When an ingredient like vitamin C oxidizes or degrades, its molecular structure changes, and structure is really important to the functionality and efficacy of a molecule. An opaque or UV-protected amber container with an airtight seal and airless pump is the best option for protecting the formulation from oxidation and UV degradation. I store mine in the fridge to keep that vitamin C nice and protected. Heat can speed up degradation, and the refrigerator is nice and dark, so that helps, too!
I've also been using an all-around anti-aging serum that I've been working on for Dieux. It's formulated with some great actives that help to combat inflammation and redness, improve skin texture, and reduce the appearance of wrinkles and fine lines."
The Moisturizer
"This moisturizer is great for my dry skin, especially during the winter. With its high level of liquid paraffin, a derivative of petroleum, it's a great occlusive moisturizer that supports my lipid barrier and promotes hydration by preventing water from escaping my skin. I know there's a debate around petroleum as an ingredient — a study was conducted that linked certain chemicals in unrefined petrolatum to tumors in mice, but the U.S. does not allow the use of unrefined petrolatum in cosmetics, and it regulates the manufacturing of petrolatum to ensure they don't contain these chemicals. This has been compatible with my super dry skin from as far back as I can remember, but I also understand that just like many things in skin care, it's not for everyone."
The Eye Masks
"These eye masks provide an occlusive barrier to keep skin-care products moist on the skin for a longer period of time, which helps with hydration and ingredient penetration.
They're made from 100 percent silicone, which can be rinsed and reused. Some single-use eye patches currently on the market have so much packaging. They're attached to a plastic strip, which is then packaged in a single-use plastic or foil pouch. The pouch then gets stuffed into a box, which is shrink-wrapped. It's really insane. The Dieux masks are great because I can tend to my under eye area whenever I want without the guilt of creating a bunch of waste each time.
I also love that I can use whatever product with the eye mask. I like to store my little tin in the freezer, so that my little eye masks are cool when I apply them. I will usually dab a few drops of Matrixyl 10% + HA from the Ordinary [below] under my eyes and then sit my eye masks on top.
I'm hopeful that our industry will be able to make strides in creating truly sustainable packaging solutions. I think that we're off to a great start with the eye masks — since the tins are aluminum, they're recyclable and also really light to ship. We're still figuring out sustainable packaging solutions for our upcoming products, but it's really challenging since there is no real perfect solution yet. We try to make informed decisions based on so many things — recyclability, biodegradability, compostability, sourcing, carbon footprint from manufacturing, shipping, disposal, etc.
Just note: The eye masks are currently sold out, but we're working to restock them. (You can join the waitlist here.)"
The Eye Cream
"Recently, I've been testing a new eye cream for Dieux that will hopefully help diminish the under-eye puffiness, sagging, and crow's feet that have resulted from the raging dumpster fire that is 2020. But for now, I'm using this by the Ordinary. The key ingredient in this product is the Matrixyl 3000 at 10 percent. This is a peptide solution that has been tested proven to smooth out wrinkles and improve skin elasticity at an even lower percentage (three percent). It's unclear if there are any additional benefits to using it at 10 percent or if it's a little overboard. The product is cheap and simple, so I don't mind the semi-superfluous percentage."
The Sunscreen
"I'm a huge fan of the Ultra Sheer Dry-Touch sunscreens from Neutrogena. I'm currently using their SPF 45 formula, but really, anything with a minimum SPF 30 is fine. This is a chemical sunscreen. I've yet to find a mineral sunscreen that is compatible with my skin tone and type, so I've stuck with this one for years.
In an ideal world, you'd be able to reapply sunscreen every two hours, and even more frequently if you're swimming and out in the direct sun. Reapplying throughout the day is sometimes challenging for me, but I do carry a tube with me so I can reapply when I remember. It's really unappealing especially when I don't want to ruin my makeup (disclaimer: this refers to pre-COVID behaviors, when I actually wore makeup and/or left the house). I'd love to see a sunscreen mist for the face that doesn't leave the skin greasy or smell like a bunch of alcohol. I haven't found a great one on the market yet, but hopefully someone will come up with one soon."
Night
The Double Cleanse
"I was never really a huge fan of double cleansing. Traditional cleansing balms have always been a little thick and oily for me. I also hate having to use the little plastic sticks, which I inevitably misplace, to scrape out a mound of balm. I love that the Charlotte Tilbury Multi-Miracle Glow is more of a cleansing gel than balm. It's super easy to apply, and I feel like it rinses off fairly well without leaving any residue on my skin. I follow this up with my Cetaphil [above] and Skinceuticals C E Ferulic [above]."
The Night Cream
"ROC has been around for years. They were pioneers in stabilizing retinol, a notoriously hard-to-formulate-with-and-stabilize ingredient. They do tons of clinical testing, which, as a scientist, I really appreciate. My skin typically freaks out when I even think of using any retinol product, but I'm able to use this formula every night during the cooler months. During the summer, I reduce my usage to once a week. I'm normally out and about, so I try to avoid products that make my skin super sensitive to the sun."