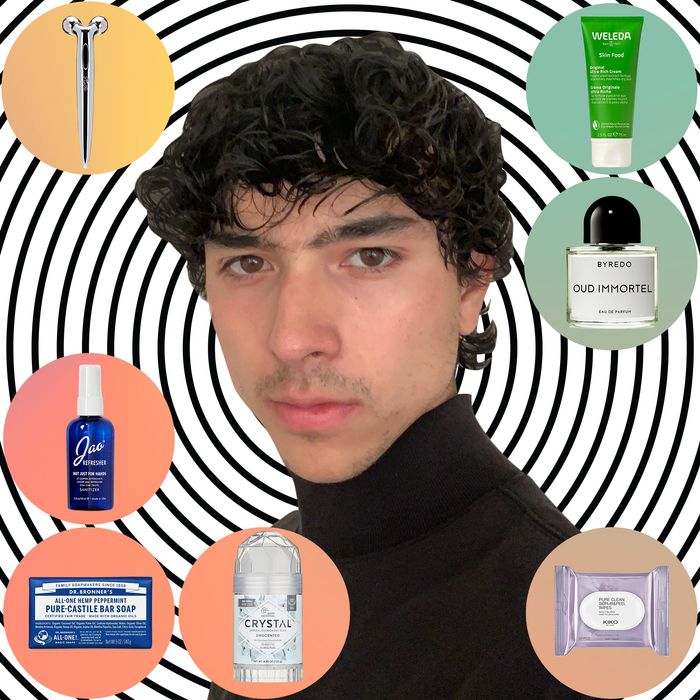 Photo-Illustration: by The Cut; Photos: Retailers, Courtesy of Sam Visser
On the Beauty Group, a Facebook community co-founded by the Cut and the Strategist, people chat all day long about the products they love — the ones so good they'll make you hit that little "auto-refill" box at checkout. Below, we asked one of our favorite beauty pros to share his own selections.
When a veteran makeup artist like Pati Dubroff compares you to Kevyn Aucoin, perhaps the most influential makeup artist of all time, you know you're going places. But Sam Visser very well might be Aucoin's heir. How many makeup artists can say they started their career at the age of 12 and worked with Kris Jenner by the time they were in their sophomore year of high school? So far, there's only Visser — and Jenner reached out to him.
Already a favorite among Bella Hadid, Lily-Rose Depp, and Kylie Jenner, the 21-year-old's latest achievement is joining Dior Beauty as the brand's U.S. makeup ambassador, working under the direction of Peter Philips, creative and image director.
Visser wants to create makeup looks that make women feel powerful. He once told CR Fashion Book, "I don't want to create the girl next door, but I want to create the girl who just bought the house across the street." In other words: He wants to work with people who own their strength and aren't apologetic about who they are, and that translates into bold colors (like a "dark emerald sparkling eye"), dramatic shapes (like a super "dark, skinny brow"), and tangible textures (like rhinestones as lipstick) in his looks.
His makeup kit is full of products that you would expect — and some that you wouldn't. "I like the kind of notion of mixing your makeup almost like a scientist," he says. His $17 moisturizer is often subbed in for highlighter. He'll use actual painting pigments as shadows and blushes. He'll even use his favorite hand sanitizer as a spot treatment for blemishes on set.
Below, Visser breaks down his must-have beauty buys, including the $7 deodorant he calls a "lifesaver," the $3 soap bar that doubles as "the best makeup brush cleaner in the world," and the powder that won't cause any photo flashback.
The Setting Powder
"If it's a hot day or if I'm having my picture taken, I will use this to mattify the center of my face. I use it on every model I work with. It's different than any other powder because it doesn't have mica or talc in it. They're the ingredients that cause flashback in photos and that coagulate on the skin really easily. This powder doesn't settle into fine lines and pores. It just looks very soft. I use the shade 3N on myself."
The Moisturizer
"This really is one of my top three products ever because it's so universal — I love a multipurpose product. I'll use it as makeup or as skin prep, as hand cream, as a mixer for products — it's kind of great for all beauty things. If my skin is dry, it's hard for me to find something that is really deeply moisturizing but that also doesn't make me break out. But Skin Food really lets my skin soak up the moisture without being overly aggressive. You can get it at Whole Foods or any kind of health-food store. It smells so good, too; kind of like fresh citrus. It makes you smell juicy and makes your skin look juicy!
Sometimes I'll use it as highlighter. I'll take it in the palm of my hands, rub it together, and then pat it onto my cheekbones or on the bridge of my nose. This is what I do a lot of the time if I'm doing a shoot, and we're on set all day long and the makeup has just been wearing on the face. I'll massage it into the corners of the nose and under the eyes because makeup can coagulate on the skin if it's not touched for a long time or if it's overly powdered, and this product reactivates the makeup to look fresh."
The Perfume
"Oud Immortelle is a woody, sexy, spicy fragrance. It has a lot of darkness to it — I typically like woodier fragrances because they mesh with my oils well. You can wear it both during the day and the evening. Sometimes, certain fragrances are very heavy — this one is very bright, and even though it's sexy and smoky and all those kinds of things, it doesn't feel like it's condemned to the evening. I first heard about it because a friend gave me a little bottle of it. I was living in New York, and I remember when I got it because it was the first fragrance that I was like, 'This is my smell.' Scents like that, they feel like an accessory that you can always wear."
The Serum
"When I shave, my skin gets cuts so easily, and that leaves me with annoying little dark spots. This serum is really great because it lifts all that darkness and gets rid of those dark spots. I'll apply it all over my face actually because I really love it for its brightening effect — it really does brighten. Even the first time I used it, I was like, 'My skin looks more like alive and awake.' And all of the dark spots really lightened on the first try.
I've just been using it almost every day — I found it on Violet Grey. Actually, I started using it on my clients first. There were clients I was working with almost daily, and I was seeing how their skin was improving from it, and I was like, 'Okay, I want to try this.' So many people are obsessed with it."
The Deodorant
"This is my lifesaver. I can't wear regular deodorant — every time I put on regular deodorant, my skin felt like it was burning. And you know, regular deodorant will leave stains on certain types of clothes, on any clothes but especially on thinner clothes. I started using this one four years ago. Literally, the first time I used it, I was like, 'Oh my God.' There's no trace of deodorant, it looks like you're wearing nothing. It doesn't smell like anything. It's literally a salt rock. You get it wet, you put it on right as you get out of the shower, and you smell good all day long. For some people, it takes around two weeks for it to start working because your skin has to get used to it."
The Bar Soap
"Again, this is a multiuse product. I like the peppermint scent because it's fresh, and in the shower, it wakes you up — it's a very strong peppermint. I love it as a shampoo. It's the best beauty-blender cleaner in the world, and the best makeup-brush cleaner, too. I actually have a bar near the sink to wash my brushes. It really makes all of the makeup, all the grease, everything, release. You even can use this bar soap with, say, a brush that has lipstick on it, which is very waxy. Typically, you'd need an oil product to remove that texture but with this, it comes right out."
The Lip Gloss
"I've been using this now for ages. It's such a good lip product. I get really dry lips, especially when the seasons change, and it has different oils in it — there's cherry oil in it and there's shea butter, and all of those nourish the skin and help your lips heal if they're chapped. The packaging is so cute. I love the pink couture bottle and the silver top. It feels so nice pulling that out — I'm like, 'Okay, nobody sees me put on any skin care ever, and pulling out my sad little Aquaphor tube is never cute.' So this is my cute little minty alternative."
The Candle
"This is the best candle in the world. Zahra Ayub's whole line is super epic — I first discovered the brand at Violet Grey because they had one burning. The smells are just so nuanced and so rich. The Melrose candle is very sweet, and it has a rosy, floral smell with undertones of woodiness that make it feel so warm. What I love about her candles is that she has put them in these beautiful casings. They're solid marble and so heavy. She actually makes one candle that's like a side table. It's a massive piece of marble, and it has like five or six wicks in it, it's crazy. Like, you'd need professional movers if you even want to move it across the room. [Laughs.] The regular sizes have like two or three wicks in them. I give the empty ones to my mom, and she loves potting plants and little flowers in them."
The Roller
"Pati showed me this product, and it became something that I use religiously. I used to do a lot of different treatments to depuff the skin, and this roller does that. You can do it from the comfort of your couch or your bed. If you're walking around the house, you can be rolling your face, and you can travel with it, obviously. I love using it on people before I do their makeup. It really does help get the blood flowing to the surface of the skin, which then makes the skin look more awake. I've been using it for a couple of years now, and I think it's changed my face — I'll put almond oil on my face after I shower, and then I'll roll my face for 30 minutes, which sounds like a long time, but it's like a face massage. You can really apply pressure — your face is pretty strong so you can go in with this thing, and it will help shape your face."
The Sanitizer
"I've been using this for like five years. It was one of the first products I ever had in my makeup kit. Again, it's a multiuse product. It can be hand sanitizer, it can be a deodorant, it can be a zit-zapper. You can use it as a body spray if you're out and you're sweating, or you want a bit of aromatherapy. It has a very fragrant lavender smell, but it's not unbearable. I use it on people's faces, and I've never had somebody ask me about it other than, 'What is that smell? It's so good.'"
The Wipes
"I like that these wipes are fragrance-free, so they kind of work on everyone. They make it so easy to have exfoliated skin — you don't need to have a salt scrub. If I'm on set, having someone scrub their face over a sink that isn't clean, it's so gross. These wipes take all of that out of the equation. My lips get super chapped, and if I don't exfoliate them, I'll bite them, and these wipes get all that dead skin off. Or if I'm doing a lip story and I need perfectly exfoliated juicy lips, this is the perfect product to get there."