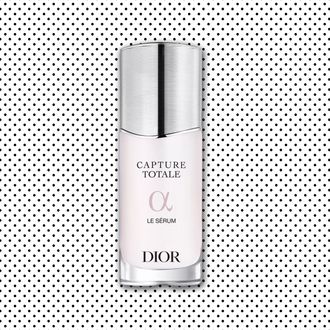 Photo: Courtesy of Dior Beauty
Most of the beauty industry's production is based on the Fitzpatrick Scale. First developed in 1975, it concerns only six skin types and tones. Six. So it makes total sense why I, as a Black woman, am constantly questioning if products will work for my skin tone. I've been told to do specific treatments, only to find out later that they haven't been tested on melanated skin tones and can damage them. Beyond cosmetics, studies show that darker skin tones are statistically more prone to hyperpigmentation, melasma, and more, so our skin needs are inherently and biologically different.
Things are changing, though. Most recently, Dior launched its new T.O.T.A.L.E. Platform, which, unlike Fitzpatrick, has 110 different skin types and pantones to classify skin and measure against a formula's efficacy. A first for the skin-care industry, the system was developed after testing 600 subjects worldwide. The goal? To be more inclusive for all skin tones.
This was a very difficult challenge. It will hopefully help those within the industry too, like Sean Garrette, Dior's global skin-care expert: "So many times I am asked questions such as "Is this product for Black skin?" or "Can I use this product if I have dark skin?" Garrette thinks it will help everyone to understand their skin's unique nuances.
To put this all to the test, Dior used its 600-person skin-care team to improve one of its best products: the Capture Totale serum. I traveled to the LVMH skin-care labs in Orleans, France, to learn more about it.
The sunlit factory is decked out with several laboratories dedicated to chemistry, biology, and microscopic research for the formulation of all Dior products. I joined the 250-plus team of researchers and got to play scientist for the day. Lab coat on, I toured the facilities and got schooled on all things skin care, including learning nitty-gritty details on cell rejuvenation and how the packaging is perfected. Plus, all that went into creating the new serum. The star of the show is this formula's flower ingredient, which is an iris-root extract sourced directly from Dior's flower fields in Tuscany. Talk about chic. Iris is the heart of the serum's technology and gives the skin a glow while shielding it from UVA rays. It also includes Longaza, an ingredient that grows in the Dior gardens in Madagascar and is said to be responsible for regenerative properties that firm and lift the skin over time. Lastly, it features a patented hyaluronic acid poly-filler, which is an active ingredient inspired by dermatological injections.
I newly turned 30, and while I am not concerned with wrinkles at present, I do travel a lot and want to think about my skin early and how I want to age. "We've discovered that firming is the new wrinkle," Virginie Couturaud, Parfums Christian Dior scientific communication director, tells the Cut. "The skin has new needs." Those needs include research on cell regeneration, better sustainability efforts, and inclusive testing.
After applying it morning and night for a few days, my complexion looked visibly brighter. And I didn't have to mist or use a primer, per my usual routine, before I applied makeup, because my skin was already prepped and glow-y. (Over the past months of using it, I have enjoyed skipping additional steps, i.e., applying hyaluronic acid, vitamin C, and niacinamide every morning and night, because this serum has equally hydrating and brightening ingredients packed into one.) In terms of texture, the product has a milky, lightweight consistency that quickly absorbs without leaving behind a sticky residue. The feel of my skin is also bouncier and plumper, even after sleep deprivation from all my travels.
I also noticed that the scent is much less fragranced, and the new packaging looks more modern and feels lighter. "We measure the life cycle of the product on the planet," says Couturaud. "Sometimes in luxury products, we tend to have a lot of ingredients, which is not that great for the environment. We wanted to reduce the number of ingredients in order to make the serum act more efficiently." Plumper skin, fewer steps, and less environmental impact — sign me up.