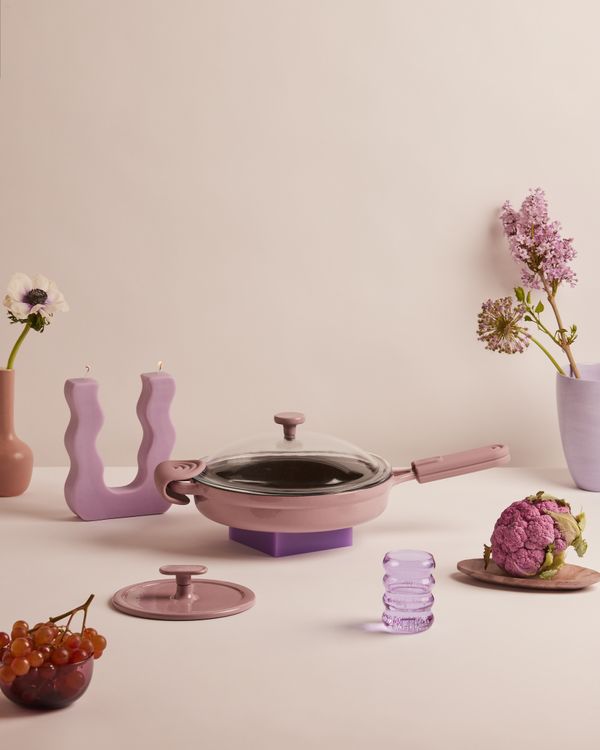 What is it?
An enameled cast-iron pan from the Instagram-famous brand Our Place. The brand is known for its cult-favorite Always Pan, which is available in a handful of pretty, muted tones; the new cast-iron pan is a limited-edition version of the favorite.
Do I need this?
The new Cast-Iron Always Pan seems to remedy many of the issues people had with the original. One concern was that the original nonstick pan wasn't as long-lasting, so the cast-iron pan is meant for long-term use. Our Place's director of product development and merchandising, Kristina Wasserman, explains that the brand spent over a year developing an easy-to-use pan from the hard-to-use material. Like the original Always Pan, it's meant to be multifunctional and to replace many of the pans crowding up your cabinet space since it can be used as everything from a baking dish to a skillet.
The cast iron has an enamel coating, so it doesn't need to be seasoned like the usual cast irons in the market, and it can easily be cleaned after cooking. It also comes with all the accessories you'd expect from an Our Place pan (the wooden spatula and the sponge) and some newer, more useful accessories, like silicone handle grips that prevent burns when handling the pan, which has been another concern of users in the past.
Of course, we had to test-drive the pan ourselves. Our first impression: It's pretty but extremely heavy, weighing in at just over six pounds, according to Our Place. To put that into perspective, Bianca Nieves, our senior shopping editor, said that it's easier to lift with one arm two Always Pans stacked together than to lift one Cast-Iron Always Pan. So, while it's easy to use and clean, it's not so easy to take out of the cabinet every time, which for Bianca and me was discouraging when it came to actually using it. However, I'm happy to report that I did successfully cook two meals in it.
One of the meals was scrambled eggs, and they came out pretty good. I did notice that the pan was not heating evenly, but I'm not entirely sure if that's an issue with the pan or me and my stove. Overall, I'd say it could be useful if your cooking tends to be more involved and you have more muscle power. If you plan on going from sautéing to roasting, and baking up to 500 degrees Fahrenheit sans lid, this is probably more your speed. And Bianca agrees, as somebody who keeps her recipes pretty simple, that she'll be sticking with the original Always Pans for her everyday meals.
We do have to shout out the silicone handle grips, though. You can easily use them with your original Always Pan and the Perfect Pot, which makes handling them a breeze. Luckily for you, the silicone handle grips will be available separately on June 22.
Overall, if you're like us, and your cooking skills aren't anything to rave about, we suggest you wait for the Cast-Iron Always Pan to go on sale or ask for it as a gift.
What are people saying?
The original Always Pan is pretty polarizing; the people who love it really love it and those who don't really don't. However, plenty of people were still pretty excited about it. If the Instagram comments are any indication, fans want the cast-iron pan in every color.
How do I get it?
Luckily, the restock is available on Our Place's website.