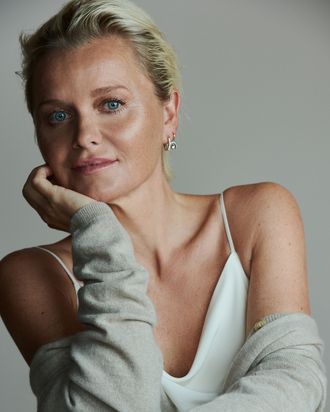 Dr. Barbara Sturm started her career in medicine. "The unifying thread that runs across my entire medical career is combating inflammation," Sturm says. Her journey began after graduating from Heinrich Heine University in Germany with a specialization in medicine and sports. She went on to work in anti-aging orthopedics with a focus on anti-inflammatory treatments before pivoting into skin care. She began taking clients for injectable hyaluronic acid and Botox in the early aughts and quickly thereafter became an innovator in the skin-care industry; performing the first blood-plasma facial and inventing the first doctor-issued blood-plasma-based cream, which went viral. "From there, my patients asked me to create an entire skin-care regimen and my anti-inflammatory line was eventually born." Since then, she has amassed cult fans and celebrity customers, such as Oprah, Angela Bassett, and Issa Rae, and many more, for good reason.
More recently, Sturm has expanded her skin-care line into a lifestyle brand with hair-care products, supplements, and teas. And when she's not pushing the envelope in the world of beauty, she's making time for her own practices, from nightly reading to Pilates. "Our health is our most valuable asset. An anti-inflammatory lifestyle is the key for me and the best form of self-care for achieving optimal wellness," Sturm says. "One of my favorite sayings is 'An ounce of prevention is worth a pound of cure.' It's so important to prevent any problems before they occur."
.

Here, Dr. Sturm's a.m. routine:
5:45 – I wake up early before everyone else wakes up and preferably at sunrise. I love being able to look at nature, whether it's the ocean or the mountains. I spend some time thinking and dreaming about things and gathering energy for the day. I start my day using Apa Beauty by renowned dentist Dr. Michael Apa, especially the toothpaste and toothbrush. The Apa Pink is great for the gums, while the White Rinse freshens breath.
6:00 – I have my morning coffee while doing a Face Mask.
6:30 – I'll always try to fit in a quick workout. I love doing Pilates — specifically the Pilates by Bryony platform. Other times, I do workouts while I'm on calls, too.
7:30 – I have my own Bircher Muesli recipe that I make the night before for myself and my 8-year-old daughter, Pepper. I'll eat this with some fresh fruit and a single latte macchiato.
8:15 – I prefer my skin-care routine to be simple. Two to three times a week before showering, I spend a few minutes using my Body Brush on my arms and legs to remove dead skin and boost my body's metabolism, blood circulation, and lymph flow. Twice a week, I'll either use the Facial Scrub or Enzyme Cleanser in the shower on my face and body. The rest of the time I use my Body Wash.
8:45 – I apply my Balancing Toner immediately after showering, then Hyaluronic Serum, THE Niacinamide Serum, and Anti-Aging Face Cream.
9:00 – I almost never wear makeup, but when I do, I like using Anastasia Beverly Hills Eyeshadows or the Jillian Dempsey Lid Tints.
9:05 – For my daily fragrance, I love using Byredo's Bal D'Afrique because of its notes like African marigold and bergamot.
.

Dr. Sturm's Minimal Makeup Staples + Go-To Scent
.

Dr. Sturm's p.m. routine:
8:00 – In the evening, I light a candle from Byredo and use my skin-care products. I like to go to bed before 10 p.m., and I always make sure my room is dark, quiet, and device free. Digital devices can trigger the "fight or flight" hormone cortisol, which keeps you awake close to bedtime or in the night. I try to have a Buddhist-like outlook to life; I like to keep a happy spirit and not worry about the past and the future — it's important to live in the present. I always have a book close by from the Indian philosopher J. Krishnamurti called Freedom From the Known. I'll pick it up and start reading anywhere — it helps me to keep my feet on the ground. I'll also take my Good Night supplements, which are packed with active ingredients that help promote a more restful night's sleep.
.

On the beauty-marketing ploy that makes her cringe:
Right now, the hard truth is that many skin-care brands take a risk in damaging the customer's skin for a profit. A big part of my work is to make sure consumers learn about how to maintain healthy, protected, and strong skin with advanced science and treatments that embrace the individuality and diverse skin-care needs of every consumer.
.

On beauty trends:
I believe in scientific advances, and I have never followed industry trends, especially those that aggressively target the skin for quick fixes. I like to think that we're moving swiftly toward a "less is more," minimal approach to beauty and skin care, which means that, in the next ten years, and most certainly in the next 20-plus years, education, honesty, and transparency about skin care will be the norm.
.

On the ingredients she avoids:
As a doctor, I believe everything that touches your skin should heal rather than inflame it, so I do not recommend aggressive anti-aging ingredients like Retinol, which stimulates pro-inflammatory cytokines; causes hypersensitivity to sun and environmental factors; and commonly causes redness, dryness, burning, peeling, and dermatitis. To some people, it's a controversial opinion because Retinol has an effect and it's popular, but I don't believe the benefit is worth the cost.
.

On the ingredients she gravitates toward:
I gravitate toward hydration-drenching ingredients such as hyaluronic acid. Another key ingredient is purslane because it's packed with anti-inflammatory nutrients and antioxidants such as omega-3 fatty acids and skin-beneficial minerals like calcium, magnesium, and potassium. Purslane is also known to be a telomerase activator — an enzyme capable of creating new protective ends on cellular chromosomes called telomeres. These have been studied by Harvard to not only slow the aging process but reverse it.
.

On the beauty service she swears by:
I swear by Red Light Therapy. It's a noninvasive and painless treatment with a wide range of clinically documented skin and wellness benefits including diminishing age spots, fine lines, and wrinkles; stimulating collagen and elastin production; reduced joint pain and inflammation; and the promotion of healthy sleep, enhanced mood, and mental clarity.