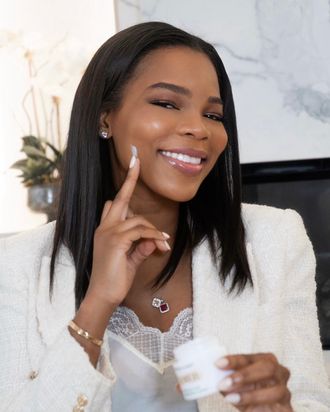 Photo: Courtesy of Dr. Michelle Henry
If you're ever wondering who some of the top beauty editors, supermodels, and celebs see to ensure their skin is at its best, look no further than Dr. Michelle Henry. With over a decade in the beauty business, Henry is one of the most trusted voices and sought-after specialists in the industry. "At the end of the day, when you feel better, you do better," she says.
Henry has wanted to work in the medical field since she was 6 years old. "I remember my mom taking me to her job as a nurse and thinking, I want to be doing that too," she says. "They gave me a baby white coat and let me join their doctors' huddle." And the rest was history — she studied at Baylor College of Medicine in Houston before doing her residency at Mount Sinai and studying skin-cancer surgery at Harvard.
And when the dermatologist isn't busy seeing back-to-back clients at her midtown office, she's spending a few minutes to tend to herself. From her daily tea to the retinol routine she swears by, she's always trying to slip a few moments of self-care into her day. "We often give so much time to everyone else," she says. "So whether it's ten minutes or five minutes, taking some time for yourself is important. We're not robots, after all. It's just the humane thing to do."
.

Here, Dr. Henry's a.m. routine:
6 a.m. — I like to have tea in the morning, especially ginger tea. Sometimes I'll have coffee. I meditate on most mornings. I try to work out when I can, too.
7 a.m. — For skin care, I'm using the Hourglass foaming cleanser. It's a nice, gentle foam.
7:02 a.m. — I like using the Biologique Recherche P50 toner for exfoliation and to remove impurities and dirt from my skin.
7:05 a.m. — I use a prescription retinoid, Altreno, morning and night for collagen boosting and cell turnover.
7:07 a.m. — I also love the Kiehl's Clearly Corrective serum. It's always helping me to fight my hyperpigmentation. For my moisturizer, I've been using the SkinBetter Trio and then I finish off with the Unseen Sunscreen by Supergoop! 
.

Dr. Henry's p.m. routine:
9 p.m. — I've been liking the Relevant Complete Cleansing Serum. And then I'll also use a foaming cleanser on top of it for an extra lather.
9:05 p.m. — For my night cream, I'll usually use LaMer or SkinCeuticals Triple Lipid because both are deeply nourishing for the skin.
.

On her confidence journey:
I think my confidence comes from my Grenadian parents! They always instilled in me to focus on academics and work hard. I always had the mentality that if I didn't do well in something, it just meant I needed to work harder. I believed in myself and knew I was smart enough to accomplish my goals. I do thank my mom for that drive, grit, and self-belief.
.

On what makes her cringe in the beauty industry:
I love seeing people embrace their natural beauty, and I really hope we can continue with this. I feel like we see a lot of the extremes of things: First, it was the BBL surgeries, and now there's this trend of being superthin again like we had in the '90s. But I just hope we can all find some sort of middle ground and really embrace our natural beauty fully, not overshoot and create another unhealthy standard.
.

On a beauty myth she wants to debunk:
I think the language around hydroquinone and saying that it's dangerous is a bit overhyped. It's something we use a lot, and under a physician's guidance, we can do really incredible things with it for patients with melasma and intense scarring. It definitely is one of my mainstay ingredients, as long as it's used safely. I think a lot of bad press comes from people getting it overseas, which I don't recommend.
.

On the ingredients she loves:
I've been really trying to focus on using more-natural sunscreens. I'm trying to avoid harming our coral reefs as much as possible. I also love retinoids so much. I use them every day, twice a day, so that's definitely something I can't live without. I'm also a huge fan of vitamin C. I call it insurance for your sunscreen, giving you that extra protection.
.

On the beauty services she swears by:
It would be blasphemy for me not to say derm visits. But beyond their being a beauty staple, it's important to see a dermatologist for your health. I also swear by massages. Work can be taxing, so it's really important for me to get those massages regularly.