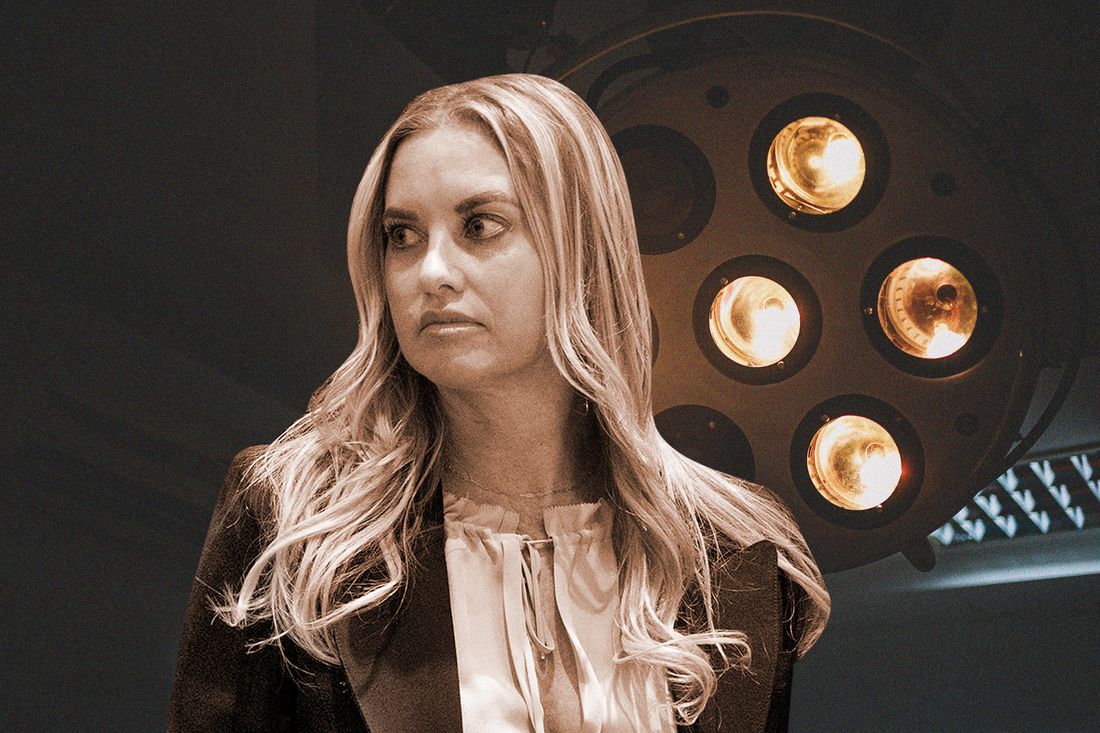 Photo-Illustration: by The Cut; Photos: © Courtney Hergesheimer/Columbus Dispatch / USA TODAY NETWORK; Edwin Tan/Getty Images
This article was featured in One Great Story, New York's reading recommendation newsletter. Sign up here to get it nightly.
If you're squeamish, you probably didn't recognize the name Dr. Katharine Roxanne Grawe when it splashed across internet headlines earlier this year. But if you were one of the nearly one million followers on TikTok, Instagram, and Snapchat who'd liked, subscribed to, and stomached videos of her performing liposuction on a patient from her OR while making unnerving eye contact with the camera, the news that plastic surgeon Dr. Grawe, a.k.a. "Dr. Roxy," had been stripped of her right to practice medicine in the state of Ohio was the stunning but not surprising conclusion to what had unfolded like a dramatic real-life season of Botched.
While the Ohio State Medical Board will not confirm when it began receiving complaints from Dr. Grawe's former patients, or how many it received, at least three came in between 2020 and 2022 that could not be ignored. These three patients' experiences were discussed during the hearing that would determine whether Grawe got to keep her license: one with a bowel perforation, another with six bowel punctures, and one with implants that were supposed to be removed and weren't — discovered when the patient had to be hospitalized for breast bleeding and necrotic tissue.
Patient One in the medical-board hearing was operated on twice by Grawe. In the first procedure, which took place in July 2020, the patient in her late 40s had an abdominoplasty, a Brazilian butt lift, and liposuction of the upper and lower back under general anesthesia. Patient One returned for more procedures (liposuction of the stomach and arms and round two of the BBL treatment) in March 2022. According to the medical-board hearing, liposuction can't be combined with additional procedures in an office setting, like the one Grawe had, because the shifting fluids from liposuction can be difficult to manage in parallel with other procedures. (Like the patients mentioned in the hearing, many of the below names of Dr. Grawe's former clients have been changed for privacy reasons.)
A week after surgery, Patient One became drowsy and disoriented and was admitted to a hospital, where doctors discovered she had a perforated small bowel and an infection so severe some of her soft tissue had died. After around 60 days in the hospital and multiple surgeries, she was left with no abdominal wall, a condition that surgeons who testified said will cause medical complications for the rest of her life. There is video of that second surgery — because Grawe posted it in snippets on Snapchat.
Months after the board temporarily suspended Dr. Grawe's license on November 18, 2022, a five-day hearing began in May that would determine whether or not she could continue to practice medicine in Ohio. (When reached for comment over email, Dr. Grawe told the Cut "there are an incredible amount of falsehood to many of the statements here," but declined an interview. Dr. Grawe's legal team, which also represents Tia Cela, a staffer of Dr. Grawe's, did not address the claims in this story on the record. A lawyer for Dr. Carlos Domingo, another staffer, did not respond for comment.)
While the Buckeye State may not be known as a plastic-surgery destination, Dr. Roxy was as recognizable on #PlasticSurgeryTok, as well as on Snapchat and Instagram, as her fellow Beverly Hills–, New York–, and Miami-based medical personalities. The 44-year-old bubbly blonde in pink lipstick who'd owned and operated Roxy Plastic Surgery since 2012 loved the front-facing camera, often prancing around the operating room, hugging and high-fiving women who were about to go under the knife, and explaining procedures like vaginoplasty with questionable props, like a ham sandwich.
According to the dozens of women I spoke with who were former patients of Dr. Roxy, her brand was less cool, reserved physician and more your best suburban mom-friend who happened to wield a scalpel and wear designer clothes when she wasn't in scrubs. She was aspirational yet accessible — a friendly, unassuming, unabashedly feminine face in a space that's more often than not sterile and dismissive. It's no wonder her followers often became clients, or, as they were affectionately known, Dr. Roxy's "Foxys."
Prior to her medical-board hearing and still on her personal Instagram page, you could reliably find basic inspirational quotes like, "You're rare. You're magic. Leave that mediocre shit alone." Her TikTok was similarly cheerleader-y, with her speaking words of encouragement to the camera. But it was her livestreams on TikTok and video clips on Snapchat that perhaps most set her apart and earned her a following. They managed to be both chirpy and gruesome, with Dr. Roxy narrating surgery and answering live questions while slicing and dicing. "#seeyounever" the caption says in one video as she hurls two slabs of bloody flesh — leftovers from a tummy tuck — into a receptacle. (The in-video caption read, "4 lbs and 4 oz skin removed.") "Is there anything more satisfying?" her filming staff member asked in another video, as Grawe is vigorously suctioning fat from a woman's buttocks and occasionally wiping away flecks of blood and lymphatic fluid. Pausing for the close-up of the patient's butt and "before" picture on a screen, she tells the camera, "See how cute it makes her butt look already?"
And it did, at first. Immediately after surgery, the patient in that video, Al Frausto, 34, from Chicago, was delighted. Frausto, a pseudonym, had gone in for a mommy makeover that included abdominoplasty, a BBL, and liposuction of the arms and back. Delight gave way to alarm. After a few days, she became very tired, and she ended up in the hospital with anemia from internal blood loss and a massive infection. She had to find a wound-care specialist to deal with the quarter-size hole in her tummy-tuck incision and two other holes that appeared. Frausto still has a thick and jagged scar on her abdomen.
"I had been following Dr. Roxy for more than a year on social media … I loved her livestreams and TikToks," Frausto says. "I thought she was great, empowering, honest, everything you would want in your physician." Frausto loved the idea of filming the surgery and even told some of her family to watch. "But in thinking back, it probably wasn't the best move because she was focusing on talking to the camera during a huge procedure."
"Standard of care" is the phrase most commonly used to determine culpability when things go wrong. Infections happen; surgery always poses some risk. Even the most brilliant surgeons can have bad outcomes. But the question asked when a doctor has more than a few really bad outcomes is this: Did he or she deviate from the standard of care that could reasonably be expected from someone taking all proper precautions, both in the OR and in the provided follow-up care? (Post–initial surgery, some complications can appear immediately. In other cases, a complication such as a hematoma can take months to emerge, according to a 2020 study from the Western Journal of Emergency Medicine.)
As Dr. Gregory Surfield, an Ohio plastic surgeon the state called as an expert witness for the hearing, explains it, livestreaming itself isn't necessarily a "deviation of the standard of care."
"Doctors do this at academic conferences, but there are safe ways to do it," he explains. For example, you can stream the surgery but explain what you're doing in a voice-over afterwards, rather than keep up a steady stream of patter while operating, he says. "It was a loss of focus — she took her focus off the patient to present to the camera." There's also the question of the number of people in the OR filming. While Dr. Surfield would not speculate on the precautions Grawe took with the people there, he noted that the rule for surgery is to "minimize distractions that remove focus from the patient." "Observers are not uncommon; however, they should not be a distraction and they need to have some basic understanding of the sterile field."
At the five-day hearing in May, Dr. Grawe and her legal team argued that even though there were some "adverse outcomes," Dr. Grawe felt it was important to be "relatable" and believed that livestreaming surgery removed the mystery and helped people make informed decisions.
That wasn't good enough reasoning for Melinda Snyder, an Ohio assistant attorney general who presented the case to the medical board. As she put it, "This is a case about the fact that Dr. Grawe's use of social media impacted her patient care."
"This may be an unpopular opinion, but I thought Dr. Roxy was great as a person," Michelle Miller, not her real name, tells me. "She listened, I didn't feel rushed, she responded to my emails" — and they connected as mothers. "She would talk about her kids' games. She went to all of them." After a tummy tuck and a breast-implant exchange, Miller, who lives in Fort Wayne, Indiana, had scarring under one of her breasts and a keloid on her abdominal incision and had to go for steroid injections with a physician closer to home to clear them up. (Scarring is considered a common outcome from any surgery, and many plastic-surgery patients will choose to combine procedures at one time as long as it's safe for them to do so.) Two weeks after the surgery, she says Dr. Carlos Domingo, the physician hired to manage aftercare in Dr. Grawe's office, told Miller it was okay to take out a tummy-tuck drain herself. Since this was during the thick of the COVID-19 pandemic, she says patients had the option to remove a drain themselves if they preferred not to come to the office. She got out sterile gloves and followed the directions on a YouTube video. Miller ended up with an infection. Still, she felt her problems were relatively minor. "Yes, there were some cases where she did mess up," she says of Grawe. "I feel for those patients. There are also so many surgeries that she did well. Being a surgeon and empowering women was a big part of her identity."
"I loved her style, and she was obviously successful," echoes one former patient using the pseudonym Jean Harris. By the time Harris, 44, went to Dr. Roxy for a tummy tuck and some lipo on her flanks in March 2022, Dr. Roxy, one of the relatively few female plastic surgeons in central Ohio, had been heading her own practice for ten years. (Previously, Dr. Roxy had hospital privileges at Mount Carmel St. Ann's Hospital, where she'd been the medical director of breast services.) It's worth noting that the May 2023 state medical-board hearing uncovered the fact that Dr. Roxy's practice was not licensed as an ambulatory surgery center by the Ohio Department of Health, which means it would have been subject to surprise inspections of all its aspects of care and services.
It had been eight years since Harris's hysterectomy, and she was hoping to get back to feeling like herself. Harris met Dr. Roxy only minutes before the procedure began for her consultation, having had her initial conversations with office staff for booking appointments. That might seem strange now, but Harris didn't think too much of it. Dr. Roxy was a celebrity doctor with a huge clientele; maybe this was normal for someone so busy and popular, she figured.
The surgery itself was uneventful. After waking up from the anesthesia, she was released to return home the same day and remembers being pushed out of the facility in a wheelchair by one of the office staff members but not any conversations with Grawe or Domingo after waking up. Harris had opted to not stay at Recovery House, the post-surgery recovery facility Dr. Grawe owned, which would have cost an additional $300 per night on top of the $11,000 surgery bill for a tummy tuck and lipo of the hips and flanks. Instead, Harris's best friend picked her up, paperwork she was given in the morning in tow. That was a Thursday.
When she got home, Harris noticed the incision was starting to open, and there was pus around the draining-tube area. Worried, Harris followed up with Dr. Grawe's office to ask about her incision opening, and she says she was reassured by Dr. Domingo that this was part of the healing process. Just be sure to eat a lot of protein, she recalls him telling her, and come in on Monday for a lymphatic massage to help get rid of fluid buildup around her abdomen, which she had previously scheduled. Harris isn't someone easily rattled by blood or bodily fluids. "I've been a police officer for 13 years," she tells me. "I've seen some pretty graphic things." But, as the incision continued to open, she sensed something wasn't right.
She went into the office the following Monday and, as instructed, got the lymphatic massage. "The suction they were doing was extremely hard," she said. Back at home, the incision continued to open. By the next night, she was in excruciating pain and couldn't get off the couch. At one point, she heard a mysterious internal pop. The protective diaper she was wearing became soaked in blood. "It looked like a war zone," Harris says.
Eventually, Harris's friend, who had come to check on her, insisted they go to the hospital immediately. Soon, they were in an ambulance to Mount Carmel St. Ann's Hospital in Westerville, about 20 minutes away. Once she arrived at the hospital, she says Roxy Plastic Surgery staff wanted her to come to their office, which her emergency-room doctor strongly advised against. She didn't have a good feeling about leaving, so she stayed.
At St. Ann's, the doctors managed to stop the bleeding and give Harris two blood transfusions. Harris's hemoglobin level, which can be a measure of blood loss, was about six grams per deciliter when she arrived — normal levels are double that. The emergency-room physician told her that without the transfusion, there was so much internal bleeding she was about four hours away from death.
After a three-day stay in the hospital, Harris was discharged and went for an appointment at Dr. Grawe's. As she remembers it, Tia Cela, the nurse practitioner, took some photos. "And I'm like, That's it? I'm still complaining about infection, pus, and they're telling me, 'It looks fine.'" Harris then made an appointment with her regular doctor for the next day. He sent her to the hospital almost immediately. Harris's wound was becoming septic, and she spent another few days hooked up to an antibiotics-dripping IV. Less than a week after that discharge, she went into the shower and blood was again gushing down her leg: This time, it was a hematoma in the abdomen. She required another blood transfusion. When she called Dr. Grawe's office en route to the hospital once again, she says, "Dr. Domingo said, 'What are you doing? We take care of everything here.'"
(Many of the women I spoke with still don't understand why Dr. Domingo — the person in effect running interference for Dr. Grawe — was not also called before the state medical board alongside Dr. Grawe. When the Cut asked the Ohio Medical Board whether it has taken any disciplinary actions against Domingo, a spokesperson said, "To date, the board has not cited or disciplined Dr. Carlos Domingo. The board is also unable to confirm if it has received any complaints against Dr. Domingo or if an investigation has occurred. Under Ohio law, complaints and investigations are confidential; however, board actions are public record." But Domingo is named as a defendant in a number of ongoing lawsuits.)
In the end, Harris healed. She was left with numbness on her stomach and lopsided buttocks, probably a result of uneven liposuctioning. She registered a complaint with the medical board, but she did not sue, partially because her lasting damage was minimal, and partially because one attorney told her, "There's only so much malpractice money to go around." Harris's $11,000 procedure cost was nothing compared to the $200,000 in medical bills for her post-op hospital stays. She never saw or talked to Dr. Grawe again.
By her own estimates, as shared during her hearing, Grawe performed around 1,100 surgeries a year. Inevitably, several of these patients eventually found each other. After a 2019 breast lift and failed revision surgery left her "with scarring so bad I have body dysmorphia," 37-year-old Jessica Calcara, her real name, co-created a private Facebook group for fellow former patients titled, "Enough is Enough. Have You Been a Victim of Dr. Roxy?" The group began in December 2022 and quickly gathered about 2,500 members. Some were just curious rubberneckers; some were self-identified medical professionals who apparently wanted to spread a little information about what was "normal" and what wasn't. Several more were patients who felt heartsick and betrayed.
The stories posted in the group were similar. The members talked about infections (MRSA, most commonly) and complications (hematomas from internal bleeding, mysterious burning pain, open suture sites) and posted gruesome photos alongside their stories. They swapped stories about the Recovery House, the small suburban ranch home with health-aide attendants who patients were told would be providing round-the-clock post-op care, which was "a nightmare," says Leigh Austin. "I don't think I could have put it any nicer." The 43-year-old body-jewelry company owner, who did not request a pseudonym, went to Dr. Roxy in October 2021 for a "mommy makeover" that included breast implants, a tummy tuck, and a Brazilian butt lift; she stayed at the Recovery House for five days. Austin describes trash bags overflowing with fluid-soaked medical materials. "In five days, they didn't change my sheets," she says. "Well, once, when I bled all over everything." In her statement to the Ohio Medical Board, Austin claimed that "during my stay, not a single day were there three meals offered. The home health aides would go MIA for hours, forcing me to recline or sit up unassisted."
It's not like patients didn't complain directly to Dr. Grawe's office. But only two out of the dozens of patients I talked to told me they saw or spoke to Dr. Grawe after their procedures. Others were passed to Dr. Grawe's nurse Cela or Domingo. (And when they got frustrated and complained on social media, some say, she would block them on those platforms. "Every time I asked to speak to Dr. Grawe," Austin says of her return visits to the office to address issues like her abdominal stitches opening, "I was told, 'Oh, we'll leave her a note, she'll get back to you.'"
Allegations of malpractice have followed Dr. Grawe since before her front-facing phone camera found its way to TikTok. Mary Jenkins, a breast-cancer survivor, received breast-reconstruction surgery from Grawe in 2012 — and almost died after the flap of skin taken from Jenkins's abdomen to construct a right breast died and had to be removed, leaving her with a gaping wound on her chest. Jenkins, her real name, spent four months in a nursing facility waiting for the wound to heal; she says Dr. Grawe didn't check on her, and she believes "I was left there to die." Jenkins sued Dr. Grawe in 2014 and won a $300,000-plus jury verdict against her in 2016, the maximum for "pain and suffering" damages for medical malpractice in Ohio. A jury found Grawe was "negligent" because of failure to diagnose and treat the complication. Dr. Grawe appealed the jury's decision, but it was upheld in 2019.
There are multiple active lawsuits against Grawe and Roxy Plastic Surgery in Ohio civil court; one of the suits represents six women and some of their spouses. According to a 2023 report from the American Medical Association, 31 percent of physicians have been sued at some point in their careers, and general surgeons and obstetricians-gynecologists are the most likely to be sued among all the specialties. A situation like this is, to say the least, unusual. As Snyder, the Ohio principal assistant attorney general, said during Dr. Grawe's hearing, "Dr. Grawe had three life-threatening complications in two years. There are plastic surgeons that go their whole careers without having a perforation."
Some former patients say they have approached attorneys about suing but have reportedly been turned away. Several of these women have described being told their case falls outside of the one-year statute of limitations for malpractice suits in Ohio. For many, their corrections from post-op complications swallowed most of the following year from their procedures. "I never should have waited," says Beth Benadum, who had a prophylactic mastectomy in 2014 after being diagnosed with the BRCA gene in 2012; her multiple surgeries with Dr. Grawe, and subsequent infections, landed her in the hospital after Dr. Grawe inserted implants, and the left breast became severely infected — even after Grawe reinserted the implant several times. "She would take it out, wash it, and reinsert it," Benadum said. "She should have just removed it." Eventually, Benadum had to get the implant removed and have another kind of breast reconstruction. "I spoke to an attorney who said I had a great case," Benadum says, "but it was too late."
Benadum later added that she was motivated to speak to the Cut about her story, without a pseudonym, "because I want people to understand that she was a problem as Dr. Grawe long before she created the persona of Dr. Roxy and got internet famous."
Before the Ohio Medical Board read its verdict on Dr. Grawe's medical license in July, she delivered a personal statement. This had been "the most humbling experience of her entire life," Dr. Grawe told the board. She insisted all she had wanted was to "empower" women "through the art of plastic surgery"; to educate people on social media; and "to make people smile in this world, which is often negative and difficult to navigate." In testimony by Dr. Gregory Surfield, the medical expert called by the state to review a previous livestreaming video posted by Dr. Grawe on social media, he determined that "Dr. Grawe was distracted by the camera and not properly palpating the tip of the cannula while performing liposuction." In other words, the same thing that brought many of Grawe's patients to her operating table — the image of the plastic surgeon next door enthusiastically maintained on her social-media platforms — was also responsible for creating potentially dangerous conditions in her operating room. In her statement, Dr. Grawe claimed that video posts in which she appeared to be distracted during surgery were just a result of bad editing by her social-media team. "I understand that in addition to my own actions as owner of my practice, my staff needed better guidance from me on professionalism and respect for patients, especially during videos where I was unable to help with editing because I was operating."
"Just like you would give a chance to somebody who's a recovering addict to have one more chance to prove that they can change," Grawe told the board, "I can do that too."
But Dr. Grawe's chances, at least in the state of Ohio, had run out. "I came into this hearing wanting to believe that Dr. Roxy was every bit as girl-power as she markets herself to be," Snyder told the board during the May hearing. "I wanted to get behind this smart and determined woman who grew her practice from four employees to 20 in ten years. I wanted to believe that what I saw in those 4,000 Instagram posts was real, and I wanted her to apologize to her patients and tell the board she will change her practice to address whatever it is that's going wrong because something is going very wrong. But that's not what we heard in this hearing."
In the end, eight of the ten board members present for the vote agreed to revoke Dr. Grawe's license to practice in Ohio.
Mary Jenkins, the former patient who won her medical-malpractice lawsuit against Grawe in 2016, had stationed herself right outside the courtroom "so I would be the first face she sees when she walks out," she told me later. When she relayed the news to the "Enough is Enough. Have You Been a Victim of Dr. Roxy?" Facebook group, members responded with photos of Champagne glasses, middle-finger emojis, and variations on one woman's sentiment: "I'm so glad she won't be able to hurt someone else."
In the months following, Roxy Plastic Surgery's business Instagram page has been wiped, and her TikTok is private. Grawe's personal Instagram page is still public at the time of this writing and still showcasing past "Body by Roxy" content to 122,000 followers. The most recent post on that page was published the day her license was revoked, with an image of a man walking barefoot through a desert with the quote across it: "You don't always have to tell your side of the story. Time will." Grawe has told her followers in the comments she is not going to try to get her license reinstated in another state. "Right now I'm just focusing on taking great care of my kids & that means staying here for them," she wrote in an Instagram comment under that July 12 post. "Why do you think they really went hard on you?" one follower on Instagram asked in those comments. "Many drs and surgeons have complaints … and they still can practice."
Grawe's response: "Witch hunt."