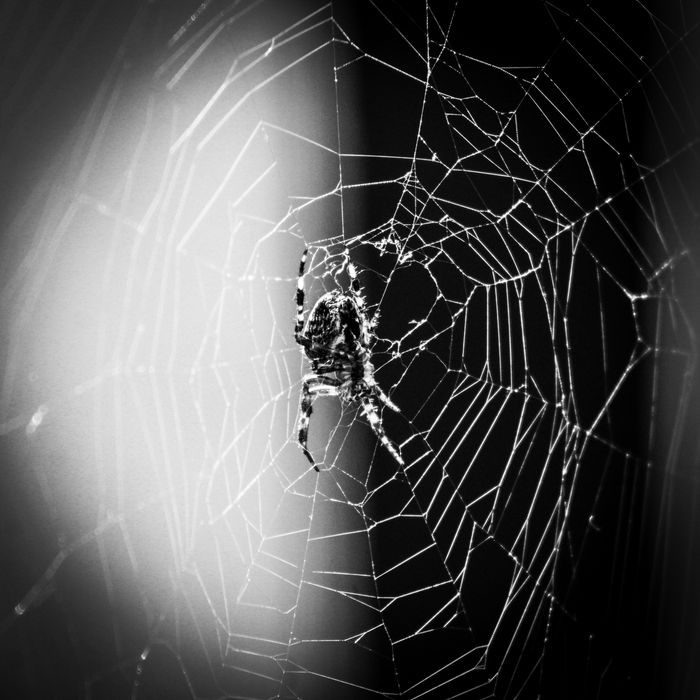 What do spiders mean in dreams?
Photo: Getty Images/EyeEm
If you are not thrilled to encounter them in waking life, then you will certainly not be pleased when spiders invade your dreams, ruining your rest with their skittering. When you dream about spiders, it could be your brain sending you a warning about sticky situations ahead — however, according to dream analyst and author of the forthcoming book Bird of Paradise: Taming the Unconscious to Bring Your Dreams to Fruition, Jane Teresa Anderson, the symbolism of a spider in a dream will depend on your personal associations with spiders.
"I look at dreams as processing your conscious and unconscious experiences over the last couple of days to try to make sense of your world," Anderson tells the Cut. At the same time, it's also placing that information in the context of your personal history. Therefore, Anderson says, the meaning of a spider in your dream "will depend on your personal experience of spiders. If you had a particularly frightening experience with spiders when you were 3," for example, "then a spider may call back to that."
Still, she noted, many people probably think of spiders as "creatures that can suddenly come out of the dark. So in that sense, spiders may represent our fears of what may suddenly appear in our lives, what scary things may suddenly come out of the dark corners, emotionally or physically." But again, Anderson stressed, dream symbolism is highly subjective, and a spider in my dream may not mean the same thing as a spider in yours.
That said, here's what it might mean if you're dreaming about spiders.
If you dream about getting caught in a spider's web …
You might consider this a red flag from your sleeping brain. "Spiders produce sticky webs, and we can get caught in them very easily, walking into them without seeing them, or trying to clean them up and they get stuck on your fingers," Anderson notes. "Spiders may come up in your dreams when you've got that sense like, 'I feel like I'm very stuck in something that I can't get out of, or I feel like I'm maybe afraid of somebody — I feel like there's a sticky situation around me.'"
If you dream the spider has you all wrapped up like a bug and is about to feast on you …
This, according to Anderson, may be "an escalation of that same theme." When you wake up, ask yourself: "Where in the past few days have I felt like I've been totally prey to something and I'm going to get eaten alive?" Once you've pinpointed the situation, she adds, "you can look at it and say, 'Well, is that my perception of that or is that my illusion, can I actually change, can I turn that around?"
If you're dreaming about a bunch of spiders or one big spider …
Similar to tornadoes in dreams and alligators in dreams, dreams about a large quantity of spiders and/or one giant spider could be your subconscious "upping the ante," Anderson suggests. "Your dream brain is like, 'Now, look, this is really big; really notice this, there are loads of spiders here.' It could just be making a dramatic point … 'Everywhere I look, there's a spider in my life; everywhere I look, there's a web; I can't manage it. I can stamp on one spider but I can't stamp on this many.' It's more a feeling of overwhelm about the situation." Ask yourself: Do you feel trapped by multiple people or factors?
If you dream about a spider biting you …
Anderson says bites come up more often in dreams about snakes, but they're also a feasible plot twist in dreams about spiders. Getting a spider bite in a dream may "relate to the last couple of days, where you felt you actually got in touch with a painful feeling about something," she explains. "The bite is when you actually get in touch — particularly if it's on your hands, because it's usually your hands that touch things — with something painful that's happened … So a spider biting you might be, 'Yep, that thing that I thought was hidden or in the dark corners, or that feeling I had that I might get trapped, I can feel it now. It's bitten me, I've got it."
If you dream about spiders crawling on you …
Many people have dreams about bugs crawling all over their bodies, Anderson says, and they speak to "the sense of the dreamer's that there's something really, really irritating on my skin and I can't brush it off." This scenario, she continues, "can come up when you're literally feeling irritated."
"Our dreams are helpful in showing us that however much we manage our lives and do the right kind of thing, we do have unconscious feelings and emotions," Anderson explains. "No matter how much we try to keep them down, they actually affect how we do things." Spiders crawling on skin may be particularly common dream symbolism amid the coronavirus pandemic, with so many people isolating at home and unable to get space from their family members or housemates. And on that note …
If you're dreaming about spiders more often during the coronavirus pandemic …
It would make sense, considering that the virus — according to Anderson — may show up in a sleeping brain as a literal bug. In the coronavirus landscape, a fear-inspiring bug like a spider is also a logical dream symbol: You don't want it to get anywhere near you, but as a result of its presence, you may also be feeling trapped right now. And for those reasons, you might find yourself dreaming about spiders.
If you dream about catching a spider…
Admittedly, Anderson says she hasn't heard about this scenario from her clients before, but if she did, she would encourage them to consider when, in the last couple of days, they had begun to feel "able to catch those things, those worries and concerns, and have the potential to throw them out the window." If you dream about catching a spider in a jar, or caging it under a glass and releasing it into your yard (you have a yard?!), it would appear to be a positive sign. Ask yourself: "What actions can I take to stop my fears from eating me and biting me." And, if you suspect your dream pertains to the coronavirus, ask yourself what extra steps you can take to protect yourself and protect others.