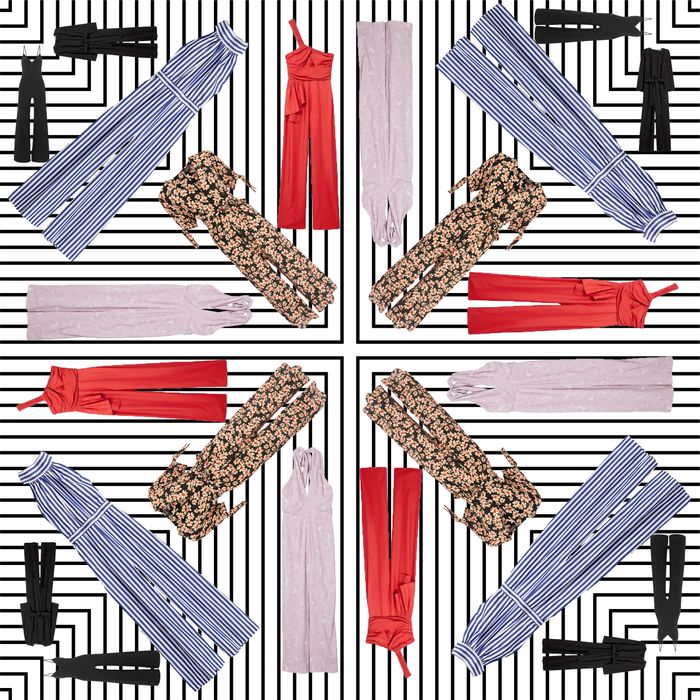 During awards season, there's always one daring soul who breaks from the pack of ball gowns and shows up in a jumpsuit. Remember Céline Dion's backless white number at the 1999 Oscars, or Emma Stone's bejeweled Lanvin look at the 2015 Golden Globes? Your next wedding may not involve a red carpet, but it's the same idea: In the slew of dresses, stand out by wearing something with legs.
A jumpsuit is as fun to wear as a party dress and as versatile as a sleek slip dress. Plus, all the comfort of pants! Scroll down to see the best fancy jumpsuits at every budget.
If You Love a Fitted Jumpsuit
The floral appliqué bodice and spaghetti straps make this feel extra fancy.
For the City-Hall Wedding
Accompanying your friends to a city-hall wedding? Opt for a shorter length and a looser fit. Wear it with bright, strappy sandals if you plan to hit a fancy restaurant afterward.
Worried about showing too much skin? Here's an option that will keep you covered, but still feels current.
Because You Love To Go Strapless
Play up the simplicity of the strapless bodice with an elegant necklace or an arty pair of earrings.
There's something very DVF about that ruffled shoulder.
It looks vintage and has a '90s-inspired apron neckline.
For the Black-Tie Wedding
This is as sophisticated as a long gown, and twice as comfortable. It's also on deep discount, so act fast.
The One to Wear in August
Photo: Brown, Indya
The asymmetrical trend is everywhere. Pick this one if you like a flowy fabric that won't feel too clingy in the heat.
Bubblegum pink may not be everyone's favorite hue, but the silhouette is universally flattering.
In true effortless J.Crew form, this jumpsuit is made out of 100 percent cotton — perfect for a beach wedding where sand can easily damage more delicate materials.
The Fashion-Girl Jumpsuit
Style Mafia is known for its fashion-forward designs at attainable price points — like this bright-red jumpsuit with exaggerated shoulders and trendy sleeve ties. Everyone will think it's a designer piece that you splurged for.
When You Plan on Hitting the Buffet Hard
The big bow at the waist will hide any food babies from the reception.
This features (a) leg and arm slits, (b) a plunging neckline, and (c) a shimmering metallic material — three ways to make a big impression.
The Jumpsuit That Feels Like Spring
A delicate print that will fit right in for a daytime wedding.
The Aritzia styling shows just how versatile this can be. Wear it with white boots for a trendy take, or pair it with pumps to keep it classic.
If you buy something through our links, New York may earn an affiliate commission.