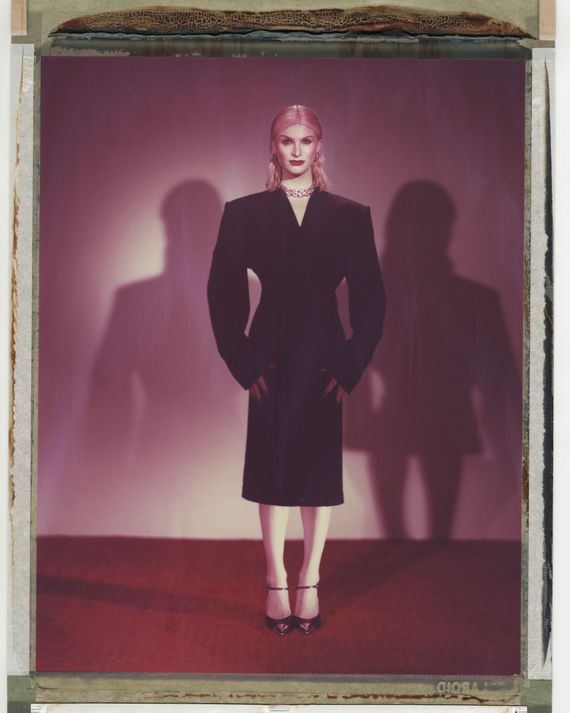 Sportmax
Carisma Jacket, Albio Skirt, and Piovra Shoes,
at sportmax.com.
Swarovski
Harmonia Choker and Hyperbola Clip Earrings,
at swarovski.com.
Photo: Cameron Postforoosh
This article was featured in One Great Story, New York's reading recommendation newsletter. Sign up here to get it nightly.
Dylan Mulvaney would like to clarify that she does in fact enjoy drinking a cold beer now and again. Still, when we meet at her cottage tucked behind a towering shrub on a steep drive in Laurel Canyon on a blazing-hot afternoon in July — "It feels like Palm Springs!" she chirps as she ushers me inside — she whips up some Aperol spritzes for us despite there being some brews in her fridge.
Needless to say, they were not Bud Lights.
The TikTok starlet is dressed like a sexy Stepford in a baby-blue miniskirt and a cropped white cardigan that is coming undone in the front and, unbeknownst to her, exposing her pasties-covered nipples. "I'm just going to eyeball it. Do you trust me?" she asks while topping off a hefty pour with some bubbly. "Let me taste this real quick. Oh! This is fucking epic." When we clink glasses, she says, "Wait! Look me in the eye. I'm already on year four of bad sex."
I understand why she might be superstitious. In March, an influencer-marketing team working with Bud Light took notice of Mulvaney's social media, where she had been documenting her gender transition. She had racked up millions of followers on TikTok while cheerfully divulging every little detail of her life as a newly out trans Everygirl. Bud Light, presumably counting on her ability to reach a less fratty consumer than is often associated with the beer, sent her a can with her face on it. Mulvaney duly uploaded some sponcon to Instagram. Then a spectacular shitshow ensued with right-wing pundits, politicians, and provocateurs launching a transphobic anti–Bud Light crusade. In the process, Mulvaney became a "woke" villainess to some — and a queer heroine to the rest of us.
In person, Mulvaney, 26, is remarkably similar to the bubbly, perpetually positive, and, as even she admits, somewhat cheesy character she plays on social media. Just look around her house: She moved to the Canyon this past October and brought in the interior designer Dani Dazey, perhaps best known for bedazzling Trixie Mattel's campy motel in Palm Springs. Dazey's assignment here was to create a "cozy, calming, colorful grandma cottage" suitable for content creation. As such, pretty much everything (the living-room couch, the stick-on wallpaper, even the toaster oven in the kitchen) is bubblegum pink, gingham, or bubblegum-pink gingham. The bathroom is "Eloise at the Plaza themed" with a tea tray of bath bombs next to the bathtub. YOU ARE DOING GREAT, declares a throw pillow in her living room near a framed cover of Paris Hilton's memoir on a credenza. It looks like Influencer Barbie's Dreamhouse, down to a massive ring light and pink pegboard wall on which she hangs pink note cards with TikTok ideas on them.
"Do you have a vision board?" she asks me excitedly before leading me to her home office so I can see the one she assembled at the beginning of the year. It's a simple black posterboard adorned with images printed out from Google. There's a photo of a Broadway street sign (because she'd love to star in a musical), a kissy-face emoji (because she's eager to be kissed as a girl), and the self-explanatory affirmation I'M ON DYLAN TIME. There are also photos of her idols: women she's met (Paris Hilton, Chelsea Handler, Laverne Cox), women she'd like to meet (Meghan Markle, Jill Biden, Anna Wintour), and Lady Gaga, whom she's not yet met in person but is constantly you-go-girling in her comments.
The vision board says a lot about the 2023 Mulvaney hoped to have before she became, in her own words, "a sacrificial lamb in the election landscape."
Which has often been unbelievably difficult. "There were nights that I laid there" — in her pink bed in her pink bedroom — "with my best friend, who stayed with me for a while, and we'd be like, Oh, are we going to wake up tomorrow?" she tells me. These days, Mulvaney rarely posts on social media in real time. But she always keeps her location visible on Find My Friends. Not so long ago, her car was followed by creeps, just after she had left her laser-hair-removal appointment down the road in Beverly Hills, and the paparazzi occasionally turns up at this address (I take note of a security camera watching us on the back porch nearby). Even as she's telling me about these experiences, Mulvaney keeps it bright. I wonder if she's holding back the grimmer details.
"I would talk to you differently knowing no right-wing conservatives could run with what I say. I shut down sometimes," she warns me. "I'm trying to stay really open with you."
That said, "I'm always going to be a glass half-full person — whether it's beer or an Aperol spritz," she says, a chipper on-brand line that sounds like she'd rehearsed it beforehand. When we sit down on the porch to enjoy the cocktails, she gets a text from Tommy Dorfman: According to nationwide polls conducted by the Daily Mail, Mulvaney now has a higher favorability rating than Ron DeSantis.
"That's epic," she says.
But back to that vision board. Mulvaney is by talent, training, and temperament a musical-theater kid who has always aspired to be a Broadway actress. It's "the fucking essence of who I am," she tells me.
Being a theater kid is also what gave her an identity growing up in Alpine, a town of around 15,000 in the mountains just east of San Diego. Her mother, a former nurse, and father, who sells insurance, separated when she was in elementary school, and she split her time between them. "I was such a good little kid and I had so much love and I trusted everyone I met," she says. "I did what I was told." Mostly that worked for her. When, at age 4, she told her parents for the first time that she felt like a girl, and when they told her that's not how the world works, she believed them.
Mulvaney's parents were conservative Catholics. But they loved her and encouraged her in the things that made her happy. They sent her to dance school at 3, allowed her to dress as Dorothy from The Wizard of Oz for Halloween at 10 ("The best day of my childhood"), and drove her to auditions at local playhouses. Mae Powell, a San Francisco–based singer-songwriter and Mulvaney's childhood best friend, remembers meeting her in an improv class at the age of 6: "Dylan was already good at everything. I was very shy. She was not shy." In middle school, her father took her to New York to see Wicked, where she sat in the front row and waved to Glinda in the wings (Glinda is her dream role).
By the time Mulvaney was a teenager, in the 2010s, there were flamboyant gays on TV to look up to, like Kurt Hummel on Glee and Jack on Will & Grace. But being one at Cathedral Catholic High School wasn't that easy. As she explains her hometown, "I always say the farther away from the beach in San Diego, the more they generally don't like gay people. And I was really far from the beach."
Mulvaney clearly didn't belong there, and she had no intention of sticking around any longer than she had to. After graduation, she went off to the University of Cincinnati's College-Conservatory of Music, a Broadway training ground. It was a much more tolerable environment. "There were so many gay people — hot guys," she says. "That first year was mostly about partying and boys."
But she had some trouble finding her spotlight. Mulvaney says she didn't land many big parts on campus, and, looking back, she feels like she knows why: "I wasn't fully myself." The school could also feel a bit "traditional": The theater may be full of gay boys, but the roles were still written for men. "I was trying to figure out how to lift girls in the ensemble in the back of dance class," she says. "That was so not me."
After school, in 2019, Mulvaney moved to New York, where she lived in a Times Square apartment with three roommates and picked up some odd jobs, including working the welcome desk at the Brookfield Place mall. But not for long. Within three months, she was cast in the ensemble of the North American tour of The Book of Mormon, playing one of the missionaries sent out to win people over to their optimistic message.
From July 2019 to March 2020, she traveled the country, performing eight shows a week in cities like Bloomington, Sarasota, and Tucson. "There were certain nights where I was down or sad, but by that last number" — a rousing song called "Tomorrow Is a Latter Day" ("The skies are clearing and the sun's coming out / Put your worries and your sorrows and your cares away") — "you can't even fake it because you're in it and you look out there at the 3,000 people and you're like, This is fucking epic," she recalls. "I didn't even want to be the lead. I thought the best thing that could happen for me was to get transferred to Broadway and stay in the ensemble."
On the road, she became friends with Alyah Chanelle Scott, the Sex Lives of College Girls star who was then playing Nabulungi, the female lead in the show. "We were just, like, living, you know? Seeing the country, seeing the weirdest parts of America," Scott told me. "We'd be on tour in random cities, and the next thing you know, we're out to dinner and we're an hour in and Dylan's on top of the table singing a song for everyone and the whole restaurant is standing up and dancing." The two of them, who both call the tour their "fifth year of college," have joked about writing a buddy comedy based on their time on the road.
During the tour, Scott started a TikTok, and she remembers trying to convince Mulvaney to join. "I was like, 'You know who would do really well on TikTok? Dylan,'" Scott says. "Dylan was like, 'That's a kid's app!' I was like, 'You have to do it.'"
In March 2020, The Book of Mormon arrived in Los Angeles, only to close owing to the pandemic.
It was during the shutdown that Mulvaney went to see a psychic. One of her friends had recommended the medium, claiming she'd helped them "find love." But when Mulvaney showed up, she was given career advice instead: "Start making a video every day."
Out of work, Mulvaney moved to San Diego with her father and finally found the time to get on TikTok. Almost right away, in April 2020, she went viral with a video she'd filmed on a pre-pandemic vacation to Australia. In it, Mulvaney, dressed in blue jeans and a white button-up, cuddles a koala. The caption reads: "The zookeeper said he refuses to mate with females. I was like, sweetie, he's gay." Suddenly, she had 70,000 new followers.
"I was like, Holy shit," she says. "Then you try to chase that feeling."
She experimented with ways to keep herself on other people's "For You" pages. She posted more animal content — "People love animal content" — and comedy sketches she wrote herself, like a naughty one based on Bridgerton ("Lady Whistledown has just written that I'm strictly a bottom when we all know I'm versatile!"). In January 2021, in a four-part TikTok she captioned "GAYEST CONTESTANT EVER," she shared her appearance on The Price Is Right, where she bounced around the stage in a Where's Waldo?–esque striped shirt and really hammed it up. When she won a set of hilariously incongruous man-cave furnishings — a pool table, a foosball table, and a basketball-hoop game — she hyperventilated, threw herself on the ground, faked making a snow angel, jumped back up, and went on to can-can with a pool cue. Drew Carey deadpanned: "Thank you for bringing the energy."
But it wasn't all fun and game shows. Mulvaney tells me she spent most of her quarantine driving around California alone, listening to the Twilight saga on audiobook.
A year after her first session, she visited the psychic again, who repeated herself: "Why are you not making a video. Every. Single. Day?" Mulvaney punctuates each word with a clap.
When she decided to finally come out as trans in March 2022, she took to her TikTok: "Day one of being a girl, and I have already cried three times. I wrote a scathing email that I did not send. I ordered dresses online that I couldn't afford. And then when someone asked me how I was, I said 'I'm fine!' when I wasn't fine," she says, before applying some lip gloss. "How'd I do, ladies? Good? Girl power!"
The next day, Mulvaney was shocked — and not for the last time — to wake up and find negative feedback in her comments with many women accusing her of perpetuating rather tired feminine stereotypes. Back then, "I'd be taking notes on How do I make people like me?" she says. "I was reading those comments, being like, Oh my God, I have to believe them." And so, the next day, she issued an apology: "I've managed to offend women on my first day of being one and I just feel terrible about it," she says in the video (this is how she learned about TERFs).
From then on, Mulvaney posted a video almost every single day, in a series she began packaging as the "Days of Girlhood." The TikToks are a live diary of her transition, detailing the frivolous parts and the serious parts — from contemplating cutting her bangs and buying her first bikini at Burberry to deciding to undergo facial-feminization surgery and considering changing her name to "Genevieve" — with the same goofy, good-natured outlook. A few weeks in, she posted a video squeezing her still-pretty-flat chest. "Boob check! Boob check! It's day 21 of being a girl and I'm going to give you a breast update. Just as I expected, they're ginormous!" she says, before asking her audience: "What size do you think would be good for me? Do we think a B or a C or a D for Dylan? Do you like having boobs? I think boobs are going to be fun!"
Despite — or probably because of — her occasional cringiness, Mulvaney's TikToks connected with an audience. She hit 1 million followers on day 23.
"As much as it might be negative that you're chasing that feeling, for someone that didn't love themselves that much, it was very affirming to be like, Maybe there's something about me that's enjoyable enough for these people to be here and stay," she says. She kept posting.
It's easy to see why her followers liked her. Never before had I seen someone so openly, and positively, talk about their transition. It lacked shame or mystery: She even posted TikToks in pre-makeup stubble. There is admittedly something a bit naïve-seeming about the way she could talk about herself and her experience; the series was called "Days of Girlhood," not "Womanhood," after all. (For example: In a video posted in June, she talked about swiping on dating apps. "One guy even had in his bio that he is only interested in trans women. Yes to that man, whoever you are, leading the way," she said excitedly. This is how she learned about "chasers.") But it was without question genuine. "I think I was a very palatable version of transness," Mulvaney says, trying to pinpoint what about her story attracted followers. "I think people, especially Gen Z and the moms of the Midwest, were like, Oh, here's a trans woman that we aren't scared of, as fucked up as that sounds."
But the internet is not a slumber party of friends and allies. Even before the Bud Light blowup, the right wing had put a target on her cropped cardigan.
Back in October 2022, Mulvaney had been invited to the White House by NowThis News, alongside several other content creators, to interview President Joe Biden. There, Mulvaney, dressed in a white cape and a pink pussy bow, told Biden, "Mr. President, this is my 221st day of publicly transitioning."
"God love you," he briefly interrupted her before she asked her question: "Do you think states should have a right to ban gender-affirming health care?" The president told her he didn't. The scene was sweet — "My grandpa! Joe Biden," Mulvaney says today — but that's not how the right wing spun it when sharing it across social media.
Senator Marsha Blackburn from Tennessee squawked, "Dylan Mulvaney, Joe Biden, and radical left-wing lunatics want to make this absurdity normal" on Twitter, boosting one of Mulvaney's older TikToks, from day 74. In the video, Mulvaney tells her followers about her trouble hiding her "bulge" in short shorts. "I forgot my crotch doesn't look like other women's," she says. "Mine doesn't look like a little Barbie pocket." Then she sings an improvised ditty called "Normalize the Bulge" (the lyrics: "Women can have bulges / And that's okay"). It's a classic Dylan Mulvaney TikTok, cheeky and kooky and completely honest about the thoughts running through her mind as a "baby trans," as she sometimes likes to call herself. But it's been in moments like these that Mulvaney's playful approach to her identity could be used against her. A few days later, Ben Shapiro wrote a column headlined, "Joe Biden, Dylan Mulvaney, and the Collapse of the West."
Before long, Caitlyn Jenner chimed in, tweeting, "@MarshaBlackburn thank you for speaking out and having a backbone — one of the best senators we have. Let's not 'normalize' any of what this person is doing. This is absurdity!" Later, Jenner added, "Dylan … congrats you're trans with a penis."
In response, Mulvaney posted one of the few videos she's ever made in which she confronts one of her critics head-on. "This video is for Caitlyn Jenner," she tells her camera on day 233. "This whole situation feels like the movie Mean Girls," Mulvaney says. "You were Woman of the Year. This is not Woman of the Year behavior." She continues, "Funny enough, one of the only things we do have in common is that I'm going to one of your surgeons!" It's also one of the few moments over the past two years that Mulvaney says she now regrets: "You hear about couples being like, 'Don't go to bed mad.' Don't make a video when you're mad. I want to be very deliberate with the way that I speak to other trans people publicly." (Jenner's spokesperson says, "The wishes for Dylan are nothing but positive on Caitlyn's end.")
On day 365, Mulvaney celebrated with a livestream one-woman show at the Rainbow Room in New York. For those who knew Mulvaney only from her get-ready-with-me videos, Day 365 Live! was a real showcase of her musical-theater chops. The hourlong special, which she organized with the help of Alyah Chanelle Scott and Broadway producer Diana DiMenna, featured quite a few Sondheim numbers sung alongside an "ensemble of trans and nonbinary humans," another boob update ("They finally evened out. Thank God"), and celebrity appearances by Rachel Brosnahan, Jonathan Van Ness, Reneé Rapp, and Dominique Jackson. The most entertaining moment, however, came when Mulvaney sang "(You Make Me Feel Like) A Natural Woman" to her facial-feminization doctor in the audience. The show ended up raising nearly $200,000 for the Trevor Project.
Jackson told me she discovered Mulvaney while scrolling TikTok to avoid the news, and she found it exhilarating to watch a young woman come out in real time. "When I was coming up, you usually moved away to transition," she said. "But we're beautiful beings. We belong here. For Dylan to be out there, it's amazing." Remembering the evening, and sounding just like her Pose character, the ballroom house mother Elektra Abundance, she told me, "Dylan is real. Like, Dylan is real. When I talk about realness, I'm not talking about aesthetics or anything like that. I'm talking about as a human being — not someone that is created from pain and trauma. Someone who has lived, survived, and is not afraid to be themselves." (Also, "I'll never touch Bud Light again," Jackson said before pausing. "I never drank it in the first place anyway.")
Mulvaney calls day 365 the best day of her life. "It felt like my birthday, which it kind of was."
Early on in the "Days of Girlhood," on day 12, Mulvaney posted a TikTok of herself sitting in her car holding a box of tampons. "Y'all are probably thinking, Dylan, where are you going to put those?" she quips, before explaining, "I'm always going to have one on hand for anyone who needs it." Mulvaney hoped it would be understood as an act of sisterhood. Tampax even sent her a box to share. But then #BoycottTampax became a hashtag on Twitter, and the company put out a statement distancing itself from her and clarifying it did not agree to a "sponsorship" with Mulvaney. The tampon TikTok has since been watched over 25 million times.
As her following grew, Mulvaney did actually make some brand deals with Kate Spade, Kind Bars, Olay, and OkCupid. Occasionally, there was pushback, like when she posted about makeup for Ulta or sports bras for Nike, and online transphobes began calling for boycotts against the companies for partnering with her. (They stood by Mulvaney: A spokesperson for Ulta wrote, "We believe beauty is for everyone." And Nike: "Be kind, be inclusive … Encourage each other.")
Still, brand partnerships were how Mulvaney was supporting herself, so it wasn't completely unusual, or worth pausing to think about, when, a couple of weeks after her show at the Rainbow Room, she agreed to the deal with Bud Light, which was promoting an online sweepstakes timed to the NCAA's March Madness tournament. "I kept hearing about this thing called March Madness, and I thought we were all just having a hectic month. But it turns out it has something to do with sports," she says in the Instagram Reel she posted on April 1 before taking a swig. "Check out my Instagram Story to see how you can enjoy March Madness with Bud Light and maybe win some money too! Love ya! Cheers! Go team!"
The backlash was immediate: Bud Light was, at the time, the top-selling beer in America, which made it a red-state favorite despite years of big-tent LGBTQ+ marketing (one Bud Light commercial from 2016 is about Amy Schumer and Seth Rogen attending a gay wedding: "Bud Light proudly supports everyone's right to marry whoever they want").
The usual trolls, among them Marjorie Taylor Greene, Joe Rogan, Andrew Tate, Ron DeSantis, and Nikki Haley, all weighed in. Some, including Ted Cruz, have gone so far as to put forth vague calls for an "investigation" of Anheuser-Busch. Kid Rock posted a video shooting up cases of the beer with an assault rifle, and Dog the Bounty Hunter threatened to give Mulvaney, should he meet her in person, "a couple of black eyes." The New York Post still publishes a story about the "brew-haha" — its word, not mine — multiple times a week.
Consumer boycotts usually peter out quickly. This one was a success. In August, Modelo replaced Bud Light as the No. 1 brew filling America's beer bellies. The controversy has cost Anheuser-Busch an estimated $400 million in sales. Bud Light has since doubled down on its traditional marketing approach, announcing it will focus on "sports and music," and its summer commercial featured white guys in cowboy hats, hot girls in bikinis, and dogs. (As it happens, in April, I was at the same Bahamas resort as Kid Rock. I saw him several times over the course of the weekend, usually wearing slides and a cap that both read HICK. One night, at a bar, I watched him attempt to sing one of his own songs, but he seemed too drunk to finish it. All of this to say: About the same time Mulvaney was lying in bed wondering if someone would break into her house and hurt her in the middle of the night, that's what Kid Rock was doing. He was also, in August, photographed drinking Bud Light, and his bar in Nashville is reportedly still serving it.)
In July, Mulvaney addressed the backlash for the first time. In a video posted from her back porch, she held a beer and tried her best to explain her feelings to her followers: "I took a brand deal with a company that I loved and I posted a sponsored video to my page, and it must have been a slow news week," she begins. "What transpired from that video was more bullying and transphobia than I could have ever imagined … I have felt a loneliness that I wouldn't wish on anyone." As for Bud Light, which she never mentions by name in the video or when she and I meet, she offers, "For a company to hire a trans person and then not publicly stand by them is worse, in my opinion, than not hiring a trans person at all." The TikTok, she says, was three months in the making. "I sat waiting for a long time to figure out how to navigate something so intense," she tells me. "Part of me was concerned with my well-being, how to keep myself safe, how to keep myself out of a courtroom, how to keep myself successful. And part of me was concerned with being a good person: How do I show up for the trans community right now in a way that I feel like I really can?"
Talking to her now, I get the sense that Mulvaney feels a little guilty for what transpired. "I think this has affected a lot more lives than obviously just mine. I always want to add value in any partnership that I do," she says. The controversy came right before Pride, which saw a pullback on so-called rainbow capitalism this year, as when Target pulled Pride merchandise from its shelves. One trans actress told me there were fewer brand deals to be had: "Just ask any of the dolls."
Mulvaney tells me that she was never contacted by anyone from Anheuser-Busch, either before or after the boycott — the deal, she says, was brokered by an influencer-marketing agency. A spokesperson for the beer company declined to comment on any questions I sent that included the name "Dylan Mulvaney."
Those close to Mulvaney say it's been difficult watching the fallout. Mae Powell, her childhood best friend, told me, "Dylan is amazing at giving help, but she's not great at accepting it. When things are difficult, she'll say, 'Okay, I can handle it.'" Scott said, "It's hard to watch someone be subjected to the opinions of millions of people. There were times a few months ago that got really dark and scary. It's such a helpless feeling. I wish I could do some tangible thing to make the situation better."
Mulvaney told me her parents feel the same. "They are trying to learn how to be parents to a daughter while also watching their child get reamed. I think it's very conflicting to them because they see all the success but they're also watching me get hurt. As a parent, you're trying to protect your child, and if transness is the thing that is being used against me, they have a hard time sometimes seeing that it's actually a beautiful thing."
Mulvaney is trying to move on. She's entering her "fashion girlie era," she tells me, and working first on changing her look (in Swiftie terms, she says this is her "Reputation era").
The night before I visited her in Laurel Canyon, Mulvaney attended a film festival in L.A. wearing a revealing zebra-striped Jean Paul Gaultier dress. She looks stunning in every photograph from the event, aware of her best angles, reminiscent of a young Paris Hilton. But the dress is also sheer, and you can see her nipples in every shot (no pasties this time). Back on her porch, she shows me a few different crops and edits on her iPhone, some with differently sized black X's placed over them. It's time to start feeding her followers again, and the question at hand is, To free the nip or not? She thinks aloud through the decision. One of the things I have realized spending time with her is to what extent, being in the public eye and getting constant feedback, she is aware of it and tries to please everyone.
Pro: "It feels fun to me. It feels edgy. These last months, I've felt like I couldn't speak on certain things, so I was using my style to reflect how I was feeling." And she's feeling pretty good right now, for once.
Con: "I already see the article in my head: 'Dylan Mulvaney Shows Nipples on Social Media … for the Children.'"
She posts the photos.
"The Audrey Hepburn look ended up infantilizing me," she says. She's a platinum blonde now. "Hair holds energy," she explains of her new do. She's (mostly) moving away from all the cutesy looks and Elle Woods headbands she became known for as she came out toward something more sophisticated, even … tentatively … cool. The trans girl next door is an "adult now," she tells me at one point, tired of hiding away in her pink cocoon. "I feel like I'm a lot edgier than I've let on. I'm a lot weirder and kookier and chiller."
In February, Mulvaney met Laverne Cox at the Grammys, and she has been thinking a lot about what Cox told her: "It's insane that you're, like, documenting so much of your life. Make sure you keep things for yourself. Everything cannot be for the public." Looking back at her "Days of Girlhood," Mulvaney realizes today that she might have been a little naïve about the realities of being a trans woman in the public eye. "I think that some trans elders probably looked at me this last year and were like, Bitch. You have so far to go. I think they probably saw what has happened to me these last few months coming," she says.
"This was a good wake-up call for me. Now I'm a more realistic person," she tells me. She still has her fantasies, though. "Maybe it'd be epic," she says dreamily, using that word again, as if she was already watching this scenario play out in her head, "if in like ten years I got to do a beer commercial for a Super Bowl."
Until then, she's back to trying to accomplish the goals on her vision board. She's writing a memoir and has been auditioning for shows on Broadway. Oh, and she's dating again, or something close to it. "I had some kisses," she'd tell me later, FaceTiming me in her bathrobe without offering any further details. "I needed to rip the Band-Aid off."
It's clear talking to her that she is still shocked, and maybe a little bit hurt, that she didn't somehow win everyone over. Mulvaney is, despite herself, a very 2023 type of are-you-with-her-or-against-her celebrity. The upside of that is that she has become famous and friends with other famous people. Over the course of our conversation, she tells me about her upcoming vacation to Antibes with Julianne Hough and Ariana DeBose; getting dating advice from Reese Witherspoon's daughter, Ava; and making friends with Kathy Hilton, who's invited her over to watch The Real Housewives, with Melanie Lynskey, and for a pajama party (Hilton also gave her some advice about the paparazzi outside her house: "You have to be nice to them, be lovely").
And that is the kind of epic life Mulvaney wants for herself. If her haters got to come to her house and drink a spritz in the sunshine with her, like we're doing now, she tells me, she thinks she could charm them into taking her side. And maybe she will. "I think hopefully years from now we'll look back on this time period and be like, What the fuck was that?" she says. Someone with less of a relentlessly sunny, people-pleasing force field might not have survived this past year.
"I don't like taking myself too seriously. I want to be the funny one. I don't want to be the one that's scared, the one who's controversial — that word, controversial, drives me fucking insane. What really makes me controversial?" she says. "That I'm trans? That I'm hyperfeminine? That I make jokes? That I overshare? Because I actually like being myself or that, God forbid, I'm happy? Maybe that's what makes me controversial. I don't think I've actually fucked up majorly. I think that the world is fucked up. Cheers to that." She raises her glass again.
More From fall fashion issue 2023
See All