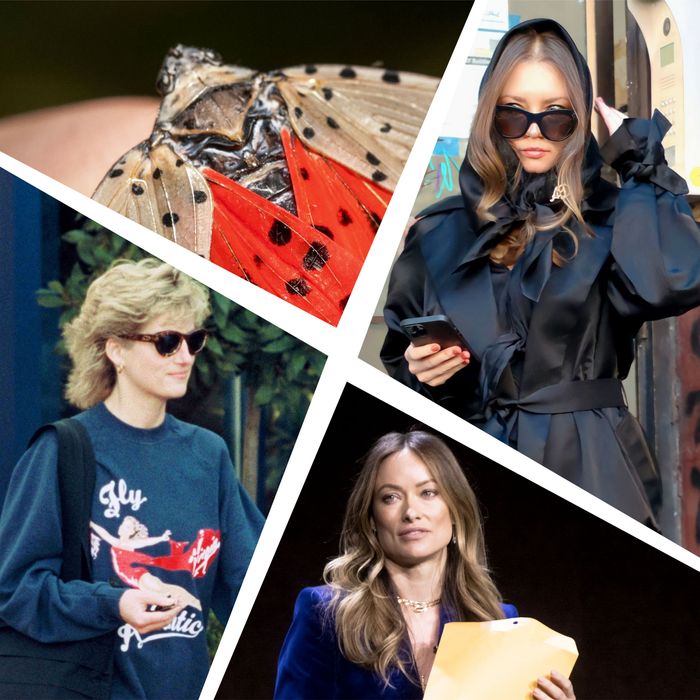 Photo-Illustration: by The Cut; Photos: Getty Images
We're just a couple weeks out from Halloween, which gives you plenty of time to forget about it entirely and panic on October 30 when you still have no idea what your costume should be. Chances are you won't have time to find an exact replica of Margot Robbie's Rollerblading Barbie outfit, and bedazzling your body à la Beyoncé's Renaissance cover sounds painful. So, what's a procrastinating partygoer to do? Fear not, for I come offering inspiration for lazy, last-minute Halloween costumes that don't rely solely on corny wordplay. One can only be a Freudian slip so many times.
To truly be a lazy and/or last-minute costume, you should be able to re-create it with things you have at home. With that in mind, here are 17 costume ideas that require minimal effort and (hopefully) no last-minute trips to the store.
1.

An Early-'00s Disney Channel Star
There is truly no way to do this costume incorrectly. Do you have jeans, a skirt, multiple tank tops, assorted jewelry, some scarves, a belt, a random bag, no shame, and maybe a hat? Wear them all at once, and you too can look like an early-'00s Disney Channel star.
2.

Rihanna at the Airport
It's comfy! It's easy! It's an excuse to wear sweats on Halloween and call it a costume! Carry around a baby doll and dodge questions about your Super Bowl halftime performance to really sell the look.
3.

Elizabeth Holmes
If you managed to snag a black turtleneck before the Great Turtleneck Shortage of Halloween 2019, you're already halfway to dressing like the Theranos founder. Complete your look with a low bun, eyes that never blink, a fake low voice, and impeccably uncomfortable dance moves. You could also carry around a Tylenol gel cap and say it's a nanotainer. Plus! This costume is pregnancy-friendly.
4.

Zombie Girlboss
The girlboss is dead, long live the girlboss. In honor of her #dailygrind, wear your girlboss-iest outfit — a pantsuit and "the future is female" tee are preferable — and slap on some zombie makeup. Bonus points if you carry around a notebook, tumbler, or tote bag that says something like, "Gaslight, Gatekeep, Girlboss."
5.

Westminster Dog Show Trainer
Do you have a dog? Do you have any business casual clothes and a pair of sneakers? Are you ready to assume the posture of a dog trainer, run-walking with leash taut? Just slap a fake number on your upper arm, and you and your prize-winning pup are ready to prance around on Halloween.
6.

Wednesday Addams
An early homage to Jenna Ortega's forthcoming role as Wednesday Addams! If you're not sure what to do with that fake shirt collar you got a few years ago, now is its time to shine, baby! You've probably already got everything else to complete the costume: an A-line black dress, the ability to put your hair in two braids, and a look of disdain and malaise.
7.

An Instagram Filter
If you prefer your face to do the heavy living, re-create your favorite Instagram filter with makeup. Turn this into an Instagram Influencer costume by simply writing #ad on your cup.
8.

Olivia Wilde Being Served Divorce Papers
Does your partner insist on dressing up as Ted Lasso again? Make it a couples costume by dressing as Olivia Wilde at CinemaCon. Wear a dark blue outfit (a jumpsuit or pantsuit are preferable) and carry around a manila envelope. Complete the look with a jar of your infamous secret salad dressing.
9.

A Negroni. Sbagliato. With Prosecco.
The sexiest costume this season is Emma D'Arcy's favorite cocktail: a Negroni Sbagliato (with Prosecco). If you happen to own a pink button-up, pink tie, and beige pants, you could dress up as D'Arcy themself. Or go more esoteric and wear an outfit inspired by the drink: any orange-red ensemble with makeup to match. Extra points if you also don some orange-slice accessories or a literal orange slice. Carrying around a Negroni Sbagliato all night is nonnegotiable.
10.

Princess Diana
There will inevitably be more than a few Queen Elizabeths out and about this Halloween. However, you are not a heathen (read: You don't have time to get a matching skirt-blazer-hat set) and could go for a more tasteful homage to the monarchy. Put on some bike shorts, a big sweatshirt, tennis shoes, white socks, and a tiara if you've got one. Voila! The people's Halloween costume.
11.

Spotted Lanternfly
Dress as this year's hottest local villain: the spotted lanternfly. While wings would be ideal, we're going for ease and accessibility here. Wear black pants, a red top, and that beige trench coat I know you own. Then, just tape some black circles to your coat and top and beg for people to step on you. Ooo, spooky!
12.

Anyone from Bodies, Bodies, Bodies
Be honest: You probably already own some version of at least one of their costumes. Go get some glowsticks and fake blood (or make your own) and practice the line, "I've never actually said this to anyone, but … I have body dysmorphia."
13.

The TikTok Pink Sauce
Controversial! Confuse everyone by dressing as the pink sauce that inspired a slew of TikTok drama. Simply wear an all-pink outfit and a yellow hat. When anyone asks what you are, stay in character by answering vaguely. The taste costume is hard to explain!
14.

Carmy from The Bear
Yes, chef! For this costume, wear a white tee, black pants, a blue apron, and the thousand-yard stare of a man who doesn't know if his beef shipment will get to the restaurant in time for opening.
15.

 Anna Delvey
In honor of her recent release from jail and debut of a brand-new, uh, ankle accessory, dress as everyone's favorite VIP, Anna Delvey. Pretty much any all-black outfit paired with black, thick-rimmed glasses will work so long as you tell everyone else they look poor.
16.

A Real-Estate Agent From the Oppenheim Group
Is this an excuse to dress like Christine Quinn? Absolutely. Sell the look (i.e., a blazer and the least sensible shoes) by carrying around a set of house keys and giving people "noseys" like they do on Selling the O.C.
17.

A Spooky Hot Girl
If all else fails, dress hot and put a pumpkin on your head.
This post has been updated.