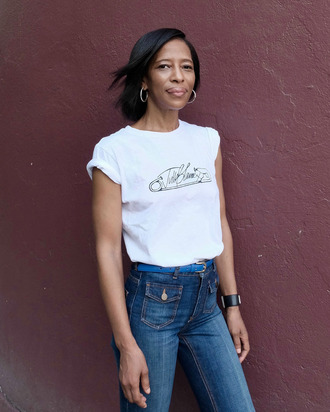 Giannie Couji.
Photo: Simone Silverman / Courtesy of Giannie Couji
Want more skin care? Join The Beauty Group.
Giannie Couji has a simple but effective skin-care motto. "CMS," she says. "Cleanse every day. Moisturize every day. Scrub once a week." Couji is a stylist, creative consultant, and editor-in-chief of Ubikwist, a biannual, independent magazine celebrating diversity in pop culture. She's also walked the runway for brands like Kate Spade, Rachel Comey, and Maki Oh.
The multi-hyphenate developed her routine after careful consideration. "Growing up in the Caribbean, I didn't really have a beauty routine — it came later when I moved to Paris," she says. "Because of the differing climate conditions, my skin started to become dry, and it needed some TLC." So she turned to organic ingredients like coconut oil, cocoa butter, and shea butter to nourish her skin.
Her routine now looks markedly different, but one theme remains: Whenever possible, she uses cruelty-free products without aluminum, parabens, or synthetic preservatives. Contrary to popular belief, she says, "clean" and "natural" products don't have to be overly expensive. Her favorite cleansing oil is just $9, while the facial oil she uses as a spot treatment costs less than $15 and was a TJ Maxx find. "You can get good, affordable products if you do your research," she promises.
You can see Couji's five staples, including the eye cream she keeps in the fridge and the spot treatment that clears her blemishes "within 24 to 48 hours," below:
The Cleansing Oil
Avalon Organics Wrinkle Therapy Cleansing Oil
"I discovered this product at the LifeThyme Natural Market on 6th Avenue in Greenwich Village. I go there to find new natural and organic products — the best part is that many of them are affordable. This oil includes ingredients like shea butter, seed oil, rosehip, and sunflower oil. I use an oil cleanser because I have dry skin, and I find that oil cleansers don't dry me out. It leaves my skin clean but not tight or dry, and it dissolves all impurities and makeup. It's much better than a gel or milk cleanser."
The Eye Cream
The Serum
Odièle Rose Serum
"I discovered Odièle through the brand's founder, the makeup artist Marie-Josée Leduc. I use it almost everyday. It's good at locking in hydration and makes your skin look fresh and radiant. And it actually smells like roses. It has an oily texture, and it makes my skin glow and look naturally refreshed."
The Spot Treatment
Beauty Foundry Tea Tree Facial Oil
"I actually found this product while browsing the beauty section at TJ Maxx. I've found some good natural and organic products for a bargain at TJ Maxx, and if I see something I like, I'll buy a few of them because it's never guaranteed that you'll see them again on your next visit.
Tea tree oil is good for blemishes, spots, and uneven skin. I use it occasionally on spots when my skin is breaking out. It also has vitamin E (for moisturizing and smoothing the skin), squalane (for hydration), and rosemary (for its antibacterial properties). When I use this, breakouts usually disappear within 24 to 48 hours."
The Sunscreen
If you buy something through our links, New York may earn an affiliate commission.