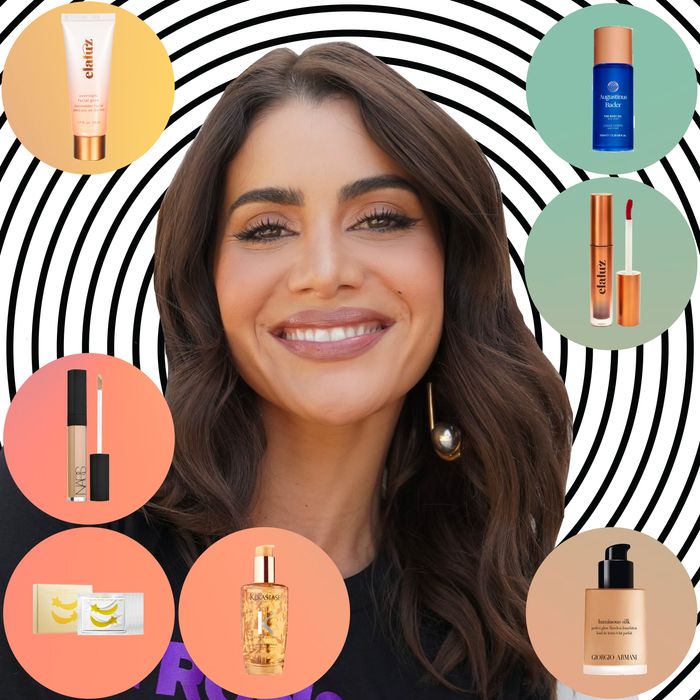 Photo: Courtesy of Camila Coelho
On the Beauty Group, a Facebook community co-founded by the Cut and the Strategist, people chat all day long about the products they love — the ones so good they'll make you hit that little "auto-refill" box at checkout. Below, we asked one of our favorite beauty pros to share her own selections.
Like a lot of YouTubers, Camila Coelho says she has loved beauty since she can remember. But unlike most, the mega-influencer has tangible proof in the form of a passport photo taken at the age of nine in which she is sporting a bold, red lipstick. By the time she told her mom she wanted to skip college after high school to work at the Dior counter at her local Macy's, it wasn't entirely a surprise. The risk paid off when she began posting videos on YouTube, catapulting her to over 1.25 million subscribers on the platform and close to 9 million followers on Instagram.
Now, Coelho has her very own brand, Elaluz, which means "she is light" in Portuguese. "I thought of creating a full line, and I think people expected me to come out with foundations and concealers, but instead, I wanted to do small drops every month with must-have products — ones that I can't live without but that I also think should be in everyone's bags," she says. So far, that vision has translated into a multi-category range of items including a "natural" deodorant, a dry-texture finishing hair spray, a plant-based face oil, and an eight-shade eyeshadow palette.
The move away from makeup as her central focus came with age, Coelho says. "In 2010, I was doing full-on contour and crazy stuff with my eyes — they were smoky green one day, smoky blue the next day, then smoky yellow another. I had everything you can imagine on. I was like 22," she remembers. "I love makeup, and I'm always gonna put it on, but through the years, I've learned that skincare is number one. When you treat your skin well, you need less makeup."
Below, Coelho breaks down 11 of her essentials, including the retinol-infused eye masks she loves for travel, the treatment that makes "you glow like crazy," and the dry shampoo she has used for three years.
The Two-in-One Stain
The Eye Masks
The Body Oil
The Resurfacing Treatment
The Lip Liner
The Foundation
The Overnight Mask
The Moisturizer
The Concealer
The Dry Shampoo
The Hair Oil