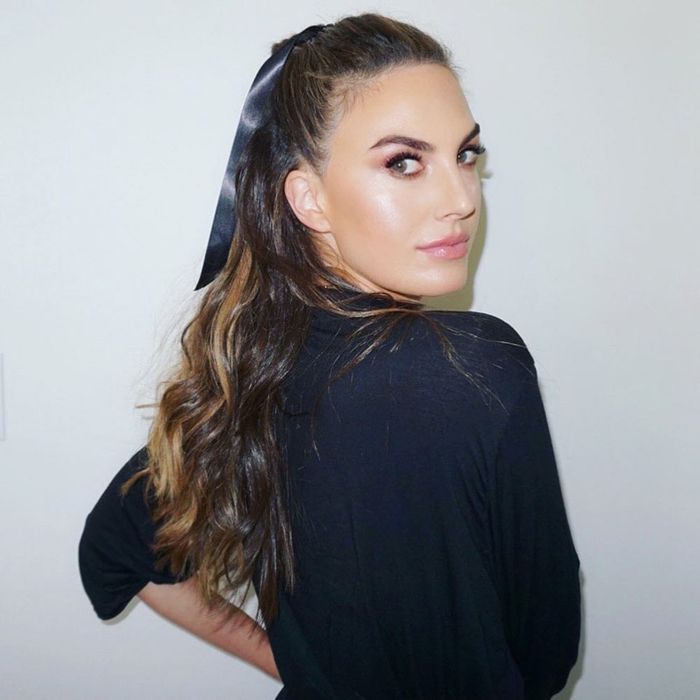 Photo: Courtesy of @elizabethchambers/Instagram
"I remember the moment I developed my skin-care routine," says Elizabeth Chambers. "It was my 14th birthday, and three of my friends and I saw the movie Clueless at the Hillsdale mall in San Mateo, California. I had begged my mom to let me have my ears pierced for my birthday, but she was holding strong. Her concession was that my friends and I could have a facial and 'light makeup' at the Clinique counter. I went from zero to three very important steps in my skin-care routine, which made me feel responsible and very grown up."
The TV host and CEO and founder of BIRD Bakery has since shifted her focus to finding the most effective and cutting-edge products. She also wants her skin care to be clean. Along with her facialist, Lena Bratschi, founder of L.A.'s Carasoin Day Spa & Skin Clinic, Chambers digs deep into products' ingredient lists, being careful to avoid parabens, formaldehyde, sodium lauryl and sodium laureth sulfates, phthalates, polyethylene glycol (PEG), and any artificial fragrance or perfume. "You have to be smart about where you're putting your money (and what you're putting on your face) — there are so many expensive products with a million preservatives and a five-to-ten-year shelf life, which is terrifying," she says. "If a product smells bad and requires refrigeration, that's kind of my love language."
Chambers makes a few exceptions in her routine to treat her melasma — brown patches on the skin that often appear during pregnancy. The entrepreneur first dealt with the skin condition on her upper lip after giving birth to her daughter, Harper, and was able to eliminate it with an intense peel, only to have it return stronger than ever on her forehead and temples after the birth of her son, Ford. "After doing intense research, I found that many people experienced the same issue as a result of the particular peel I used," she remembers. "They found that it eliminated the melasma but that it came back stronger in other places." She tried just about everything to fix it, from skin-care products to laser treatments — including eight Clear + Brilliants — and it seemed to be going away until she got a microneedling treatment. "Very shallow microneedling, or PRP, which I love, is fine, but deeper microneedling causes trauma to the skin and stimulates melasma," she says, speaking with wisdom earned from experience. Ultimately, the solution was spot-treating with brightening pads, taking evening-primrose oil to balance the hormones that cause the condition, and avoiding sun, heat, and lasers.
Below, a look at Chambers's mostly clean routine, including the products that keep her melasma at bay, why she doesn't believe in eye cream (and what she puts on her eyes instead), and the "new" Vintner's Daughter.
The Cleanser
"When my favorite Jurlique cleanser of I don't even know how many years was discontinued, I immediately went on a several-year search for new one that would leave my skin feeling clean yet hydrated. I have tried every. cleanser. available. I recently found this one, which I love very much. It's botanical, organic, exfoliates gently, and has a manuka-honey base, so it feels very nourishing and hydrating. The texture is thick, almost like a mask, and cleansing with it definitely requires a washcloth. I love it for when I'm not wearing makeup and don't require a deep cleanse — if I am wearing a lot of makeup for work, I'll cleanse first with Chrysalis Refreshing Botanical Cleanser, which is a foaming organic cleanser that's amazing for dry and sensitive skin, and then follow it up with this cleanser. I've found that if I cleanse well at night, my skin is happier if I don't wash it again in the morning.
This cleanser is also from my coastal hometown of Half Moon Bay, California, which is known for its botanicals (among other things) and smells comfortingly like home. It's luxurious and delicious."
The Exfoliant
"If I've been wearing a lot of makeup for work or need a deep cleanse, I love to mix this with a foaming cleanser for extra-clean skin. It's a granular powder, very similar to May Lindstrom's The Clean Dirt — I switch between the two products, and love them both. It's not the best-smelling product in the world, but in my opinion, that's how you know it's working (and not poisoning you)."
The Pads
"Not clean, not organic, but they get the job done — 'the job' being getting rid of melasma and sun damage. I went to a spa in L.A. called DMH for B12 shots, and the nurse who administers my shots was suffering from melasma when I first met her. I noticed that every time I saw her, her skin was clearer, and she was wearing less makeup. I asked her what she had been doing, and she spilled the tea. I immediately added these pads to my routine. I use them every night and have seen a huge improvement since."
The Serums
"I didn't include the serum in my video because I have run out and can't receive it during quarantine, but I use it religiously following the brightening pads. Also not organic, but it's incredible for evening out skin tone and delivering essential vitamins to the skin."
"Our skin is our largest organ, and I firmly believe that it requires the same vitamins, minerals, and nutrients that are also needed within. This vitamin-B3 serum supports the skin's immune system, retains fatty-acid levels, and reduces water loss. It's combined with collagen and is clean and cruelty free. I've noticed a huge difference in the reduction of pigmentation and redness and increased brightness of my skin since bringing B3 into the mix.
I feel like while everyone is focusing mostly on vitamin C, B3 is just as, if not more, effective. For skin radiance, I am a firm believer in the combination of B3, vitamin C, and glutathione, which is another antioxidant that can be taken as a supplement or intravenously."
"Back to our hometown (Half Moon Bay) hero. I think this is the new Vintner's Daughter, since it's a botanical-rich serum. It's formulated by Garden Apothecary's in-house botanist and is rich in phytonutrients, powerful antioxidants, and peptides. The texture is perfection, and it's my favorite hydrating serum for my face and neck."
"One more serum! Last one, I promise. I love every product Luzern creates, and this one is no different. The Serum Absolut Sublime Oil boosts hydration, calms my skin, and is a perfect second-to-last step. I apply the Luzern (and all other serums) before my moisturizer. I realize this can be a polarizing topic, but it makes sense to me to apply from thin to thick viscosity. I like to begin with the thinnest serum and seal it all in with the thickest moisturizer."
The Moisturizer
"My skin is very dry, and no matter how many products I layer, I always wake up feeling a bit dehydrated. Carasoin Cold Fusion cream is the perfect way to seal in these 9,000 serums. It's the final product I've depended on for years and years. I love it and can't live without it.
Also, I don't really believe in eye cream and firmly believe that all of these products should be applied to the eyeline and lids too. Not that I have anything against eye creams — I just feel like if you use all of the quality products up to your eyes and on your lids as well, it's probably just as effective. One of our loyal customers at our Dallas location of BIRD Bakery is a woman in her mid-70s with incredible skin, particularly around her eyes. When I first met her, I complimented her, then asked her what her secret was, and she shared that from the time she was 16 years old, she has applied Vaseline under her eyes and lids. She shared this four years ago, and since then I've been using the Egyptian Magic or Aquaphor that I keep on my bedside table for lips around my eyes as well."
The Balm
"I sleep with it on my lips every night (and sometimes on my hands and around my eyes). Not organic, but give me allllll of the Aquaphor, please."