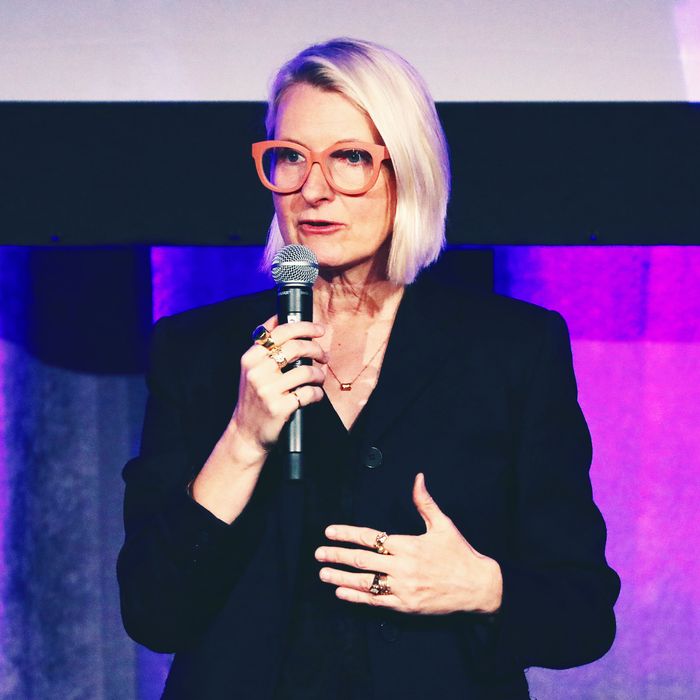 Photo: Jeremy Chan/Getty Images
In a hot new installment of book-publishing drama, Eat, Pray, Love author Elizabeth Gilbert has decided not to release her upcoming novel following backlash over the story's setting — Siberia in the mid-1900s. "I have received an enormous, massive outpouring of reactions and responses from my Ukrainian readers expressing anger, sorrow, disappointment and pain that I would choose to release a book into the world right now, any book, no matter what the subject is, that is set in Russia," Gilbert said in a video announcement posted to Twitter on Monday, adding that she would be "making a course correction" by removing the title — originally scheduled to be released in February 2024, two years after Russia first invaded Ukraine — from its publication schedule.
"I want to say that I have heard these messages and read these messages and I respect them," she said in her video. "It is not the time for this book to be published, and I do not want to add any harm to a group of people who have already experienced and who are all continuing to experience grievous and extreme harm."
The decision to pull the book spurred mixed reactions and censorship debates from fans and literary organizations alike, especially considering the fact that The Snow Forest is about a resistance against the Soviet government. "Gilbert's decision in the face of online outcry from her Ukrainian readers is well-intended," PEN America said in a statement responding to the announcement. "But the idea that, in wartime, creativity and artistic expression should be preemptively shut down to avoid somehow compounding harms caused by military aggression is wrongheaded." Below, everything to know about the controversy.
What was The Snow Forest even about?
According to Gilbert's Twitter announcement, the book was "set in the middle of Siberia in the the middle of the 20th century" and followed a group of characters who extricate themselves from Soviet society in order to "defend nature against industrialization." Gilbert first announced the book's upcoming publication last week; it was set to be released through Riverhead Books, an imprint of Penguin Random House, which, per the Wall Street Journal, dropped the book at Gilbert's request.
Gilbert says her Ukrainian readers took issue with the book's Russian setting.
Over the weekend, Gilbert said she received disappointed reactions from Ukrainian readers who thought it was irresponsible to put out a book idealizing or in any way celebrating Russia, no matter the specific content. No advance excerpts from the book have been published, though NPR reports that its Goodreads page has been flooded with over 500 one-star reviews, many of them accusing Gilbert of the same thing. "When you live far from Russia, you can romanticize it … stop writing this kind of shit and learn some material first," one reviewer wrote. "Elizabeth Gilbert seems unaware of the genocidal war Russia is conducting against Ukraine RIGHT NOW, because I'm sure if she knew, she'd realize how tone deaf this book is," said another reviewer. In her Twitter announcement, Gilbert noted that she plans to turn her attention to other ongoing projects.
The decision to halt publication has been met with criticism.
While some fans thanked Gilbert for her "ethical position" in halting The Snow Forest's publication and praised her for her sensitivity, the decision also spurred questions from fellow authors, critics, and literary organizations about free expression and the potential harms of self-censorship:
PEN America — which recently canceled a World Voices panel after Ukrainian writers objected to the inclusion of Russian authors — urged Gilbert to reconsider, adding that a Russian setting "should not be cast as an act exacerbating oppression" and that "fiction and culture are essential to supporting mutual understanding and unleashing empathy." In a statement to the outlet, the CEO of the Authors Guild said the organization doesn't think "authors should ever be pressured not to publish their books" while noting that "the more complicated issue of the era" is authors "being told they can't write about certain subjects." Meanwhile, a representative from Riverhead Books told the New York Times Gilbert had "no further comment" about the ordeal, confirming the book's publication has been delayed indefinitely and that no decision has been made about whether or not Gilbert will revise it.