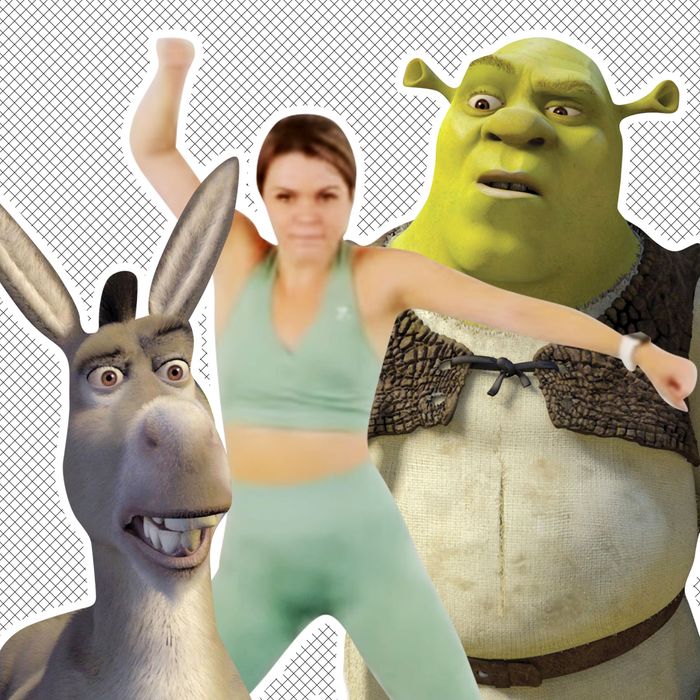 Photo: emkfit/Youtube, Shutterstock
Six months into the COVID pandemic, I'm getting a little sick of my routines. I'm sick of cooking (jar-sauce spaghetti), I'm sick of washing my masks, I'm sick of TV, and I'm sick of my exercise routine.
For the past two and a half years — up until March — I was a heavy weight lifter and loved it, but with gyms closed (or at least ill advised), I've had to adapt to low-lift at-home alternatives (please excuse the pun). I jog every Monday and Thursday (two miserable laps around the neighborhood) and do free weights on Tuesdays and Fridays: reliable, COVID-safe, good for me, and completely boring. I took Wednesdays and weekends off, mostly to forestall the repetition fatigue.
But a few weeks ago, my friend Marisa introduced me to a Canadian fitness YouTuber named Emily Thorne, who goes by the username "emkfit" and calls her followers "clowns." (She is also on Instagram.) Most of Thorne's videos are what she calls "HIIT hop," or high-intensity interval training combined with hip-hop dance (a term she admits is very, very loosely applied). I love her.
Unlike much of the fitness YouTube/Instagram world I've witnessed, Thorne isn't trying to sell you a package deal wherein X restrictive diet + Y punishing workout routine = Z pounds lost by the holidays. She has said she doesn't earn ad revenue on YouTube, and her workouts are free (though she has a Patreon for superfans). I've found just one #ad on her IG page, for a baseball cap with a higher-than-usual hole for a ponytail. I'd bet she wouldn't mind doing more spon-con, but for now, she is apparently content to do this for the love of jumping around her living room, knowing others are jumping around with her.
Thorne lists two slogans in her bio, neither of which is her invention: "Fake it till you make it" and "Wrong and strong." Her videos espouse this forgiving ethos: There are specific moves to mimic, but Thorne almost always provides variations and usually the point is just to move. Consider Thorne's recent Shrek-themed HIIT workout, in which she wears a green outfit and teaches simple, dorky choreography to hits like "All Star," by Smash Mouth, and "La Vida Loca," as sung by Eddie Murphy playing a donkey. Rolling her eyes at herself, Thorne teaches a series of short exercises you repeat for several rounds before moving on to the next song, most of them variations on squats and twists and jumps, all with apartment-friendly modifications.
Many of Thorne's moves are embarrassing, which she recognizes and apologizes for — a self-deprecation I find refreshing and unique among her peers. Still, the routines work insofar as the point is to get up and move. Most of Thorne's videos are just 20 to 25 minutes long, but I'm thoroughly sweaty by the time I'm done, and sometimes sore the next day.
Thorne has made theme videos for early-aughts pop hits, Britney Spears, and even (cringe) Broadway. Something for everyone. And if she hasn't yet done the workout you want to see, emkfit is open to requests. I was just thinking I should request a boy-band workout, when — of course — I found she'd done one already. I like to do an emkfit video on Wednesday mornings as a midweek treat: something to look forward to when I go back to work every Monday and something to signal that Friday will arrive once more, even if it doesn't feel that way now.