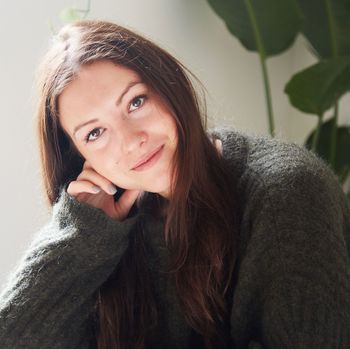 Photo: Jae Eun Seok / Courtesy of Emma Bates
"I'm all about looking after your skin first, before thinking about make-up," says Emma Bates, the partnerships manager at millennial luggage brand Away. In the five years since she first started experimenting with skin care, Bates has tried a lot of different products, ultimately narrowing down her routine to a few key brands: Go-To, Philosophy, Hers, Bliss, and Supergoop!
For her, it's all about products that don't involve a lot of complicated ingredients. She developed her eight-product evening routine through recommendations from friends, though she's also not above shopping based on ads. "Being in marketing, I will admit that I am a sucker for a great campaign or strategy, so there is the odd spontaneous purchase here and there," she admits.
Below, a look at her favorite exfoliating pads, the hyaluronic acid serum she's willing to splurge on, and the prescription product that has helped her with fine lines.
The Cleanser
"I use this product to remove my make-up and cleanse my skin at the end of the day. It's very refreshing and effective, and it smells great. Plus it foams, which I enjoy because it makes you feel extra clean. The Go-To brand is relatively inexpensive. Every product I've tried has worked incredibly well, and I also have to admit that I LOVE the branding."
The Exfoliating Pads
"I discovered this product at the same time as the cleanser, about eight months ago. Each pad is soaked in naturally occurring AHAs and hydrating natural oils. It gently exfoliates the skin without drying it out. I use the pads around two to three times a week after I've washed my face. You let it do its thing for a few minutes and then wash off. It's always satisfying to see the dirt come off your face, and it (allegedly) helps any serums or moisturizers you apply afterward to sink in more deeply."
The Serum
"I discovered this product through work a few years ago and became obsessed fairly quickly. It goes on super smoothly, and it actually feels like your skin gets tighter after it's dried, which is fun. It's definitely expensive, but I can always find way to justify buying pricey skin-care products."
The Cream
"The hers brand is all about the idea of prescription skin care — if you're not using something prescription, then all you're really doing is applying marketing to your face. I started with the Anti-Aging Cream.
When you buy this online, you place your order and go through an online consultation with one of their doctors. You give your age, skin, and medical history, upload a few photos of your face (so they can see your skin), and notify them of any allergies. You'll then be contacted by the doctor who asses your request for the product and ensures that everything lines up and that there's no red flags. If you're good to go, they'll then prescribe you the cream with whatever level of tretinoin they deem best.
The cream arrives in the mail once a month, so I don't even have to think about heading to the store or dermatologist every time it runs out. I apply one to two pumps of it every other night before bed. I've used it for about a month now and have definitely noticed differences in my complexion and the appearance of fine lines. My skin looks smoother, and it's definitely reduced any discoloring I had."
The Face Oil
"Compared to some other face oils I've used, which can leave your skin (and hair) feeling greasy, this one is super light while also being really hydrating. You also get that glowy-dewy effect, which is never a bad thing."
The Sunscreen
"Because I use retinoids and AHAs on my skin at night, I always apply sunscreen in the morning. Even if you don't use these, you should always use sunscreen anyway! I love Supergoop!'s brand and use a lot of their products. This particular moisturizer I think is fairly new to the collection, but I've loved the results I've had so far. It goes on super easily, does the job, and you have the added bonus of factor 40+ sun protection, too!"
The Face Mask
"Instead of the Exfoliating Swipeys, I'll use this if I feel like it's a face mask kinda night. It exfoliates as you put it on and then dries as a clay mask. You leave it on for about 10–15 minutes, and then exfoliate again when washing off. Highly recommend!"
The Lip Scrub
"This product is great for New York winters when your lips are continuously and inexplicably dry, no matter what prevention measures you take. It's super quick to use: you exfoliate as you apply, and then wipe it off. It also is very moisturizing. Plus, it actually tastes like sugar. I tend to use a lip balm after it, though, for double effect."