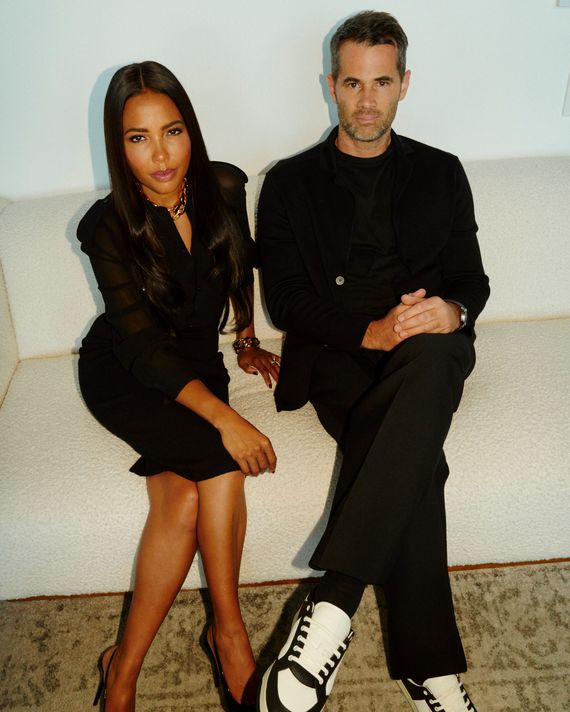 In an enormous Skims warehouse stuffed with a landfill's worth of clothes, cardboard containers, and influencer gift boxes, a cadre of 20-somethings — Skims employees, personal assistants, and representatives of three different publicity firms — are fussing over the woman in charge. When she sweeps into her office, everyone stands. She has just eaten lunch (a salad from Goop's cloud kitchen) and worries there is something in her teeth. An assistant offers her floss, which she declines; a mirror, which she accepts; and the new iPhone, which dropped today. "Simon, you're the best," she declares after dismissing him. This is not Kim Kardashian, who the security guard says doesn't make it out here much, but Emma Grede (pronounced greed-ee), who runs this Skims serfdom along with her husband, Jens. "I'm Emma," she announces with a firm handshake.
Emma and Jens Grede are veteran marketers and the married couple behind many of the Kardashian family's brands. There's Good American, a jeans company Emma founded with Khloé Kardashian in 2016; Safely, a line of natural cleaning products Emma launched with Kris Jenner in 2021 (reviews are mixed); and Kylie Jenner's fashion line Khy, which debuted in late October with pleather coats and dresses under $200. But the best-known brand in the Grede portfolio remains Skims, the shapewear line that Jens founded with Kim in 2019. He is the chief executive and oversees marketing, while Emma is chief product officer and develops the clothes. In the weeks after I met the Gredes in Los Angeles, the brand debuted menswear and announced its role as the official underwear provider of American basketball. At a $4 billion valuation, Skims is thought to make up most of Kim's net worth (though Jens shares a majority ownership).
Emma, who was born and raised in London, met Jens, who is Swedish, in the early aughts. Back then, he was running the London-based Saturday Group, a fashion-marketing firm known for linking famous people to famous brands: It got Beyoncé to roll around in sand for H&M and placed a pubescent Justin Bieber in horny Calvin Klein ads. Saturday incubated Emma's entertainment agency, which she launched after working in fashion-show production, and for a time, Jens recalls, the agency represented "half of London Fashion Week." In 2011, Jens conceived of the luxury-menswear retailer Mr Porter with his business partner Erik Torstensson (whose partner is Net-a-Porter founder Natalie Massenet); a year later, the two launched Frame, the supermodel-beloved jeans brand that Torstensson still creative directs.
Around this time, Emma met Kris when the latter was attending Paris Fashion Week trying to land European brand partnerships for her daughters. "She would always buy me lunch," recalls Emma. "We would meet at L'Avenue and it would be so fabulous. It wasn't what it is now — the last time I went to L'Avenue with Kris, you couldn't get in or out." In 2017, the Gredes moved from the English countryside to L.A., taking up residence in a Bel Air mansion with a 110-foot pool formerly owned by their friend, the fashion billionaire Serge Azria. We were, before they changed their minds, supposed to meet there but instead ended up in Emma's office, a beige room full of beige furniture, including a beige mini-fridge. A publicist (two hover nearby) says the beveled fridge is Skims-inspired: "All Skims things have soft edges." I'm reminded, generally, of baby binkies.
In their 40s and virtually wrinkle free, with teeth so white they look blue, the Gredes sit on a couch across from me, near a photo of their four young children. Jens is sprawled, fidgeting with the bouclé, occasionally checking his phone; he seems bored, especially next to Emma, who is perfectly poised with her arms and legs crossed, her face hoisted into a smile, her gaze trained on her husband with militant admiration. She's in a pencil skirt and stilettos and wearing the biggest diamond ring I've ever seen. Recently named one of America's richest self-made women by Forbes, she has a habit of responding to questions with an unrelated talking point. When I ask the Gredes about the media interest around them and Skims, she brings up her philanthropy work, then the importance of representation, then says, "To answer your question, I went on Shark Tank because …" Her appearance as the first woman-of-color investor on the show, she claims, increased the diversity of applicants. "Shark Tank released a stat last year saying they had, I think, an uptick of 200 percent in female entrepreneurs and 800 percent in entrepreneurs of color," she says. Jens, meanwhile, seems ready to retire. "Actually, I don't want to do anything. I'm inherently quite lazy," he says at one point. He admits to regular fantasies about returning to the Cotswolds.
Celebrities have long served as mascots for brands, but until recently, nobody really expected them to contribute to the products aside from posing for ad campaigns. Today, the notion that the "talent" also helps guide product development is good for business — take, for example, the perfume that Beyoncé purportedly "crafted and designed," the cashmere line made with yarn hand-selected by Brad Pitt, or the brand of soda infused with lavender Bella Hadid plucked from her family farm. "Back in the day, when we put Justin Bieber in Calvin Klein or Beyoncé in H&M — I do the same thing today, but today we build businesses around them," says Jens, who calls celebrity "the only hack" in the consumer economy. "It's the only cheat code. If you gave me a billion dollars to put in ads, I wouldn't have half the brand recognition that Dwayne Johnson has for his tequila." My cousin, a Skims megafan, once proclaimed she buys Skims because "Kim makes it."
But how much of Skims is actually Kim? When I ask the Gredes what it's like to work with her, they respond with identical deer-in-the-headlights expressions before saying that it's wonderful and also like working with anyone else. "She's a phenomenal creative director," says Jens. What that means, Emma explains, is that Kim will come to her with "a problem that she's solving or something that she wants, a look that she wants to create, or she'll just have a pure creative vision." Take the Ultimate Bra, which was born from Kim's desire "to reinvent the push-up bra," says Emma. "We decided that Kim has a bust line that a lot of women would want to emulate." After development and testing, each product goes into marketing, during which Jens places it on famous people. Cardi B, for example, appeared in a Skims ad the day of our interview. "We Skims-ified her," Jens explains. "She's pared back and she's feminine and she's really soft." "Very soft," echoes Emma. "Very, very soft," agrees Jens.
There's a special alchemy, he says, required for a celebrity brand to work: "You can be a great singer or actor, actress, but you've got to have an aesthetic that's different from someone else's. It's got to be desirable." Not many people have this, he thinks. "I mean, maybe seven." That said, the couple admit that their success, including with Skims, is somewhat random. (Kim, after all, has tried to shill everything from her own debit card to Android games.) "It's so much more organic and so much less thought through than people imagine," says Jens of Skims's strategy. Still, when I ask Emma if she'd ever shake off the Kardashian yoke and launch her own brand, she blanches. "I never think about these as not mine. Ever, in a million years," she says of the family's brands. "I like to take credit sometimes for the things that we've done."