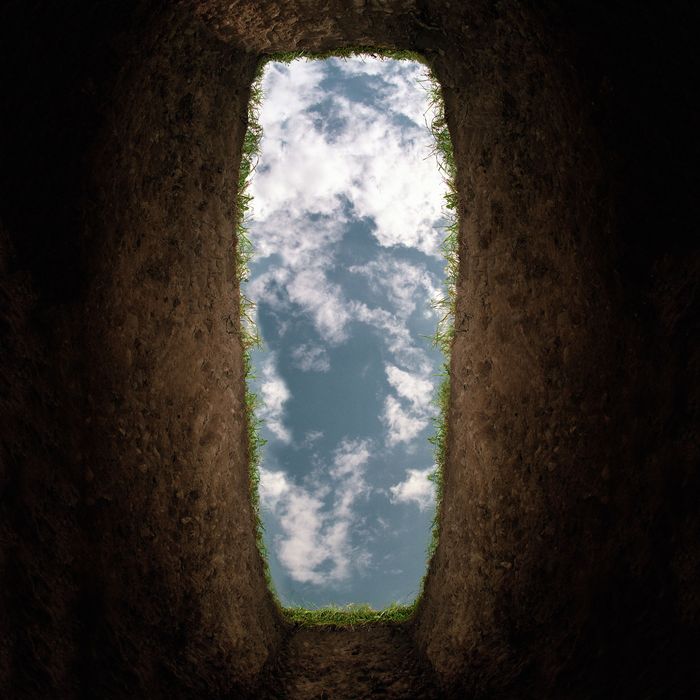 Photo: Alan Thornton/Getty Images
When events involve a lot of moving pieces, it's common to bring in a specialist. We have planners for weddings, parties, corporate retreats, and more — people who help us nail down our goals, explain complicated rules and contracts, and take care of the logistics so we can focus on the parts that matter most. When it comes to the most difficult event of all, though, many of us are on our own. Enter end-of-life specialists, who make it their job to guide dying people and their families through all the details they never wanted to think about.
Michelle Acciavatti, a former neuroscientist and ethics consultant, is the woman behind Ending Well, a Vermont-based business that helps people plan, prepare for, and experience "their own good death." After working in hospitals and in hospice care, Acciavatti says, she began to notice repeated problems with end-of-life care: patients and family members not feeling listened to, people feeling too afraid or uncomfortable to broach the subject of death, outright denial about what was coming. Through Ending Well, she now offers services to help her clients come to terms with mortality, whether that means caring for a dying loved one, mourning a miscarriage or stillbirth, or planning their own advance care.
"My work is to help people face and embrace the fear that keeps them from living well," she says. "I educate people about their options at the end of life, but, hopefully, I also help them learn about themselves." To do that, Acciavatti helps people articulate their priorities around death — do they want a home funeral? have any last requests? what do they want their legacy to be? — and then works to convert those desires into a concrete plan.
In part, that means handling all the logistics (for example, she has the legal and practical knowledge to hold a home funeral in any U.S.
state), but Acciavatti says that "values-based care planning," or helping people figure out their quality-of-life goals, is the element that she finds most meaningful.
"A big fear for many people doing advance-care planning is dementia," Acciavatti explains, "and many people say they wouldn't want to live if they couldn't recognize their family members. In my process, we try and unpack that statement. What does 'recognize' mean? Remembering their names? Their relationship to you? Or recognizing them as people who love you even if you can't place them?"
"Since you can't possibly plan for every possible medical outcome and potential intervention," she adds, "I find it's much more useful to do the self-work to understand your values for living well and find where the line is in that way." For example, a person might initially shy away from the idea of a breathing machine, but change their mind once they begin to consider when in their disease progression they may need one.
Once a person figures all that out, the next step is making their wishes known. Acciavatti urges her clients to have "an ongoing and evolving conversation … with your family, your doctor, with anyone who might be involved or have an opinion about your care, so that they understand why you have made the plans you have made."
Amy Pickard, whose Los Angeles–based company Good to Go! helps guide groups and individuals through end-of-life paperwork, agrees. "Most people don't even talk about those things, let alone put their wishes down in writing," she says. "Imagine how traumatizing that would be if suddenly your loved one needed you to make life/death decisions for them and you never talked about it before."
Pickard founded Good to Go! after losing her mother, an experience that left her unprepared to navigate what she calls "the death duties." "I was stunned to learn of all the work involved after someone dies," she says.
"When you're grappling with an unbearable reality, which is when your fiercest cheerleader, best friend, and the one who loves you the most on the planet is dead, the last thing you want to do is spend every waking moment encountering nonstop questions about the deceased person's life and estate."
But how do you make a long conversation about death seem like a fun way to spend a weekend afternoon? The answer, Pickard decided, was to recontextualize advance planning as a party, complete with upbeat playlists, food, and plenty of humor. "I joke that Good to Go! is like when you give your dog a pill wrapped in cheese," Pickard says. "The pill is confronting your mortality and G2G! is the cheese."
"Basically, Amy saved me," says Erika Thormahlen, a client of Pickard's. When the two women met in Los Angeles years ago, "it was occurring to me how little I knew about my mom's wishes for end-of-life stuff … We were a don't-ask-don't-tell family in a way, and my mother both always wanted to remain positive and also never wanted to be a burden." Worried about potential awkwardness when she raised the subject, Thormahlen asked her mother if it would be okay if "my pal Amy came over and we filled out some questions together."
When Thormahlen's mother passed away a month after Pickard's visit, "the dozen notes I made informed both my handling of her memorial and how I try to honor her life," Thormahlen says. "I feel very privileged to have been there — and Amy made it this wonderful memory I often return to."
The Good to Go! "departure file," as Pickard calls it, includes a template for a living will (a document outlining a person's desires for their end-of-life medical care) and a booklet covering almost everything the living will doesn't: contact information for doctors and business associates; bills, social-media passwords; plans for children and pets; instructions for what should be done with photos, journals, and other personal belongings; and funeral and body disposition wishes, from where to distribute ashes after a cremation to whether an obituary is desired and what photo ought to be used.
"It's basically every question that came up after my mom died," Pickard says. "Since she died unexpectedly, I had to guess. I don't want anyone else to have to guess."
Clients of Pickard's can go through the departure file on their own time or during one of her Good to Go! parties, which she throws monthly in L.A.; she hopes to take the event on the road this summer.
Over in Vermont, Acciavatti of Ending Well also says she hopes to expand her services down the line: "I want to offer everything!" she says.
"Anything someone tells me they need — if it resonates with me I want to do it. Reiki, therapeutic massage, music therapy, aromatherapy … Holding space for people to create their own rituals, tell their own stories."
"If I've done my work well," she adds, "people are dying in the manner they chose."