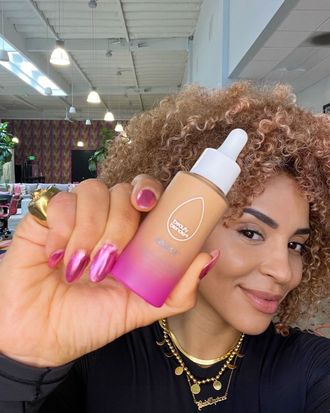 Erica Dickerson puts the fun in doing it all. From being the global beauty director at Beautyblender and the founder of the Good Vibe Retreat (a retreat designed for women to heal and relax), to co-hosting the successful podcast Good Moms, Bad Choices alongside her bestie Jamilah Mapp, everything Dickerson touches oozes an effortless confidence and immense positivity. Most recently, she and Mapp have taken their podcast—which focuses on single motherhood and is a "safe space for moms to release shame, vent, heal and step into their power"—into a book format. "The book is inspired by our journey before, during, and after having our kids," Dickerson says. "We share very raw and even provocative stories in hopes to let the reader know she is not alone. We've given women actionable steps that we've learned along the way, that have helped us be good moms who make bold choices … You will laugh, cry, and be inspired to level TF up!"
Before becoming a badass entrepreneur, Dickerson's career began at age 8 as an actress. She later went on to be the tour manager for Macy Gray as well as landing roles in hit shows like Insecure, all while helping her mother—renowned makeup artist and the brand's founder—Rea Ann Silva, run the Beautyblender business.
And when a day full of innovating at Beautyblender, podcasting, hosting, and more is said and done, Dickerson makes it a point to refuel via tea, morning workouts, and watching movies with her daughter. "My favorite part about what I do is seeing my visions come to life," she says. "Mom guilt does not escape me, but I know it's important for my daughter to know that anything is possible by seeing me live and execute my dreams."
.

Here, Dickerson's a.m. routine:
6:00 – I like to wake up early so that I have alone time before my daughter wakes up. I typically meditate or write. I always start my day with fresh juice – lately, celery with lemon is my go-to followed by green tea if I'm not succumbing to my coffee addiction.
7:00 – Next I get my kid ready for school. I drop her off and try to get a workout afterwards.
8:45 – I wash my face with Youth to the People Superfood Cleanser. It leaves my skin feeling clean and balanced.
8:47 – Next I put on C.E.O Glow by Sunday Riley. I love the tumeric and vitamin C in the oil because it genuinely brightens my skin.
8:48 – Next I put on a light sunscreen, like Supergoop Unseen Sunscreen. It's great for all complexions because it doesn't leave a white cast.
8:49 – Next it's makeup time, and I use my holy grail! Beautyblender's SkinTint in shade Tan 2 is packed with hyaluronic acid and other skin-care ingredients, and leaves my skin looking natural and dewy while ensuring I'm going to have coverage all day. I set it with our gemstone powder in buff!
8:54 – Last step for complexion is the Beautyblender bronzer highlighter duo in tan. It has PH technology so it literally creates the most perfect customized bronze for my skin tone.
8:55 – For eyebrows, I use Anastasia, and for lashes, the Falsies mascara by Maybelline, which alway makes them look long AF … and lasts all day.
8:58 – I finish with a little lip gloss and I'm done! Then I'm ready to either go to the Beautyblender office or my podcast studio that we just recently opened in L.A.
.

P.M. Routine
8:00 – At night I use the Tatcha Camellia cleansing oil to take off my makeup. Works like a charm every time. Next is Tatcha's the Deep Cleanse. I love how clean my skin feels after using this cleanser and it feels so refreshing after a long day wearing makeup and being out in the world.
8:05 – Then I either put on the Youth to the People Superberry overnight mask or a light retinol. In your 30s, it's important to hydrate, protect, and regenerate new skin. So I try to use products that support that.
8:07 – I end my night by watching a movie with the little one. After I put her to sleep, I usually have a nightcap in the form of a beautiful rolled joint.
.

On finding confidence:
Confidence is an ongoing journey. Becoming a mother played a huge part in building my confidence. Once you create life, there's very little anyone can tell you that you can't create. Beauty has, of course, been a part of building my confidence. There is nothing more confidence boosting then mastering what your body needs to feel good — whether that's the foods you put into your body that make your skin and body feel beautiful, or knowing what makeup makes you feel like the goddess you are! Beauty and makeup are deeply personal and once you take the time to know what makes you feel like your best self, you begin to create a toolbox of sorts that you can tap into in times of insecurity.
.

On the beauty-marketing ploy that makes her cringe:
Overapplying makeup. Ten steps to perfect skin — I think not! It's not that complicated. And who has time!
.

On the beauty industry as a whole:
I love that beauty is so much more inclusive. So many different faces being highlighted which makes the consumer really feel seen. I also hope that brands become more innovative. I see a lot of brands just copying trends instead of being trendsetters.
.

On beauty and TikTok:
I don't love when makeup influencers lather makeup all over their face with their hands. Drives me nuts! I love TikToks that teach you how to contour with bronzer or lift your cheeks with blush: real, everyday, easy hacks.
.

On the overhyped ingredient:
A lot of brands have antioxidants in their marketing ingredients but they often don't call out what the ingredient is or at what percentage. Oftentimes, they don't actually have much benefit to your skin.
.

On the ingredient she avoids:
Strong acids. I leave that to the pros.
.

On the ingredients she loves:
Anything firming, hyaluronic and anti-aging. Any efficacious and ethically sourced ingredients. Ingredients that actually work. Not just marketing ingredients!
.

On the beauty staples she swears by:
Facials, juicing, water and minding my business!
.

On her go-to in a rush:
I always use mascara if nothing else! Eyes are the window to the soul!