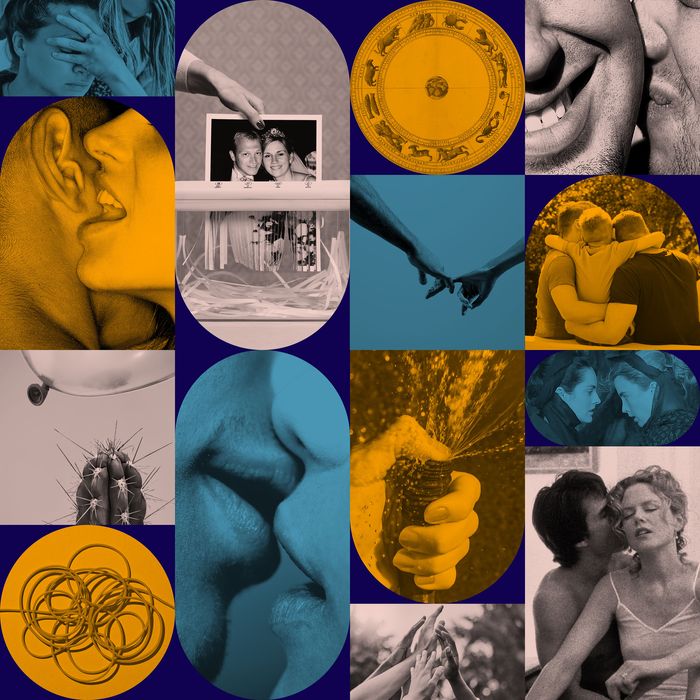 Photo-Illustration: the Cut; Photos Getty Images
It's been 17 years since psychotherapist Esther Perel published her first best-selling book, Mating in Captivity, and introduced the idea of "erotic intelligence" (or at least an updated, 21st-century version of it) into the public consciousness. After going on to become a TED Talk star (her first talk has over 20 million views and counting), the now-leading expert on modern relationships wrote her second book, The State of Affairs, and launched the podcast Where Should We Begin? — the latest season of which is available today through a new partnership with the Vox Media Podcast Network. (Listen and follow for free on Apple Podcasts here or wherever you listen.) Over five seasons of Where Should We Begin?, Perel brought her audience into the therapy room, letting them listen in as she conducted real sessions with real couples untangling very real issues. For the new season, Perel's team received 6,000 applicants; among them, there's a couple split apart by the war in Ukraine, one woman worried she's being gaslighted by her partner, and, of course, more stories about infidelity.
As we welcome the podcast to the New York podcast family, the Cut has put together an Esther Perel syllabus: a guide to her approach to therapy and relationships, her body of work, and references, plus a few behind-the-scenes glimpses into the process of making the show. Down the road, Perel's "Esther Calling" episodes, which are essentially advice columns if the adviser could actually have a conversation with the advisee, will appear on the Cut as regular columns. Whether you are a die-hard fan who has already subscribed, are tuning in for the very first time, or just want to know Perel's favorite sexy movies, there's surely something here for upping your erotic IQ.
Choose Your Own Adventure:
➼ Read about how Esther Perel taught one writer about embracing marital discomfort.
➼ Listen to the back catalogue of Perel's flagship podcast.
➼ Listen to a few of Perel's favorite episodes.
➼ Tour the rest of Esther world.
➼ Learn six new ways to talk about your feelings.
➼ Adopt Perel's rules to life — like how to host a successful dinner party.
➼ Watch ten Perel-approved sexy movies.
➼ Sit in on a phone call with Perel.
'I
Was
Hoping
to
Find
Someone
to
Tell
Me
Not
Just
How
to
Survive
Marriage
But
Love
It
Here
and
Thrive
—
Then
I
Found
Esther.'
Last Sunday, on our 23rd anniversary, I asked my husband to marry me again. This was not romantic. This was triage, a dose up the nose of marital Narcan. The night before, Dan had smacked closed his laptop, on which we were watching that tender, electric meet-cute scene in season two of The Bear. "Wait," he said. "Do you think we're going to be sitting on this couch watching Netflix until we die? Like, for the next 35 years?"
I said, "Yes."
In 2000, when we got married, we had two rules: no cheating and no dying. Back then, nobody talked about ethical nonmonogamy, just as nobody talked about gluten. On your wedding day, you just put on your fancy clothes, took (took?) your lover as your spouse, and walked away betrothed. The plan from there was … no plan, really. Go to a hotel once in a while? Try not to destroy each other? Good luck!
The no-plan plan works well enough at first. Probably because when you are newly married, you're not really married anyway. You've promised to fuse your lives, but you haven't done it yet, so everything is floaty and roomy and easily forgiven.
Year two of our marriage: Dan gave me a not-campy, not-kinky feather duster for my birthday because he'd noticed that I cleaned. (Yes.) I also got Windex. We did not get divorced. Continue reading ➼
Where
to
Begin
With
Where
Should
We
Begin?
If you're just tuning into Where Should We Begin? — speaking of which, have we mentioned the latest season premieres today? Listen and follow for free on Apple Podcasts or wherever you listen — it might not be obvious where to start. Esther Perel's flagship podcast, which follows anonymous couples through a single joint-therapy session, isn't serialized, so each session is essentially a bottle episode, containing its own plot, characters, and themes. (Although many of these themes — intimacy, communication styles, past trauma — appear again and again.)
So to get you started, we've revisited the Where Should We Begin? back catalogue — the episodes, below, are all available online right now in addition to other audio projects — and organized the whole thing according to whatever relationship issue might pique your interest. Whether you want to listen to stories of infidelity, big fights, or couples wondering if all the work is worth it, here's where to jump in. Continue reading ➼
If
You
Only
Listen
to
10
Episodes
of
Where
Should
We
Begin?,
Make
It
These
10
Technically, when it comes to episodes of Where Should We Begin?, Esther Perel "doesn't play favorites and doesn't have a No. 1." But after five seasons and 50-odd recorded sessions with couples, a few episodes — and the characters, plotlines, and surprise moments that populate them — stand out. Here are a few. Continue reading ➼
A
Handy
Guide
to
the
Rest
of
Perel's
Canon
Where Should We Begin? is probably the purest distillation of Esther Perel's approach as a psychotherapist: two people sitting in a room, spilling their guts out in couples counseling. But if listening in on couples excavating their inner lives and deepest conflicts isn't your thing, there are many other ways to dive into her work — books, videos, more podcasts, even a card game — all of which will get you examining your own approach to interpersonal relationships in all their complexity. Continue reading ➼
Some
Entries
From
Perel's
Pocket
Encyclopedia
of
Human
Emotions
Spend enough time with Perel, and you'll start to pick up a new lexicon for describing the vastly complicated and always evolving matrix of human emotions. Here, Perel's editor, co-writer, and head of content, Mary Alice Miller, gathers a sampling of such terms — gleaned from Perel's podcasts, books, and many conversations, of both the timely and evergreen variety — to know. Continue reading ➼
Perel's
Rules
to
Dinner-Party
Hosting,
Advice-Giving,
and
Chocolate-Gifting
It's hard to imagine a dinner-party conversation, no matter how TMI, that could force Perel into an awkward silence. But just in case it happens, she has a secret weapon: her music box. (We'll explain.) Of course, there's also her very own card game. Other personal policies of note? Ghosting is okay when it's beneficial for both parties, bringing a first date to a group hang is a good idea, and don't send Edible Arrangements as gifts. You can do better: "I'm Belgian," says Perel. "I will cruise the city to get you a very, very good piece of chocolate." Continue reading ➼
Please
Enjoy
Esther
Perel's
10
Favorite
Erotic
Films
"Much of my sexual education came from films," says Perel. Unlike binging episodes of your favorite comfort show, watching a steamy movie can trigger arousal, adrenaline, and a dopamine rush. It lets you see something that might otherwise be forbidden, allowing viewers to see parts of their own erotic blueprints that might have been obscured before. "Many of these scenes play out fantasies," says Perel, host of the podcast Where Should We Begin?, which is now part of the Vox Media Podcast Network. "Fantasies often express our deepest emotional needs and wishes — surrender, abandon, being taken care of, being in charge, being safely aggressive — all in the language of sex." Continue reading ➼
And
Finally,
an
Introduction
to
'Esther
Calling'
Every other week on the Where Should We Begin? podcast, Perel plays a voice-mail from a listener who has reached out with a specific problem, then returns their call to offer advice. The column, which will run on the Cut when new episodes drop, is adapted from the podcast transcripts. In this first installment, a listener asks Perel how she should deal with her resentment toward her partner's privilege. Continue reading ➼