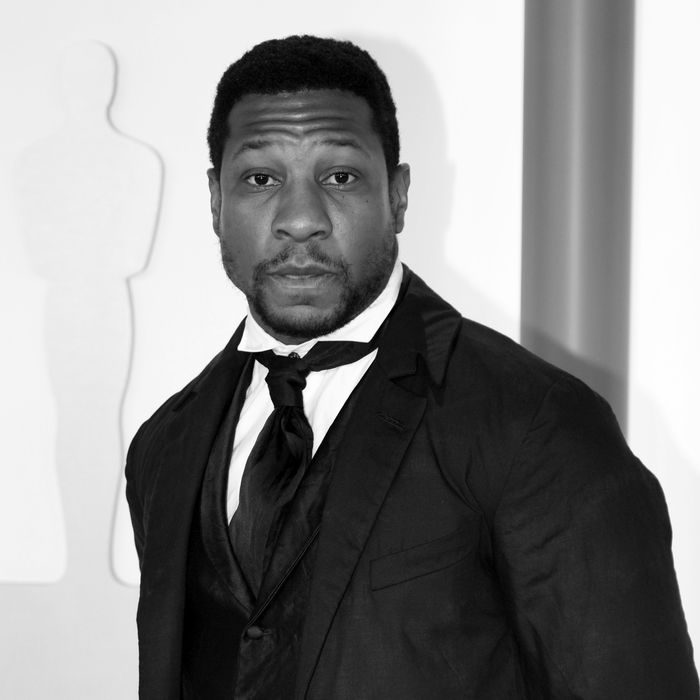 Photo: Jeff Kravitz/FilmMagic
On March 25, police responded to a 911 call involving Jonathan Majors in Manhattan. Officers said there had been a "domestic dispute" between the actor and a 30-year-old woman, according to an NYPD statement at the time, and they briefly took Majors into custody. The internet exploded with reactions ranging from denial and shock to, in a few cases, validation; the U.S. Army pulled an advertising campaign featuring the actor. But there was a vacuum of information about what professional fallout he might face until April 17, when Variety reported Majors had been dropped by his talent manager. His PR firm had severed ties a few weeks earlier, a source close to the situation confirmed to the Cut. And, according to Variety, multiple accusers are now cooperating with Manhattan's district attorney in the case against Majors.
The domestic-violence allegations have begun to affect the actor's upcoming projects, too. Below, everything we know about Majors's arrest and the subsequent fallout.
Why was Majors arrested?
TMZ broke the story and, citing law-enforcement sources, reported that Majors and his girlfriend had been fighting in a cab about text messages from another woman. The woman told officers who arrived at the scene that she had been assaulted, according to the NYPD statement, and she was taken to the hospital with minor head and neck injuries. The initial criminal complaint said Majors had put his hand on the woman's neck, "causing bruising and substantial pain," and had hit her in the face, leaving "a laceration behind her ear."
A revised complaint the DA's office filed on May 9 tells the same story from the woman's perspective. She says Majors grabbed her right arm, placed it behind her body, then twisted her right forearm and middle finger. She also alleges he hit her, "causing substantial pain and a laceration behind my right ear." Finally, she says Majors pushed her back into a car "using both of his hands causing me to fall backwards."
Majors was initially arrested on charges that included strangulation and released later that day with an order of protection. The strangulation charge has since been dropped, and he now faces charges of misdemeanor assault, aggravated harassment, attempted assault, and harassment.
How has Majors responded?
In the immediate aftermath of Majors's arrest, his defense lawyer Priya Chaudhry called the actor "entirely innocent." "Unfortunately, this incident came about because this woman was having an emotional crisis, for which she was taken to a hospital yesterday," Chaudhry said in a statement. "The NYPD is required to make an arrest in these situations, and this is the only reason Mr. Majors was arrested. We expect these charges to be dropped soon."
Chaudhry also claimed that Majors called 911 out of concern for the woman, and that she planned to submit exonerating evidence to the Manhattan district attorney's office, including "video footage from the vehicle, witness testimony from the driver and others who both saw and heard the episode, and most importantly, two written statements from the woman recanting these allegations."
On March 30, Chaudhry released a series of alleged text messages from the woman. "They said they had to arrest you as protocol when they saw the injuries on me and they knew we had a fight," one message read. "Will make sure nothing happens about this. I told them it was my fault for trying to grab your phone. I only just got out of hospital. Just call me when you're out. I love you."
In another alleged text, the woman said, "They do not have my blessing on any charges being placed. I read the paper they gave me about strangulation and I said point blank this did not occur and should be removed immediately." She goes on to assure Majors that "I'm doing all I can [on] my end. I also said to tell the judge to know that the origin of the call was to do with me collapsing and passing out and your worry as my partner due to our communication prior."
Majors's legal team further expanded on his defense in court filings on April 19. According to documents reviewed by the Cut, the actor's driver will testify that the woman assaulted Majors "while she was attempting to steal his phone." Chaudhry claims Majors then ran out of the car and sent the woman a breakup text from a hotel, where he spent the night.
Majors's lawyer went on to say that the actor did not cause "swelling, bruising, and substantial pain" to the woman's finger. She points to security-camera footage of the woman clubbing after Majors left her as evidence, and minutely details all the activities that footage purportedly showed the woman was capable of: tucking hair behind her right ear, pointing with her index finger, moving a lime aside to take a shot, and "dancing with her hand in a ball with all her fingers folded in—all without any visible signs of discomfort or any swelling or bruising whatsoever" (emphasis Chaudhry's). Chaudhry later claimed she'd sent the DA's office the opinion of a forensic medical specialist who says the woman's injuries "did not come from Mr. Majors (and could not have come from the way the woman described)."
The woman later showed up at Majors's apartment, called him 32 times, accused him of infidelity via text, and threatened suicide, Chaudhry claims. Those purported texts were not included in court filings. Majors came home later that morning and called 911, the documents allege, after discovering the woman had taken "a bunch of sleeping pills" and was in his "locked bedroom, unconscious on the floor of a closet, with a cut behind her ear and a broken finger."
Chaudhry also says that body-camera footage will show that a police officer coached the woman "to say that Mr. Majors grabbed her by the throat" by "touching his own neck several times when questioning" her. The defense lawyer accuses officers of being more sympathetic to a "petite white woman," than Majors, who is a "tall, strong, young, very famous Black man."
How has the public responded?
After news of the arrest broke, two people working in the entertainment and theater industries tweeted their concerns about Majors, alluding to stories they'd heard about his alleged behavior. "It's a shame it took this long for him to be reported," wrote one. Some fans also rushed to Majors's defense online, saying he was being unfairly targeted as a Black man, while others were predominantly concerned with the Marvel franchise's future.
When Majors's legal team released the purported messages from the woman involved in the arrest, some tabloids, like the New York Post, said the texts "appear to prove innocence." Under more careful headlines, domestic-violence experts noted that it's common for abusers to manipulate survivors into thinking they themselves are to blame for the violence. On Twitter, the texts didn't have the effect Majors's defense was looking for, either: "'I told them it was my fault for trying to grab your phone' isn't the flex Jonathan Majors and his lawyers think it is," read one viral tweet.
Leigh Goodmark, a law professor and gender-based-violence expert, warns against drawing conclusions based on these messages alone. "You could read these a number of different ways," she tells the Cut. "I don't think they definitively exonerate him or show her being controlled. I think it's possible the truth is somewhere in the complicated middle."
What fallout has Majors faced?
Majors had ridden a rocket ship to fame ever since his starring role in the 2019 indie film The Last Black Man in San Francisco. Kang the Conqueror, his villainous character from Ant-Man and the Wasp: Quantumania, is set to become a fixture of the Marvel franchise and the focus of a new Avengers movie in 2025. He also received critical acclaim for his performance in Magazine Dreams, which premiered at Sundance and will appear on big screens this December.
So far, Marvel has not commented on Majors's arrest, and according to Deadline, "There's been zero conversations in the Marvel camp to drop Majors from the MCU." None of the high-profile actors, directors, or producers associated with the actor have spoken out, either.
But there has been some professional fallout. Majors was dropped by his talent agency, Entertainment 360, and his PR firm. He and the luxury brand Valentino "mutually agreed" that he would not attend the Met Gala, according to Deadline, which also reported Majors has been nixed from an adaptation of the Walter Mosley novel The Man in My Basement and is no longer in the running for an Otis Redding biopic.
Majors's talent agency did not return the Cut's request for comment.
What's happening with the charges?
Majors is facing criminal charges, meaning he's being sued by the Manhattan district attorney. On April 19, Variety reported that more women have come forward with abuse allegations, and are cooperating with the DA's office (A representative declined to comment.)
A judge granted the alleged victim a full temporary order of protection on April 27. The order, which forbids Majors from having any contact with the woman, was given "per the People's request and with the consent of defense counsel," the DA's office said in a statement. Chaudhry said the protection order "is standard in cases such as this, and we consented because Mr. Majors wants nothing to do with the woman who assaulted him."
Majors appeared in court virtually on May 9, wearing a collared shirt and a solemn expression. He said only "Yes, m'am" a few times to Judge Rachel Pauley, who ordered him to appear in person on for his next court date. Otherwise, she said, she will issue a warrant for his arrest. Until then, Pauley reminded Majors of the restraining order that prevents him from contacting the woman involved in the charges. "Yes, ma'am," he responded. The appearance lasted less than ten minutes, and there was no crowd outside the courthouse.
Chaudry said in a statement after the hearing that the case was a "witch hunt" against Majors. "Instead of dismissing the allegations in the face of the woman's clear lies, the DA has adjusted the charges to match the woman's new lies," she said. "To be clear, there are no new charges against Mr. Majors." She also claimed to have more video evidence exonerating the actor, but said she was "hesitant to share it, for fear the DA will tip the woman off to change her story again."
Majors's next court appearance will be on June 13.