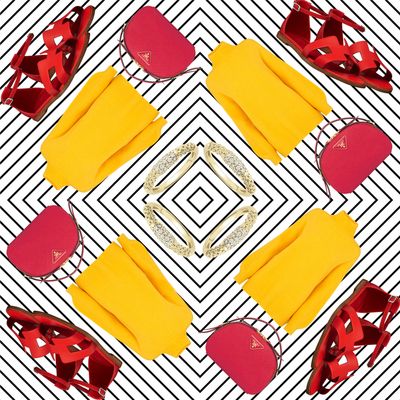 Photo: Courtesy of the Retailers
So Thursday is looming and you still haven't bought your special someone a Valentine's Day gift. You could buy something from our list of affordable (but expensive-looking!) presents … or, if you're ready to spend some money, you could splash out on something a little more extravagant. How about an elegant Tiffany & Co. ruby necklace? Or sharp, sexy Miu Miu heels? Read on for our roundup of the best fancy gifts out there.
If She Loves Pretty Lingerie
This lacy silk number isn't just sexy — it offers enough support to be practical for everyday wear.
If She's Bored With Her Closet
A bright yellow sweater will shake her out of her cold-weather rut.
If She Collects Fun Earrings
For the woman who believes more is definitely more.
If She's Sentimental
A tiny ruby worn close to the heart is a nice reminder that you're thinking about her.
If She Loves Trendy Things
Neon dad sneakers combine two trends in one.
If She's Dreaming of Summer
These strappy red sandals will be her favorite once the weather finally warms up.
If She Always Wears Sunglasses
This elegant pair is inspired by Audrey Hepburn's iconic cat-eyes from Breakfast at Tiffany's.
If She Loves Hoop Earrings
Upgrade her to these slick gold ones.
If She Wants a Cool Bag
The shape, inspired by photographers' camera bags, is a refreshing alternative to the current bucket trend.
If She Loves a Well-Tailored Blazer
A sharp black jacket sounds easy to find, but few are as immaculate as this one by the Duchess of Sussex's favorite brand.
If She Loves All Things Cozy
A giant cashmere blanket is just what she needs for her Netflix marathons.
If She Loves a Shoe With Attitude
For the woman who isn't afraid to be unapproachable.
If She's Not Afraid of Flashy Clothes
The colorful skirt was inspired by a scarf from Burberry's archives.
If She's Already Planned a Beach Getaway
Get her a breezy dress that's made for lounging with a cocktail in hand.
If She Needs a Power Bag
Assertive but still understated enough to bring to big meetings.
If She Loves an Elegant Coat
Who wouldn't want to swaddle themselves in red double-faced cashmere?
If She Loves Delicate Rings
Everyone else gets their slim bands from a certain indie boutique in Brooklyn. These are less well-known and just as pretty on the fingers.
If She Loves Classic Things
You can't go wrong with the one item beloved by Princess Diana, Jackie O., and Andy Warhol.
If She Loves Chanel
Very few things inspire a sharp gasp, but this bag is definitely one of them.
If She Loves a Sheet Mask Selfie
She might look like a baked potato roasting in the oven when you have this face mask on, but her skin is getting infused with Estée Lauder's cult serum, Advanced Night Repair.
If She Loves a Luxurious Basic
If She Loves a Good Red Lip
This is one of the smoothest, most weightless lipsticks ever, and it comes in a balanced red that isn't too orange or too blue.
If She Loves Roses
She'll appreciate this luxurious black rose face mask, which will give her petal-soft skin.
If you buy something through our links, New York may earn an affiliate commission.