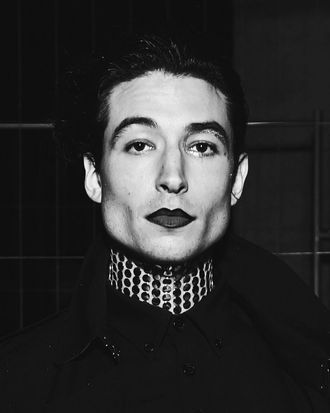 Photo: Pascal Le Segretain/Getty Images
Since mid-2022, Ezra Miller has made headlines with a series of allegations and legal charges detailing increasingly concerning behavior. They were arrested twice and accused of multiple instances of physical assault, as well as brainwashing 18-year-old activist Gibson (formerly Tokata) Iron Eyes and keeping them from their parents. In June, another allegation surfaced after a courthouse issued a temporary harassment-prevention order against Miller on behalf of a mother and her 12-year-old child. Miller was charged with felony burglary in August stemming from an incident where they allegedly broke into someone's home and stole bottles of alcohol, and Vermont police are also searching for a woman and her three children, who neighbors said were living at Miller's farm in unsafe conditions over the summer. No news has emerged on whether the missing people have been located.
Miller released an apology via a representative in August, sharing that they had started treatment for "complex mental health issues." In January, they reached a plea deal on two of the charges brought against them in Vermont. Meanwhile, Warner Bros. reportedly thought about dropping Miller from their starring role in The Flash, but is moving forward with the film, to be released on June 16, 2023. Here's what you need to know.
Miller was accused of assault in 2020.
Allegations of violence have surrounded Miller since April 2020, when a video that appeared to show Miller choking a woman went viral. The incident took place in a bar in Iceland, and while the cops were not called, TMZ reported that Miller was asked to leave the bar. In an interview published June 30, the woman spoke with Variety. "I think it's just fun and games — but then it wasn't," she recalled of the incident, which she says started after she asked the actor how they'd gotten the wounds on their feet (Miller was wearing flip-flops at the time). Miller said the marks came from a fight, and that led to the pair joking — or so the woman thought — about who could take the other if they brawled. The woman still thought Miller was joking when they approached her outside the bar. "All of a sudden, [they're] on top of me, choking me, still screaming in my face if I want to fight."
Her friends, she said, pulled the actor off, and the bartender, Carlos Reynir, intervened. Reynir told Variety that Miller grabbed him by the throat when he tried to throw them out. Miller "tells me they're not leaving," Reynir recounted. "They proceeded to spit in my face several times, so with the final push, I closed and locked the door."
In 2022, Miller was arrested twice in Hawaii, first in March for disorderly conduct and harassment at a karaoke bar and again in April for second-degree assault after they allegedly threw a chair at a 26-year-old woman in a private residence. Miller posted bail on both occasions and was released but was charged for at least one of the incidents, and Hawaii police said in April that its investigation was ongoing. Also in April, an unnamed couple filed and then dismissed a temporary restraining order against Miller, claiming that the actor, who had stayed with them in Hawaii, burst into their bedroom and threatened them. "I will bury you and your slut wife," Miller allegedly told the male victim. The couple claimed that Miller had also stolen personal belongings including a Social Security card, a passport, and credit cards.
Gibson Iron Eyes's parents have accused Miller of abuse.
In June, Sara Jumping Eagle and Chase Iron Eyes sought a protective order from Miller on behalf of Gibson Iron Eyes, an 18-year-old who had reportedly been living with Miller since December 2021. As originally reported by TMZ, the couple allege that Miller met the family during protests at the Standing Rock Reservation in 2016, when Gibson was just 12 years old. From then, Miller and Gibson developed a friendship. In 2017, the parents claim, Miller flew Gibson, then 14, and a chaperone to London to visit the set of Fantastic Beasts and Where to Find Them.
In the years that followed, Gibson's parents claim that Miller convinced them to send Gibson to Bard College at Simon's Rock in Massachusetts and said they would pay tuition through a foundation, an offer they claim Miller used "to create a sense of indebtedness." They allege in legal documents that Miller provided Gibson with alcohol and drugs, including LSD, marijuana, and ketamine, and physically abused them. In December 2021, Gibson's parents say they flew to Vermont to check on Gibson at Miller's home after Gibson dropped out of school only to find that Gibson didn't have their driver's license, car keys, or ATM card. The filing also claims Gibson's parents found bruises on their body inflicted by Miller. Jumping Eagle and Iron Eyes allegedly took Gibson home for three weeks but say Gibson then fled to New York to reunite with Miller. They believe Gibson has been traveling with Miller since then, including on the Hawaii trip where Miller was arrested. Other legal documents say the court hasn't been able to find Miller to serve the order.
Gibson seemingly denied these claims in an unverified Instagram post on June 5, calling the reports about Miller a "tragedy." A written statement on the account claimed that Miller had been helping Gibson through the loss of a friend, saying that they had "only provided loving support and invaluable protection throughout this period of loss." The profile has since gone private.
The statement claimed it was actually Gibson's parents who were guilty of "emotional and psychological manipulation" and called any law-enforcement involvement in this case "a waste of time and resources." It concluded by calling the actions of Gibson's parents "blatant betrayal." In response, Jumping Eagle and Iron Eyes told People they were unsure if Gibson even had access to a phone, let alone Instagram. And a few days later, on Twitter, Jumping Eagle said Miller had "brainwashed" Gibson and was "perpetuating cult-like behaviors and emotional abuse." She also claimed that Miller had limited Gibson's phone usage, writing, "Ezra 'allows' Tokata use Ezra's phone w/ Ezra control."
After people questioned the authenticity of Gibson's Instagram statement, they posted a video to the same account to defend it. "Nobody is controlling my Instagram account. I don't have a phone right now out of my own personal conviction," they said, calling it "distressing" that "the narrative of the 'victim in question' is not being granted any trust."
"It's nobody's business," they added. "This is my life. These are my decisions. And I'm disappointed in my parents and the press."
Shortly after Gibson posted the video, their uncle, Chief Bear Cross, who claimed he hosted Gibson and Miller in December 2021, released a detailed account of his experience with Miller. Speaking with Last Real Indians, Chief claimed that Miller told him they were smoking marijuana with ketamine, brought a gun into his home, and was constantly surveilling Gibson.
An unnamed mother and her 12-year-old child were granted an order of protection against Miller, claiming the actor threatened them with a gun.
About a week after news broke of Jumping Eagle and Iron Eyes's order of protection, an unnamed mother and her 12-year-old child in Greenfield, Massachusetts, were granted a temporary harassment prevention order against Miller. According to the Daily Beast, which reviewed the signed order and spoke with the mother, her child, and a neighbor, Miller threatened the family and acted inappropriately toward their child, who is nonbinary. They said Miller, who shared a mutual friend with the neighbor, had several outbursts while in the neighbor's home the evening of February 2. At some point, they said, Miller became fixated on the 12-year-old, complimenting them excessively and moving their chair closer, which the child said made them "really uncomfortable" and "scared." Both adults said they noticed Miller's eyes were dilated and they were wearing a bulletproof vest. Eventually, they said, Miller apologized but returned to the house three times over the next few months, at one point hugging the child, which they also found uncomfortable.
A man claimed his three children and their mother were living in unsafe conditions on Miller's farm.
On June 23, Rolling Stone reported that a 25-year-old mother and her three young kids (ages 1 to 5) had been living on Miller's 96-acre farm in Stamford, Vermont, in unsafe conditions for several months. According to the report, Miller met the woman in March in Hilo, Hawaii — the same trip on which Gibson joined them and during which they were arrested twice for assault and disorderly conduct. The children's father said Miller flew his family out of Hawaii without notifying him and that he hasn't been able to see or speak to them since they left.
Two other unnamed sources, who seem to have been in the house with the children at some point, claimed they're living in unsafe conditions and that there were unattended weapons in the house. The father said he has asked local police and the state's Department for Children and Families to intervene but that police were unresponsive and a social worker who visited the house in mid-May didn't see anything wrong.
The woman living on Miller's farm denied the father's claims to Rolling Stone, which appears to have spoken with her directly. She told the magazine Miller helped her leave a "violent and abusive ex" and that the farm is "a healing haven" for her and her children, who she believes are perfectly safe there. Miller "may have firearms for self-defense," she said, but they're "stored in a part of the house that the children never go in." She continued, "My kids are able to relax more into their healing because of the safety and nurturing Ezra has been providing for them." The father denied that he was abusive. As of June 20, Rolling Stone said, the mother was still posting pictures on Instagram from the farm.
In August, Rolling Stone reported that Vermont police had tried to serve the woman an emergency-care order at Miller's farm and remove the children from her care. Police were unable to find her, with Miller telling officials she hadn't lived at the farm for months. Police reportedly suspect Miller is helping the woman "evade service" of the order. According to an affidavit written by a caseworker with the Vermont Department for Children and Families, the mother put up social-media posts from the farm in late July, and Rolling Stone reports she was posting almost daily from the farm until her account appeared to have been deleted around mid-July.
A woman in Germany has accused Miller of harassment.
Speaking to Variety, a woman who identified herself as Nadia said Miller displayed alarming behavior while visiting her Berlin apartment in February 2022. Nadia said she had been friends with Miller for two years but hadn't seen them in person since the pair had sex in 2020. She invited Miller over and said their mood changed abruptly when she asked them not to smoke inside. "That just set them off," Nadia said. "I asked them to leave about 20 times, maybe more. They started insulting me. I'm a 'transphobic piece of shit.' I'm a 'Nazi.' It became so, so stressful for me. They were going around my house, looking at everything, touching everything, spreading tobacco leaves on the floor. It felt disgusting and very intrusive."
While Nadia clarified that she did not believe Miller would sexually assault her, she still feared they "could somehow attack me physically." Five people Nadia spoke with after the incident confirmed her account, and in April, she filed a criminal complaint. "I totally felt unsafe," she told Variety.
A report detailed allegations of grooming and manipulation.
An in-depth report from Business Insider shed more light on Miller's alleged behavior during their time in Iceland in 2020, including local rumors that the actor had started a cult. According to the report, Miller stayed at an Airbnb, where they invited artists and other young people to join them. Unnamed witnesses who spoke with Insider claimed that Miller would hold court with their guests every day and "alluded to possessing supernatural powers."
Another young woman quoted in the story claimed that she met Miller during a kind of musical retreat organized by the actor. She was there for almost a week, during which she alleged Miller was psychologically abusive and "super manipulative."
The report also included detailed allegations from Oliver Ignatius, identified as a former music collaborator of Miller's. Ignatius alleged that he witnessed Miller's controlling demeanor toward Gibson, which included the actor's insistence that they change her name from Tokata to Gibson. Gibson denied the allegations. Ignatius further alleged that Miller took Gibson's phone once they returned to Vermont in May and yelled at her for wearing makeup. Gibson, however, pushed back on the allegations, telling Insider, "That was queer dialogue about a badly applied rouge on my part, which I appreciated. I think the fact that a catty comment made by a queer person about makeup being considered abuse is actually quite homophobic rhetoric."
Rosie D'Ercole, a 24-year-old fashion designer and yoga teacher, also defended Miller in the article. Responding to claims from Ignatius that Miller yelled at her for putting a feather in her hair while on a beach in Hawaii, allegedly accusing her of appropriating Native American culture, she called Ignatius's claims "drastically overexaggerated." Her email continued, "Ezra has done nothing other than try to protect people close to them despite the onslaught of press and defamation."
Gibson also confirmed to Insider that Miller has been wearing a bulletproof vest in recent months, calling it "a fashionable safety measure in response to actual attacks and death threats."
Miller faced felony charges in Vermont.
According to a Vermont State Police report reviewed by Variety, Miller was charged with felony burglary in Stamford, Vermont, in August. The charges reportedly stem from an incident in May, when police responded to a burglary complaint in Stamford and found that several bottles of alcohol had been taken from the home while the residents were out. They pleaded not guilty to one count of burglary and one count of petit larceny in October and were also ordered to stay away from the two Vermont residents who reported the burglary.
Miller says they started treatment for "complex mental health issues."
On August 15, Miller released a statement via a representative to Variety explaining that they had started treatment for "complex mental health issues":
Having recently gone through a time of intense crisis, I now understand that I am suffering complex mental health issues and have begun ongoing treatment. I want to apologize to everyone that I have alarmed and upset with my past behavior. I am committed to doing the necessary work to get back to a healthy, safe and productive stage in my life.
The Cut has reached out to Miller's representation for comment and will update if we hear back.
Miller's legal strategy reportedly relies on NDAs and settlements.
A September report from Vanity Fair claimed that Miller and their team have been using a "whack-a-mole style legal strategy," citing three unnamed sources. According to the sources, Miller has been paying off alleged victims and requesting nondisclosure agreements. The magazine pointed to the couple in Hawaii who claimed Miller broke into their home and took their passport and wallet and who have since dropped charges against the actor. A source close to the couple reportedly warned Vanity Fair to leave the issue alone. "Don't poke a hornet's nest because one stung a few people," they said.
Miller's representative declined to comment, but did respond to a few other allegations made against the actor. The rep dismissed the 12-year-old nonbinary child's restraining order against Miller, saying, "Ezra's lack of interest clearly upset a disappointed fan when they would not engage with the fan or her daughter." As for the burglary in Vermont, Miller's rep told Vanity Fair that they had been cooking for their mother and needed wine, so decided to raid the home of a friend without realizing they didn't want to be friends anymore.
Miller's ex-fiancée claimed they gaslit her, and others described manipulative relationships.
Vanity Fair also spoke with Miller's ex-fiancée, identified as Erin. And while she said that Miller "wasn't violent or physically abusive towards anyone" when they were together in 2016, she said that looking back, she can tell that the relationship wasn't healthy. "For years he convinced me and all of our friends that I was abusive," she said. "But looking back, I would be calling out his disrespect and [they] wouldn't take responsibility and just call me abusive because of my reaction."
Meanwhile, the piece also cited three unnamed sources who described Miller's "openly polyamorous lifestyle" was "actually a patriarchal dictatorship where Ezra controls all the sex as the man, and plays the women against each other, screams at them, belittles them in front of others."
A source reportedly close to Miller and Tokata Iron Eyes described their relationship to Vanity Fair, claiming that the actor enjoys telling others that they are meant to be together. "Ezra is Jesus and Tokata's an apocalyptic Native American spider goddess, and their union is supposed to bring about the apocalypse," an unnamed person told the magazine. "And that's the 'real' reason everyone is so opposed to them being together." Tokata's mother, Jumping Eagle, told VF, "They say they are some kind of messiah, and they're going to lead an Indigenous revolution." Miller's rep denied that their relationship was anything but platonic.
Miller pleaded guilty to a trespassing misdemeanor in Vermont court.
On January 12, Miller reportedly accepted a plea deal for their Vermont charges, pleading guilty to misdemeanor unlawful trespass. Per court documents published by Deadline, the burglary and petit larceny counts were waived. In a statement, Miller's attorney, Lisa Shelkrot, told the New York Post, "Ezra would like to thank the court and the community for their trust and patience throughout this process, and would once again like to acknowledge the love and support they have received from their family and friends, who continue to be a vital presence in their ongoing mental health."
The Flash debuted at CinemaCon in April
Warner Bros. doubled down on the studio's support for Miller and The Flash, launching the first trailer for the superhero film during Super Bowl LVII. As if that wasn't enough, the trailer features not one, but two Millers (time travel is involved).
In late April, WB screened The Flash at CinemaCon. Although official reviews are under embargo until until a later date, viewers and critics wrote on social media that the movie was "tremendous," "inventive," and "magical," and some went so far as to call it "one of the best superhero movies of all time." Miller received overwhelmingly high praise for their acting. One reviewer tweeted: "I know Ezra Miller has made a lot of mistakes but they are soooooo good in this movie."
This post has been updated.