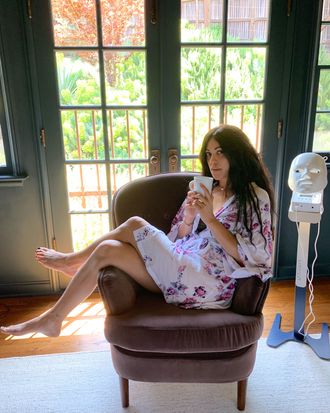 Photo: Courtesy of Shani Darden
Want more skincare? Join the Beauty Group on Facebook.
What do Laura Harrier, Shay Mitchell, Kelly Rowland, and Rosie Huntington-Whiteley have in common? All four stars rely on Shani Darden for their glow. The hip-hop dancer turned star facialist (and Garnier Consulting celebrity aesthetician) began her own practice in Jessica Alba's backyard — now she has a Beverly Hills studio complete with four treatment rooms.
Darden's first skin-care obsession, when she was struggling with acne, was retinol. Below, she runs us through her current skin-care routine and explains why you should absolutely wash your face in the morning.
The Micellar Water
"If I'm wearing makeup, I use Garnier's micellar water to remove it. It's really gentle and removes makeup very well without needing to rub too hard, which is important for the delicate eye area."
The Cleanser
"Your pillowcase has a buildup of oil and sweat from using it every night, so washing your face every morning is so important! I'm not particularly a fan of oil cleansers, as oil can cause congestion in the skin. It's also not a guarantee that your skin will be fully cleansed if using an oil. I will generally only double cleanse with micellar water if I'm wearing a lot of makeup. My Daily Cleansing Serum is a gentle gel cleanser with a soft lather that will not strip your skin. It has oat-bran extract to keep the skin's barrier healthy and sodium hyaluronate and glycerin to attract moisture to the skin. I love to use this morning and night, removing it with two wet pieces of cotton gauze."
The Exfoliating Pads
"I exfoliate one to two nights a week with the Dr. Dennis Gross Alpha Beta peel pads. They have lactic acid, glycolic acid, salicylic acid, as well as others to exfoliate the skin and clear out your pores. They're super-effective yet less harsh than a scrub. They make my skin feel super-smooth and look brighter after using them. I've been using them for years, and they're great for exfoliating the skin effectively."
The Serum
"When my skin needs a little extra hydration, I use Dr. Nigma's Serum No 1. It has peptides, plant stem cells, and hyaluronic acid to really plump up and deeply hydrate the skin. This is a great, luxurious formula that plumps up the skin more than any other hyaluronic acid serum I've used. I've been using it for a few years now and can't live without it."
The Eye Cream
"I love iS Clinical's Youth Eye Complex. It has hyaluronic acid to deeply hydrate the under-eye area and keep it bright. It also has peptides to minimize the appearance of fine lines and wrinkles. I've used so many different eye creams, and this one is my favorite because it's one of the only eye creams that I can see a visible difference with. I've noticed that this one specifically really tightens the eye area. Plus, it's super-hydrating without being heavy, which can be hard to come by as well."
The Moisturizer
"This is a lightweight, fast-absorbing moisturizer that will hydrate without causing congestion. It contains sodium hyaluronate and glycerin, which are humectants and attract moisture to the skin. I have an oily T-zone, so I love an oil-free moisturizer. I prefer an oil-free moisturizer for those who are prone to oily skin."